Terravita ~ Foundation Nightclub ~ Seattle ~ 4.1.2015
It may have been April Fool's Day, but this was no joke!
Clever quips aside, this was my first time finally getting to catch Terravita in action.  I'd been feeling sick earlier that day, but refused to miss this formidable duo for anything.  Their performance was nothing short of outstanding and is easily still one of my all-time favorite shows at Foundation.
My impressions of the evening began as the show did, with the openers. The night kicked off with Highdrops, a talented pair of Seattle bred DJs whose skilled collaborative efforts have secured their position as long-running Foundation residents.  Their set was thoughtfully well-rounded, though their opener status prevented them from going all out as they might have liked to this early in the night.  Openers are often given unfortunate, though understandable, restrictions on what and how loudly they can play, so their set was relatively low bass, low volume and subsequently low energy.  A solid warm up.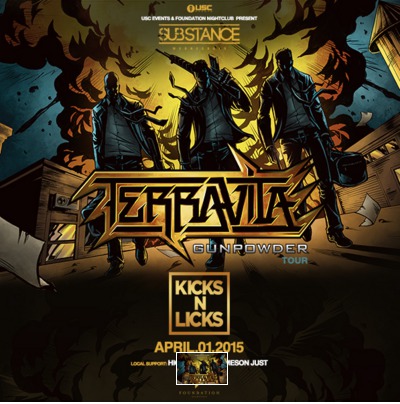 Kicks N Licks were the next to jump in.  This SoCal duo had great taste in music which was impressively eclectic to boot.  The unpredictable music style bounced erratically from trance to house to some glitch hop and funk step, eventually making its way to pounding bass hits.  Their transitions between fairly dissimilar genres, however, were very abrupt and severed the energy built up from the previous mix.  I found myself eagerly trying to dance to their expansive selection, but was inhibited by their seemingly fragmented train of thought.  I opted instead to save my energy for the main act.
The anticipation for Terravita's take over had reached critical mass.  This crowd's intensity was palpable.  From the moment they hurled that robust initial drop, the energy only escalated.  Expertly organized mixes made for well-timed breaks between high-intensity builds and heavy, spine shattering drops.  Their transitions were smooth and tempo changes felt organic.  Everyone was totally in tune.
Silently, though, we were all waiting for them to drop Bach Off.  This cleverly titled track is a head-splitting reappropriation of Bach's classical masterpiece Toccata and Fugue in D minor.  Terravita knew what we all wanted and held the crowd on marionette strings before finally dropping it towards the end of the set.  Meanwhile, some awesome, unexpected remixes tore through the speakers.  Most notable to me were Metallica's Sad but True (the likely culprit to my intense neck soreness the following day), and the random 1973 Redbone hit Come and Get Your Love blended with some distinctly Terravita grit.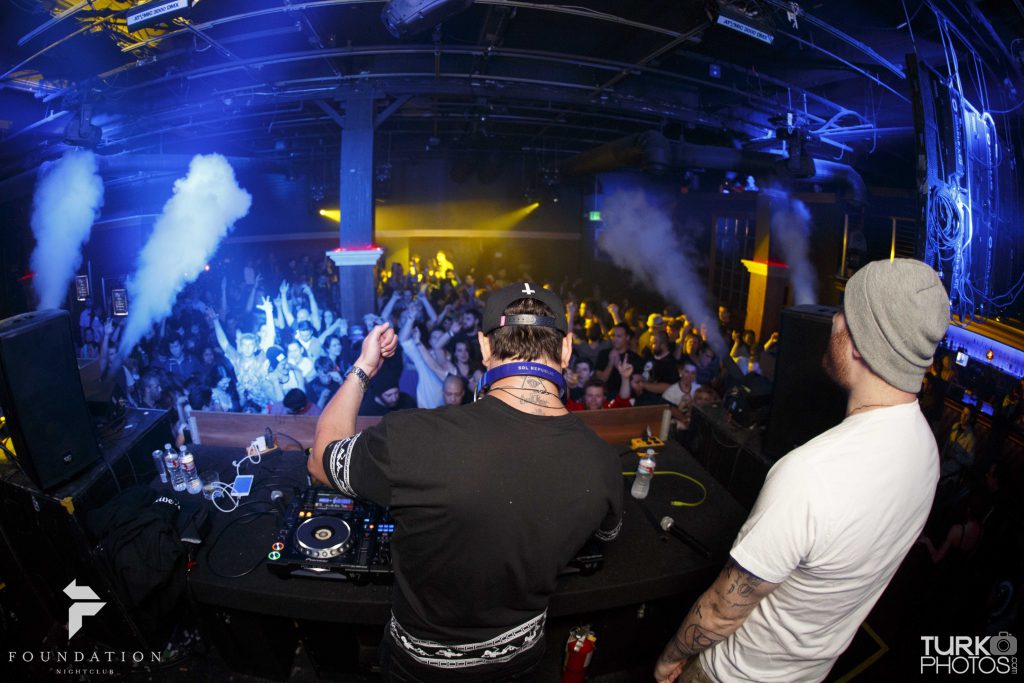 Despite the unrelenting tempos and incredibly high energy exertion, Terravita's MC Jon Spero still managed to rap clearly and fluidly over the mixes.  His mic was a little too quiet against the pounding bass, but his vitality still burst through in the form of breakneck speed freestyle verses.  Something I admired while being steadily being drained of energy myself.
Overall, I feel fortunate to have attended Terravita's set at Foundation, despite breaking a fever earlier that day.  They threw down a brutal, full-bodied performance with great tracks, seamless mixes and raw energy.  I believe a killer show like this, however, involves more than just the artist's performance.  It's a titillating conversation between both audience and artist, synchronized into a ubiquitous energy.  This crowd was one of the most cohesive I've ever been lucky enough to be involved in.  We became a single entity moving with the unity and violence of a tropical storm.  When I surfaced for air on occasion, every single person appeared to be grooving, if not fully acquiescing to the music.  It was an inexplicably comfortable environment with the perfect conditions to consciously disengage and dive in soul first.  This atmosphere, this crowd and Terravita definitely left me wanting more.