Everyone is getting prepped and ready for Insomniac Event's Southern California Halloween Event, Escape: Psycho Circus! This year's edition is bringing a stacked lineup full of different genres for your soundtrack to a spooktacular evening. Halloween is one of my favorite holidays, and Escape from Wonderland 2011 was actually my very first Insomniac Event so it is even more special to me than many of the other events held throughout the year. Pasquale and the Insomniac Team have really put together a complete lineup for the event: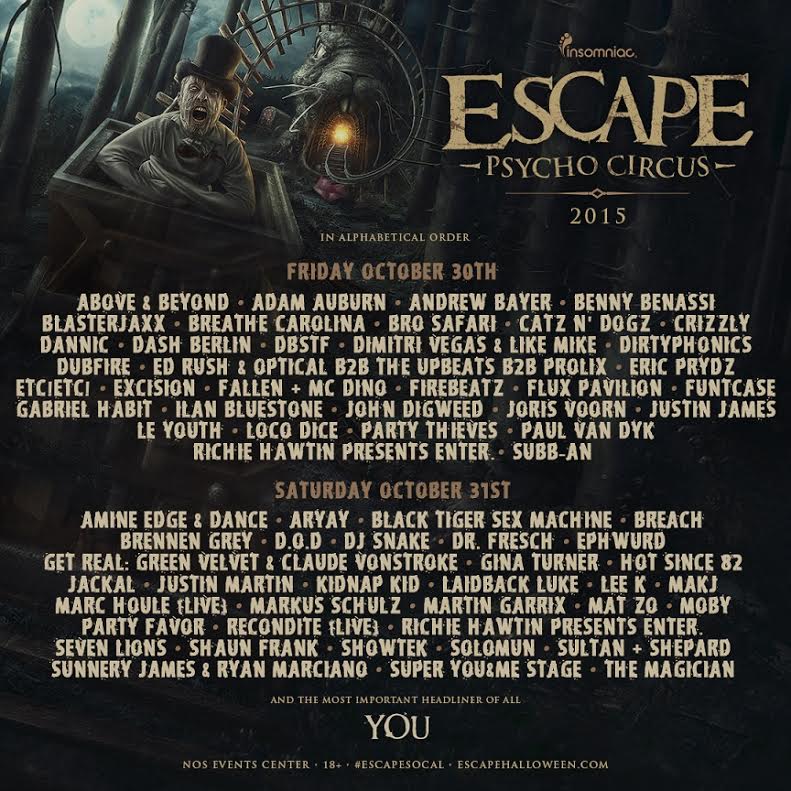 So without further adieu, here are my top 10 artists you should definitely check out at Escape: Psycho Circus 2015!
Friday
Above & Beyond– If you like the feels, then here you go. I haven't seen Above & Beyond grace the NOS Events Center since Nocturnal Wonderland 2012 and I'm super excited to see them again. I know that they aren't for everyone but if you want to go on a nice musical journey I would highly recommend them.
Eric Prydz– This is a "duh" entry here. Pryda is a god and you all know this by now. I honestly don't feel that there is ANYONE on this lineup who would supersede him when it comes to set times conflicting but to each his own. He is going to bring the beats and make you dance for sure.
Richie Hawtin– Returning to Escape once again is Richie Hawtin presenting Enter. Do you like techno? You'd better because Richie is going to be bringing you some dirty techno to bring your ears to full listening pleasure.
Loco Dice– While Loco Dice's roots may be in Hip Hop, he has fully embraced the electronic music community as well. I caught him at EDC Las Vegas this year and I can't wait to see what he has in store for Escape: Psycho Circus!
Flux Pavilion– Yet another duh moment in this top 10 artists. Not only did Flux just wow me up at Beyond Wonderland Bay Area, but he is about to set off on a tour for his latest album, Tesla! Make sure to catch this legendary dubstep artist at Escape!!
Saturday
Get Real: Green Velvet & Claude vonStroke– Still reeling off an awesome event to begin the month, Dirtybird Campout, Claude VonStroke will once again join forces with Green Velvet to provide our ears with some magic. Get Real is one of the coolest artist combos in the scene right now and I have heard nothing but amazing reviews from those who have seen them perform at events like EDC Las Vegas.
Markus Schulz– Trance is alive and well and Markus Schulz is a testament to that. Having just seen him at Beyond Wonderland Bay Area during an extended set I would highly recommend seeing him play this event as well. Markus always brings out some great tracks, and although his sound has somewhat shifted from the classic trance we know and love, he still makes time to bring us some tracks we love to hear.
Breach– I just caught Breach at Dirtybird Campout, and had a blast at his set. You all may know him from his track "Jack", but this Dirtybird from the United Kingdom definitely knows the right ways to make you move on the dancefloor!
Mat Zo– Sorry not sorry, regardless of what you think about this outspoken artist, Mat Zo is a really great DJ and producer. Will he be playing a trance set or one that leans more heavily on house? No one really knows, but last time I saw him he ended up playing two sets and killed it at both of them.
Seven Lions- Do you want to catch the feels but too afraid to lose your "hard" image that you get from listening to genres like trap and dubstep? Then Seven Lions is definitely for you! Pushing out amazing tracks and playing sets at events that put you on an emotional ride have made Seven Lions renowned in the rave community. His melodic dubstep combines the feels that you get from trance without losing the bass elements that people who listen to dubstep love.