TomorrowWorld 2015. When mentioned, most think about the cloud of negativity surrounding this years chapter. Sure there were thousands that were left stranded when rain saturated the Georgia Red Clay causing the roads to be covered in impassible mud, forcing any form of vehicle to get stuck in its gooeyness. However what is left unsaid are the amazing memories and people that were met. Unforgettable bonds that were created by numerous festival goers. This is where I definitely found my Key to Happiness.
Let me start out simple. My name is Jessica Tessene and I'm a veteran of 8 years in the military and currently work in the theme park industry in Florida. I originally heard about TomorrowWorld through one of my friends when he had tickets to the first one in 2013. Since I had just started getting into the Electronic Dance Music scene I was intrigued. On a whim I decided to go with another friend in 2014, but later ended up going alone and had a wonderful and memorable experience to where I wanted to return again this year. This year however would be a little different, instead of going alone I joined with a group of friends from work. Also instead of taking the magical voyage bus from UCF, I convoyed up in a 2 car convoy with my group.
When we arrived it was like driving through Narnia when we reached the magical grounds of Chattahoochee Hills. Excitement was felt throughout the car as we drove into the parking lot. Then comes the fun part of consolidating two cars of camping gear among two wagons and six people was interesting, then the two mile trek on the boardwalk to our site begins. Now I better understand why this trek is called "the trail of tears" because it was extremely hard and tiring carting all of your gear. While walking through noticeable changes were made from the previous year. For instance what was once known as "broken dreamville" in 2014 when Dreamville extended past the tree line due to an unexpected increase of campers, was now an extended part of Dreamville with an extra shower location and three food vendors.  Also locations of porta potties were changed along with BBQ locations.
After settling into our campsite we made friends with those that were around us. One story that is so touching is that two people from my group ended up meeting up with someone they had saved at EDCLV this year. They assisted this stranger in his time of need and ended up saving his life. Because of this act of kindness, they now have a friend for life and so do I. we all ended up camping together about 15-20 people. One of my friends I met from the previous year from the bus, camped with us as well.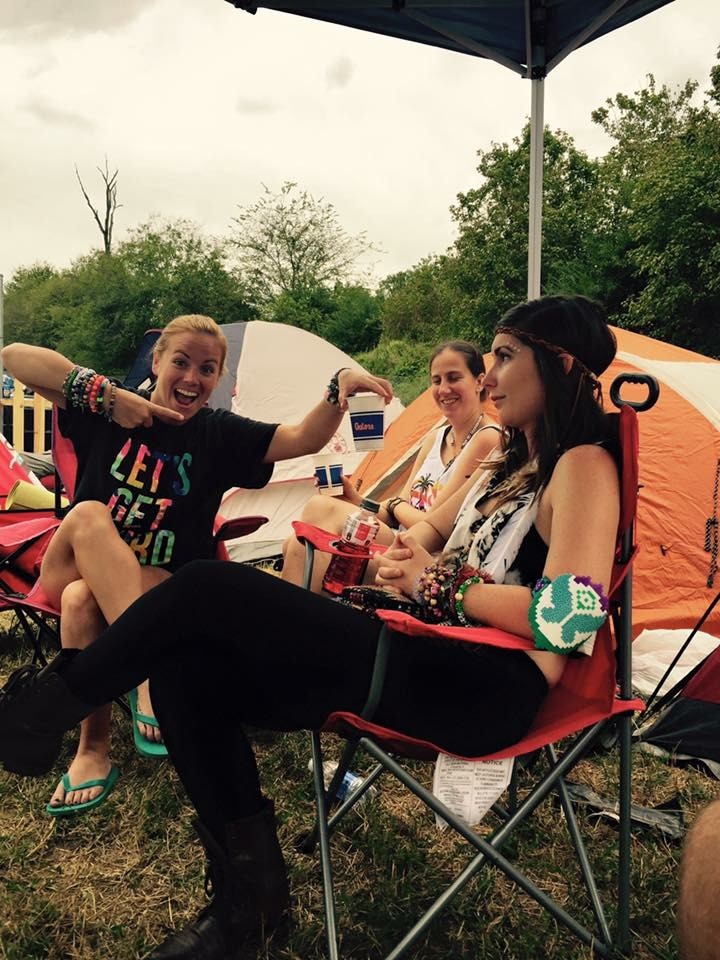 Exploring Dreamville was amazing. The Gathering was amazing apart from the rain. Now I only attended the Gathering for Black Tiger Sex Machine and lets just say the rain didn't stop our party.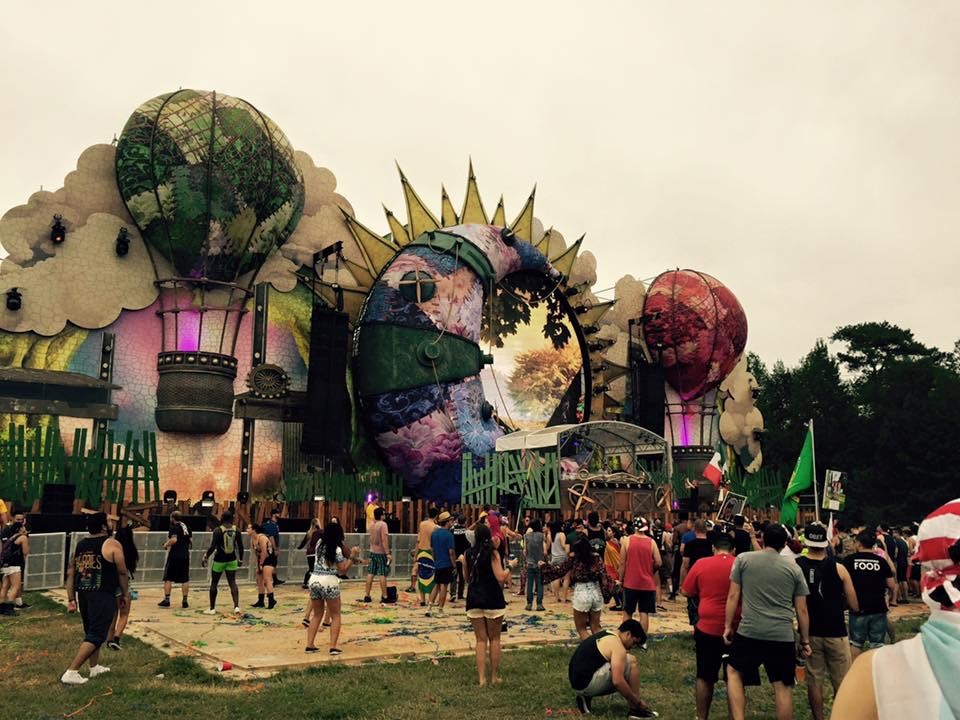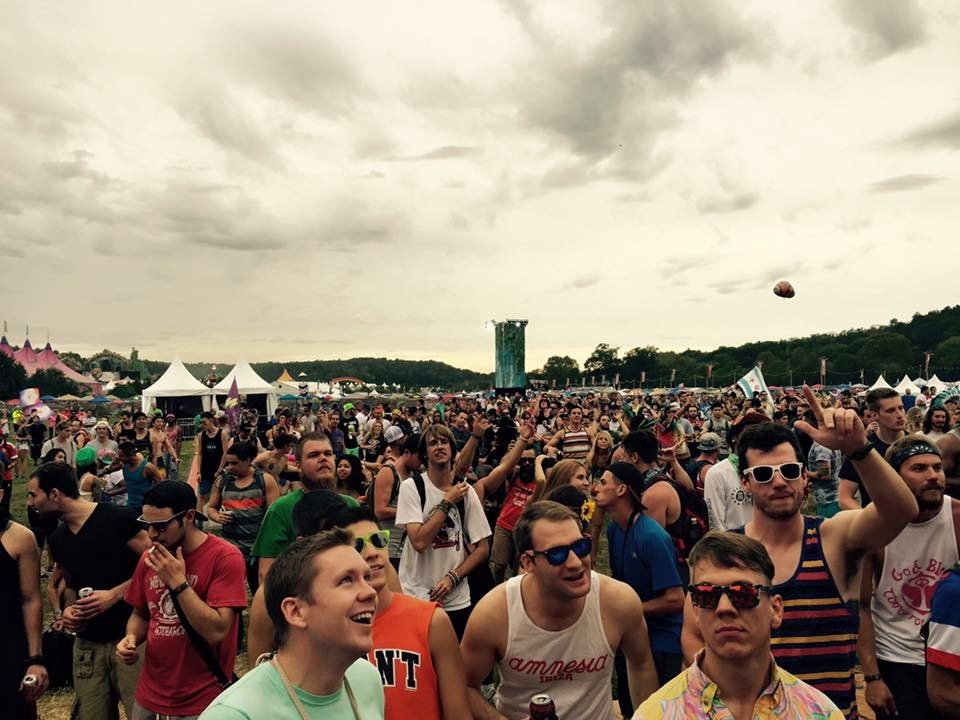 Day 1 begins and we get a small break in the rain to where I was able to breakout my Tardi5mau5. For those that don't know, this is based off a British show called Dr. Who. The Tardis is the blue police box this Doctor travels through time and space in.  Throughout the day and night, I had at least 100-200 people come up to take pictures with me. Seeing people's faces light up seeing one of my favorite shows and music artists combined into one is awesome. I actually had a few people tell me this was their favorite costume.  I even had a few awesome people from the TomorrowWorld Media crew take pictures and video because of my outfit. I took away some great memories and it was only Day 1.
Day 2 of course began with rain, however when there was a break in the clouds, the sun peaked through and you hear nothing but a thunderous applause as if we were worshipping a sun god of some type. It was a magical occasion. On this day I had a spiritual journey and became one with the natural beauty around me. I had two extremely special moments with two of my friends. One of the moments, I looked into the mirror and didn't like what I saw. One of my friends at that moment took a selfie with me and helped me find beauty in the moment. As I was dancing to Slander, they drop Pompeii by Bastille. As I hear this I turn around and see one of my friends walking up during this song and I break down in her arms. It's special moments like these that I love! The universe had synced up perfectly. Now throughout the entire day I only ended up trading one piece of kandi, and the single piece I received ended up matching my journey perfectly. On this piece of Kandi there is a single bead with two words "secret beauty." I just want to personally thank who gave this to me because at the time we traded I didn't realize what it said. So thank you!!!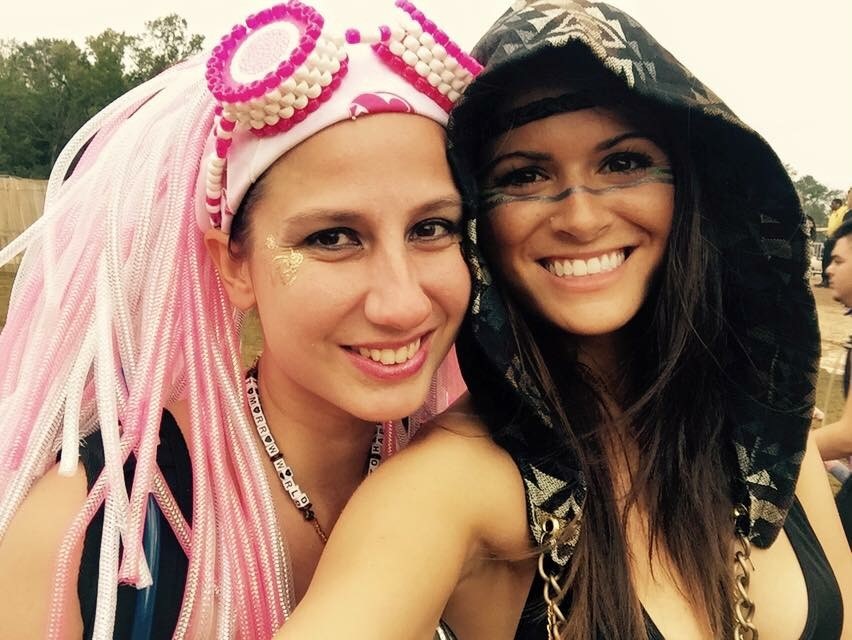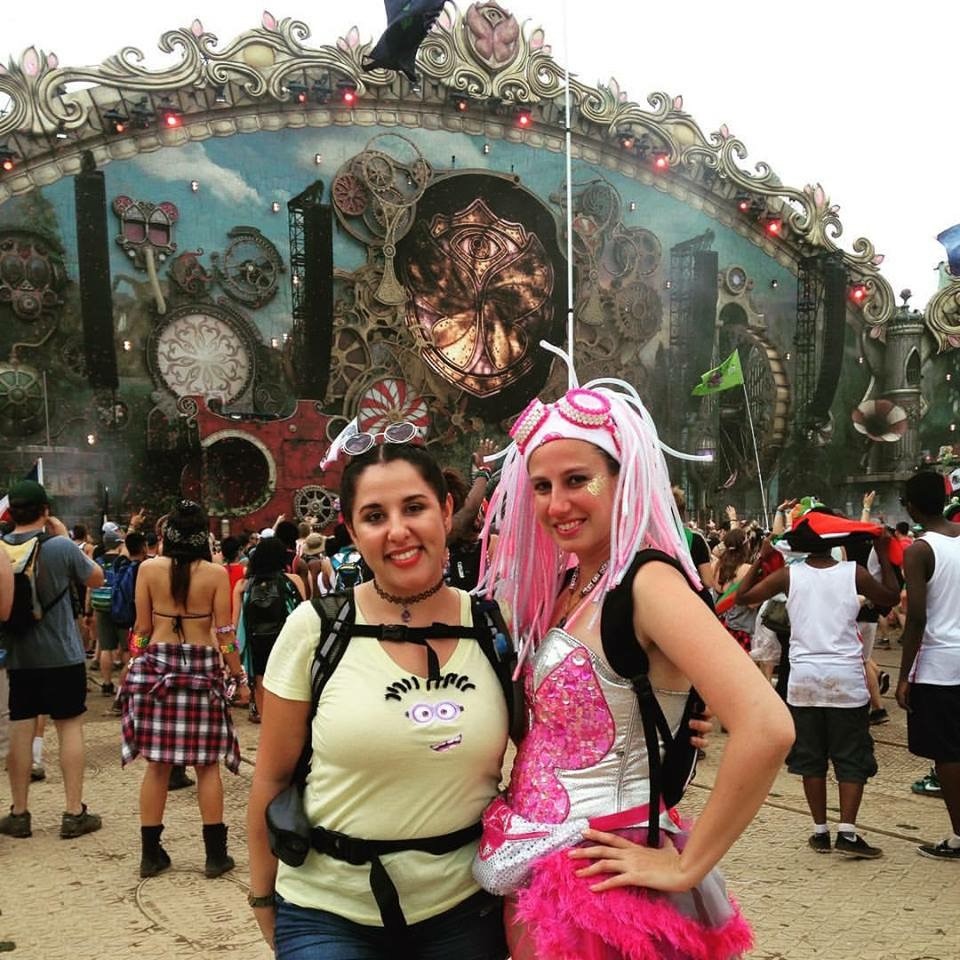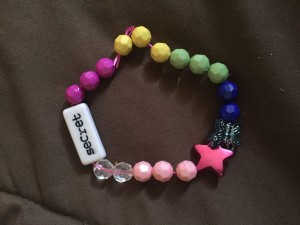 Day 3 started off interesting enough. I received frantic emails and Facebook messages asking if I was okay. I was oblivious to what was going on to those outside the gates. I was perfectly fine.  Then I found out what had happened and later confirmed why I camp in Dreamville. Then news was confirmed that it would only be Dreamville inside the TomorrowWorld grounds since Day 3 was cancelled to those not camping onsite. So it was another Gathering for us!!! When walking in, we came to disappointment when we saw that we couldn't cross the bridges since the Mythical Frames, Library and Forest stages had been closed.  TomorrowWorld acted quickly so as to rearrange the lineup to include some of the big names playing at the three stages that were closed.  Day 3 was a magical way to close the weekend. I decided to dress comfortable with my feather Mohawk, feather shrug, TomorrowWorld Shirt and shorts. The outfit was inspired by David Guetta's song Rise. My one goal that night was to at least ride on someone's shoulders for some of his set.  That moment came true when I was talking to someone, traded kandi and then the magical moment arrived. This gentleman put me up on his shoulders and his friend lifted my friend Sydney and we were experiencing it together.  To close out the weekend, my group watched Porter Robinson. Now it was scheduled to be a live performance, however Porter's computer had other plans and it goes dark right into Sad Machine. Porter comes on and recovers beautifully by telling us he brought his laptop so it wouldn't be a live show but he still wanted to give us a great show. And it was definitely a great way to end the weekend.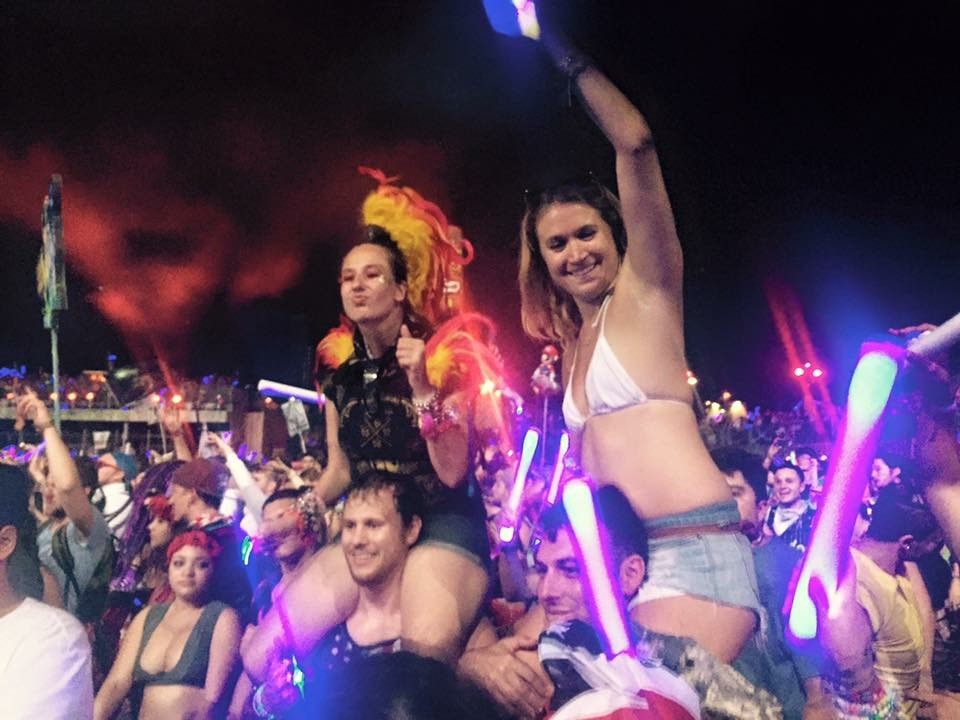 So Monday morning comes and packing starts.  Now yes I'm sure that you have seen the numerous videos of the aftermath. But one thing people don't understand is that because of the rain so much was also ruined, I know in our group at least 5 tents were left behind to include mine. We picked up all of our garbage and left it at the trash area but it was already overflowing. When we got to the exit,we had to wait in line for 1-2 hours to exit. As we patiently waited in line, hundreds of people cut in front of us.  My heart goes to the guy and gal that were part of the staff that were trying to stop the people from cutting. Also for the person that stole the TomorrowWorld staffers phone when she let you borrow it to check your flight info, you are a dick for taking her phone and not returning it! They are here to help you!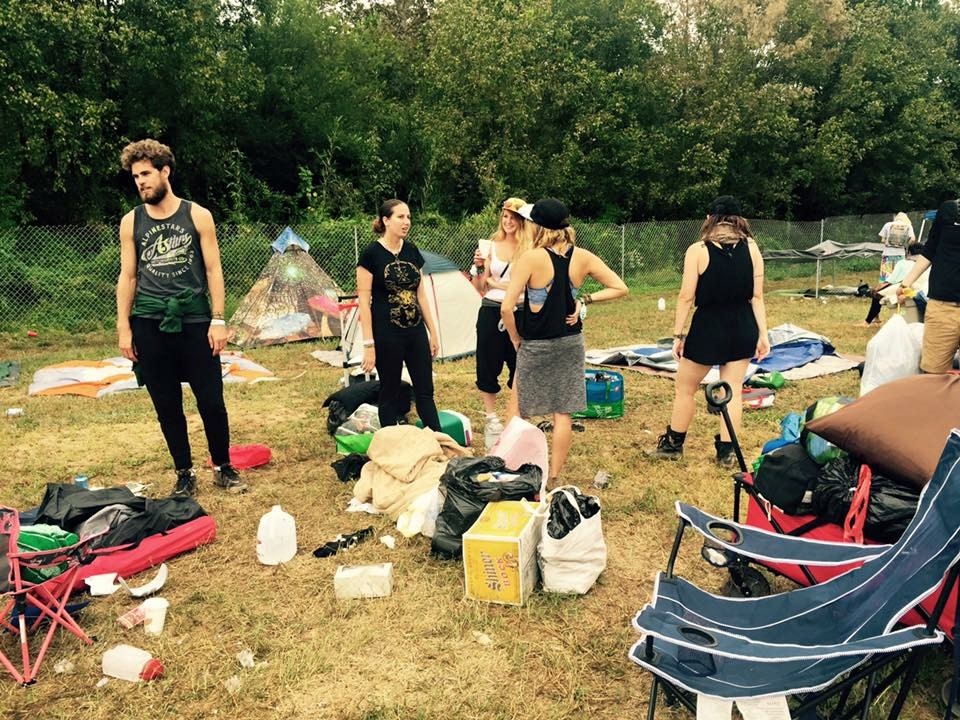 After trekking through the mud one more time, one final packing of the vehicles, our magical journey must end. As one final farewell, each person in our group left our mud drenched shoes behind.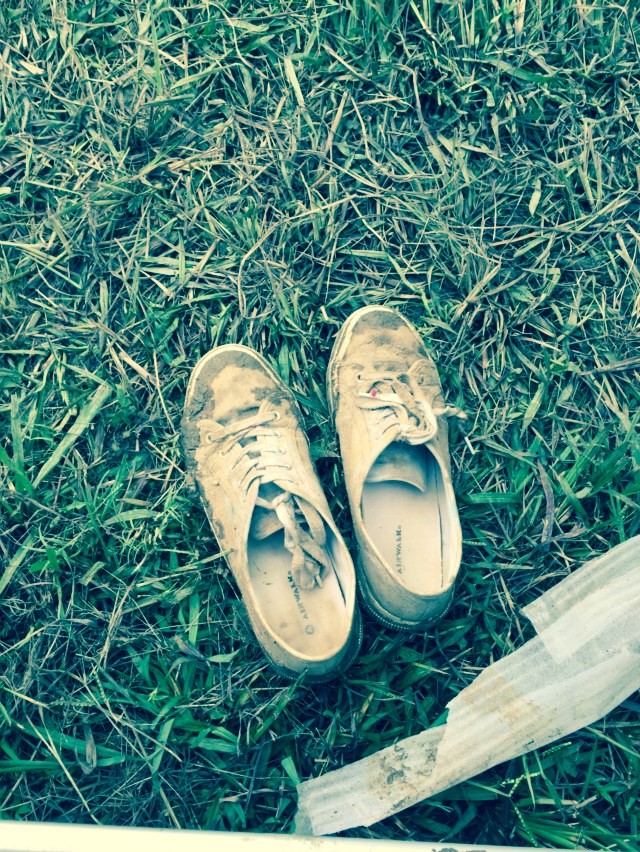 Sure, many unfortunate things happened but so many good things happened as well. Proposals, friendships, and great memories. I know walking away from this year my bonds were made deeper with the group I went with and my friendships a little deeper. We went as friends and came back as a rave family. I know for sure this girl has found her key to happiness, have you?