We're only one day away from EDC Las Vegas tickets from going on sale. Are you ready to buy your ticket or do you still have some lingering questions? Maybe you'll find your answer in our FAQs below. You can also head over to Insomniac's site for the official ticketing FAQs.
Q. When do the tickets go on sale?
A. September 21, 2015 at 12 pm PDT | 3 pm EDT | 2 pm CDT.
Q. Where can I buy tickets?
A. In 2016, tickets will be available through Front Gate Tickets EDC Las Vegas 2016  (Ticket link is not live as of 9/20/15.)
Q. How much are tickets?
A. They start at $335 for general admission plus processing and shipping fees. VIP tickets for those 21+ are $699 plus processing and shipping fees. You're going to want to buy your ticket before October 1st to avoid the additional 9% Live Entertainment Tax which will be $31.95 for GA and $62.91 for VIP. Fees include $1.00 charitable contribution.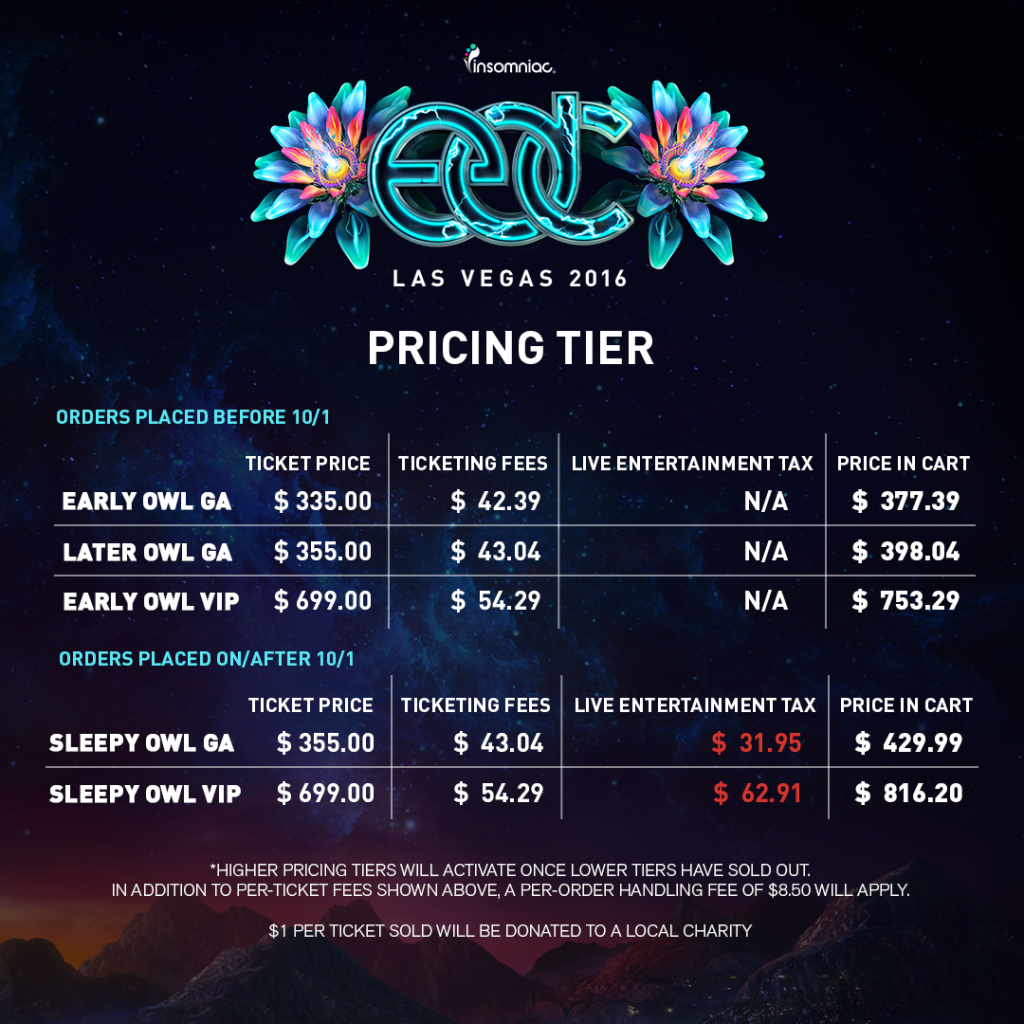 Q. Will the ticket prices go up from there?
A. There is a limited amount of tickets for Early Owl GA, tier 1. They will sell out once a percentage of capacity has been sold. Usually these sell out very quickly. Later Owl, the second and final tier will be $355  plus processing and shipping fees.
Q. Are the additional fees per ticket or is it per order?
A. The customer processing fees (Early Owl: $42.39; Later Owl $43.04; VIP $54.29) are per ticket. If you're doing the payment plan, the customer processing fee is included as part of your monthly payments along with nonrefundable $30 fee per order which is new for EDC Las Vegas 2016. Shipping fees are per order. The shipping fee (US $8.50; no details yet on International shipping or pick-up) will be included with your first payment at the time of order.
Q. Is there a payment plan available for tickets?
A. Yes. All options will have a payment plan starting on September 21, 2015.
Q. How much are tickets for the payment plan?
A. Here are how the layaway costs break out:
Early Owl 3-Day GA Pass: $407.40 + fees (US shipping: $8.50) for a total of $415.90*
Later Owl 3-Day GA Pass: $428.05 + fees (US shipping: $8.50) for a total of $436.55*
Early Owl 3-Day VIP Pass: $783.29 + fees (US shipping: $8.50) for a total of $791.79*  
*Layaway total costs if purchased before October 1, 2015.
New for EDC Las Vegas 2016:
All layaway plans are subject to a nonrefundable $30 fee per order.
Any defaulted layaway plans are subject to a nonrefundable $40 fee per order.
Additional layaway info:
Payment structure applies to plans purchased before October 1, 2015.  

Additional per-order US shipping fee of $8.50.

$1 per ticket sold will be donated to a local charity.

Insomniac has not yet provided a payment schedule for purchases made starting October 1, 2015 or later.
Payment Plan schedule per Front Gate:
Deposit: Due Upon Purchase
Payment 1: Due October 15th
Payment 2: Due November 15th
Payment 3: Due December 15th
Final Payment: Due January 15th

Q. If I buy two tickets on one order can I still do a payment plan?
A. Yes! You can do the payment plan for multiple tickets.
Q. How many tickets can I buy?
A. There's a limit of six tickets. Persons who exceed the ticket limit may have any or all of their orders and tickets cancelled without notice. This includes orders associated with the same name, e-mail address, billing address, credit card number or other information.
Q. Can a friend buy my ticket or does it have to be bought off of my own credit card?
A. Your friend can buy a ticket for you, but it will get shipped to their billing address.
Q. Should I buy general admission or VIP?
A. Here's a couple of ProTips from The Scene is Dead to help you decide: Live the VIP Life at EDC and General Admission vs VIP.
Q. Will I receive a special EDC box with other collectible items?
A. Your ticket will arrive in a special EDC box with other collectible items. If you ordered more than one ticket together, that would be considered one order and you would only get one box. If people in the same household (same address) place individual ticket orders, each order will receive a box regardless of sharing the same address. So if you want more than one box, just make sure to order your tickets separately, though there will be a separate $8.50 shipping fee for each order. Another option that might be possible is that at previous EDC Las Vegas events, anyone else who wanted a box of goodies could visit the will call tent at the festival and ask for one. Your ticket will arrive in a special EDC box with other collectible items. Please note that you will receive only one box and one set of collectibles per order. Example: If one person purchases four sets of tickets for different friends, all four tickets will come in the same box. If each member wants their own special box and collectible items, please purchase each ticket through separate orders. All ticket boxes will be shipped together, approximately one month prior to the event.
Q. Will there be single day tickets?
A. Nope, only three-day passes. According to Pasquale Rotella, you need a whole weekend to experience it all!
Q. Will the tickets be paper, magnetic card or wristband?
A. EDC Las Vegas 2015 had RFID wristbands, so we can assume that EDC Las Vegas 2016 will have wristbands too.
Q.  I'm purchasing a three-day pass but can't make it one of the days—can I let a friend use my ticket after I have?
A. No, your ticket is not transferable. Unlike magnetic card tickets used in previous years, it would be next to impossible to give your RFID wristband to a friend to use for one of the days if you couldn't attend.
Q. Do I have to buy my shuttle pass at the same time as my tickets?
A. There will be shuttles for EDC Las Vegas! You can purchase shuttle passes separately from your EDC Las Vegas ticket. However, many shuttle stops sold out very quickly in past years. So as soon as you have your hotel details sorted, you should buy your shuttle pass! Here's a ProTip from The Scene is Dead: Shuttles and Others Ways to Get to the Las Vegas Motor Speedway.
Here are the shuttle stops for EDC Las Vegas 2016: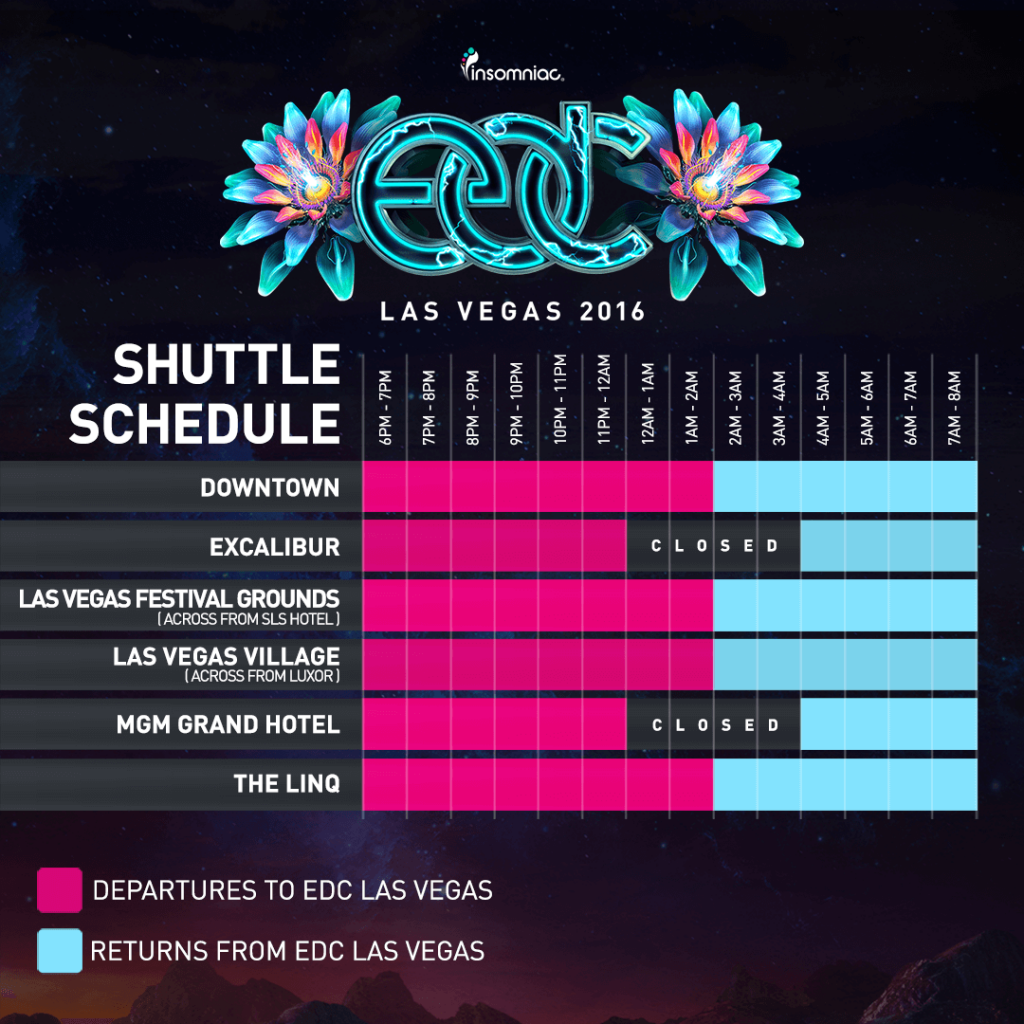 Q. Can't I just ship the tickets to a friend or family member's house in the United States?
A. Tickets can only be shipped to the billing address. This is to help prevent fraud.
Q. How can I avoid ticket fraud?
A. The best way to avoid ticket fraud is to buy directly from official ticket links. If you buy resale tickets, we advise you to get them only from trusted friends. DO NOT purchase from scalpers. If you arrive at the venue with an illegitimate ticket, you will be turned away, and no refund will be provided.
Q. How do I know if my purchase was successful?
A. It will say right away. You should also receive a confirmation email within moments of purchase. If you do not see it, be sure to check your spam folder.
Q. What are the age limits?
A. 18+ for general admission and 21+ for VIP.
Q. They really expect people to buy tickets without a lineup?
A. Yes. It's been this way for years. It's about the experience and it's a great experience. Once the lineup is out if you don't like it you can easily sell your ticket. The lineup will be out sometime in May or early June.
Q. What if I buy tickets but can't go, how do I sell them?
A. Once you receive your tickets mail them. If the tickets will be at will call you'll need to make a photo copy of your credit card and black out all but the last four digits and also give the purchaser a photocopy of your driver's license.
Q. Does my EDC ticket get me access to EDC Week events?
A. No. Your ticket is for the three nights of the festival itself. Pool parties and club nights are all separate tickets. Join our Facebook event page to keep up-to-date on all EDC Week events outside of the festival.
Q: How do I buy tickets for EDMBiz?
A. The 5th annual EDMbiz have not been announced yet. Typically the event runs from Tuesday through Thursday night. In past years there has been EDCLV/EDMbiz ticket bundle packages available.
Q. Do I have to book my hotel right now?
A. No, but the earlier you book it the cheaper your price will be. Same goes with flights. Insomniac will not be offering travel packages, but they will be offering special hotel pricing at some point very soon.
Q. When will I receive my tickets in the mail?
A. They will not be mailed until at least three to four weeks before the festival if you live in the United States.  US shipping is $8.50 per order. Shipping tickets to Canada will be $26.50 per order, while all other international destinations will be $45.50 per order. International headliners can can choose either international shipping for an additional fee (Canada $26.50 other countries $45.50) or you can pickup your tickets at will call for $8.50 per order.
Q. Okay, now after months of patiently waiting I've finally received my wristband, what do I do with it?
1. Do not put on the wristband until the day of EDC.
2. To enable customer support for the best experience, you must register your wristband. The wristband can only be registered once, and only to one person. If a wristband gets lost, stolen, or damaged, only the person who registered it will be authorized to receive customer support. In 2015, there was a $20 surcharge will apply for each wristband replacement.
3. The best way to put on the wristband is to leave enough space to fit a finger beneath the wristband.
4. Each wristband can only be scanned into the event once per day, no ins-and-outs.
5. Do not subject your sensitive RFID wristband to, fire, cutting, excessive twisting, pulling, stretching, or customization.
6. If you need any help, tweet questions using the hashtag #EDCHELP, or email [email protected]
7. In 2015, Insomniac provided a customer support box office at the Flamingo Entrance in the LINQ Promenade, which is on the Strip. Not sure if this is the location for 2016, but will keep you posted when we have more details!
Q. Oops!  I was so excited to try on the wristband and now I've put it on way too tight and it's weeks before EDC. What do I do now?
A.  Every year Insomniac posts reminders not to do this, but the excitement for some people is all too real. Here's a ProTip from The Scene is Dead on what to do: Removing a Wristband You Put on Too Early,
Q. Help! The event's almost here but I still haven't received my tickets!
A. If you do not receive your tickets within two weeks of the event then contact Front Gate Tickets.
Q. I still have questions about my ticket order, where can I go for additional information?
A. Here are addition resources to help you with your ticket purchase:
Front Gate Tickets Support: support.frontgatetickets.com
EDC Las Vegas 2016 Ticketing FAQs: lasvegas.electricdaisycarnival.com