I'll never forget my first event. It was LED Anniversary, I had to work early the next day, and I was driving myself there and back. I had just moved to San Diego and had only really listened to EDM from my computer speakers. The whole festival and event concept was brand spankin' new.
You can imagine my utter bewilderment when I stared at my closet an hour before the event started, completely and utterly hopeless. After realizing it was a lost cause, I somehow managed to throw on a cute top, a skirt, and *shudder* ballet flats.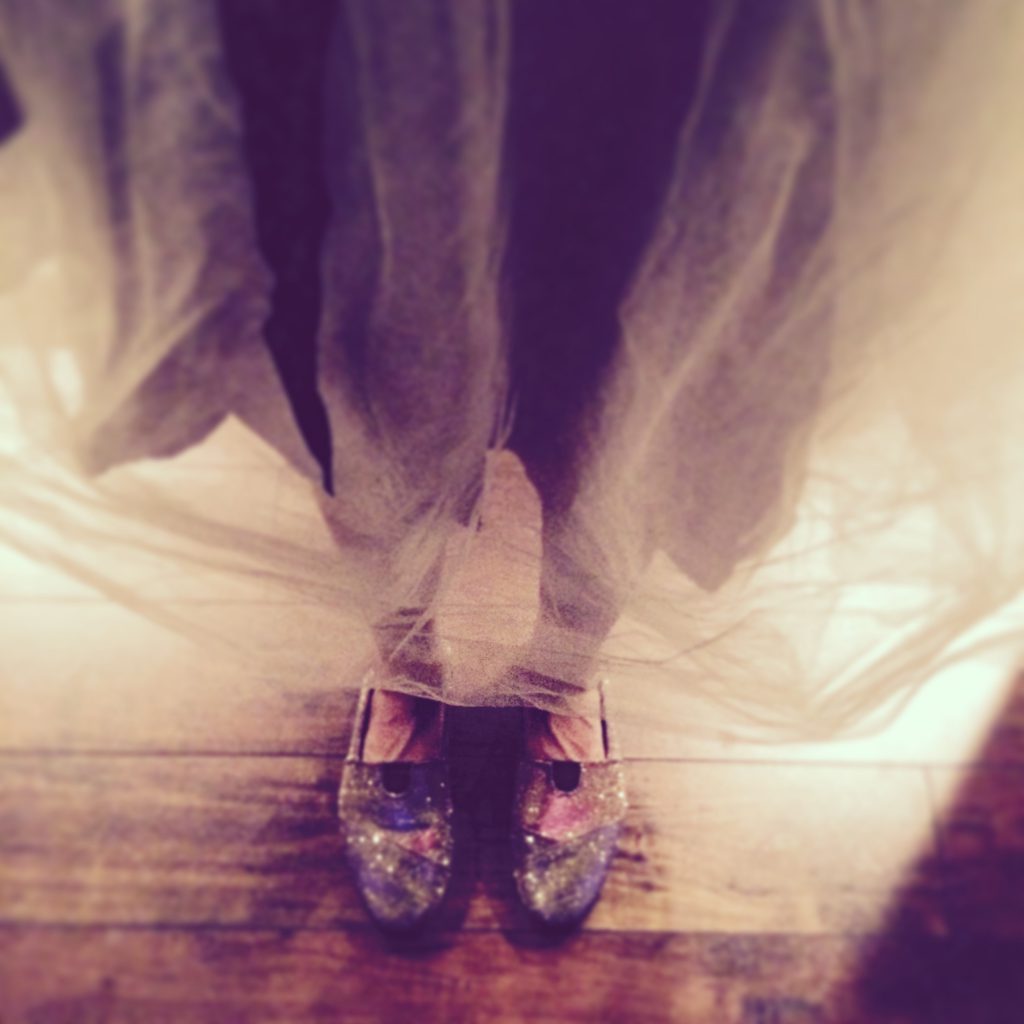 I nearly crashed my car the first time I drove into that event. No. I wasn't intoxicated. In fact, I was stone-cold sober. I was just simply blown away by all the different outfits that waited in line to get into Sports Arena. Tutus and fluffies and fairy wings, oh my! I hadn't even heard of Kandi yet. As I crept up to the line, I swallowed back tears. I stuck out like a sore thumb and it was very obvious. My mind raced as I contemplated running back to my car. I'm a brown girl, and yet I was sure everyone could tell that I was blushing my face off.  Ahhh! Help!
I was literally about to throw in my white flag and surrender when a super friendly girl with an arm stacked from wrist to armpit with bead bracelets came up to me and smiled. I shot a glance longingly in the direction of my car before hesitantly smiling back at her. She introduced herself and stuck her fingers up in the peace sign at me. I shook my head, stuttering through my words, not knowing what to do. The girl's smile widened as she looked knowingly at me.
"Is this your first event ever?!" She squealed and jumped up and down with excitement. Ahhh! Omg! Am I really that obvious? This can't be happening!
Before I could whisper some form of apology (I'm sorry for disgracing everyone here with my presence-sort-of-thing), the girl gave me a warm hug. She told me that she remembered her first event and how scary it was and that everything was going to be okay. She even taught me how to trade Kandi, what PLUR was, and gave me my first few bracelets. I couldn't believe it! Before I could ask her about my attire, she was gone, happily skipping away to be a magical festival fairy for someone else.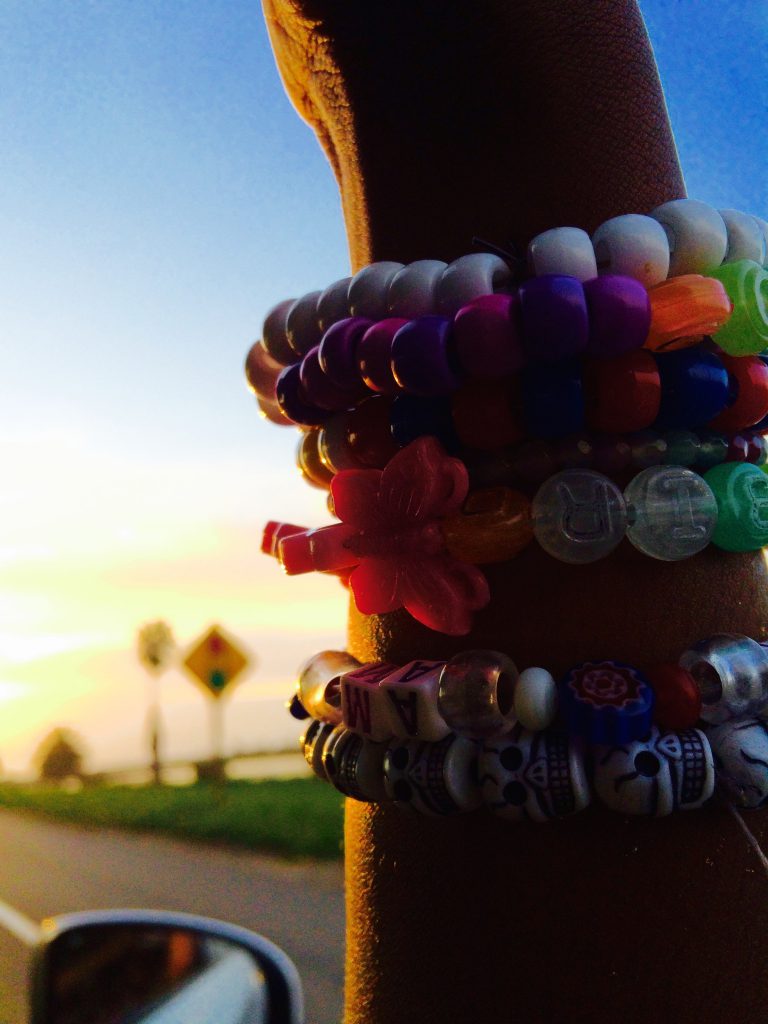 So. I looked around again, only to realize…
…that my outfit didn't matter.
Nope. Not one bit.
When I had recovered from the shock of feeling like the odd girl out, I took the time to really look around. There were girls in feathers and tutus and outfits made out of crystals and sequins. I saw soft fur, bright colors, and sparkly cat ears. I also saw jean shorts, plain ol' hoodies, and college sweatpants. What?
I lost my train of thought for a moment when another girl bumped me from behind. She apologized quickly and motioned to her group of friends. "This is only our second event! Who are you most excited to see tonight?" I stole a glance at her outfit before answering her. Her white shorts and flower-print crop top suited her well. "Alesso and Morgan Page," I answered back, suddenly starting to feel excited about this whole thing again.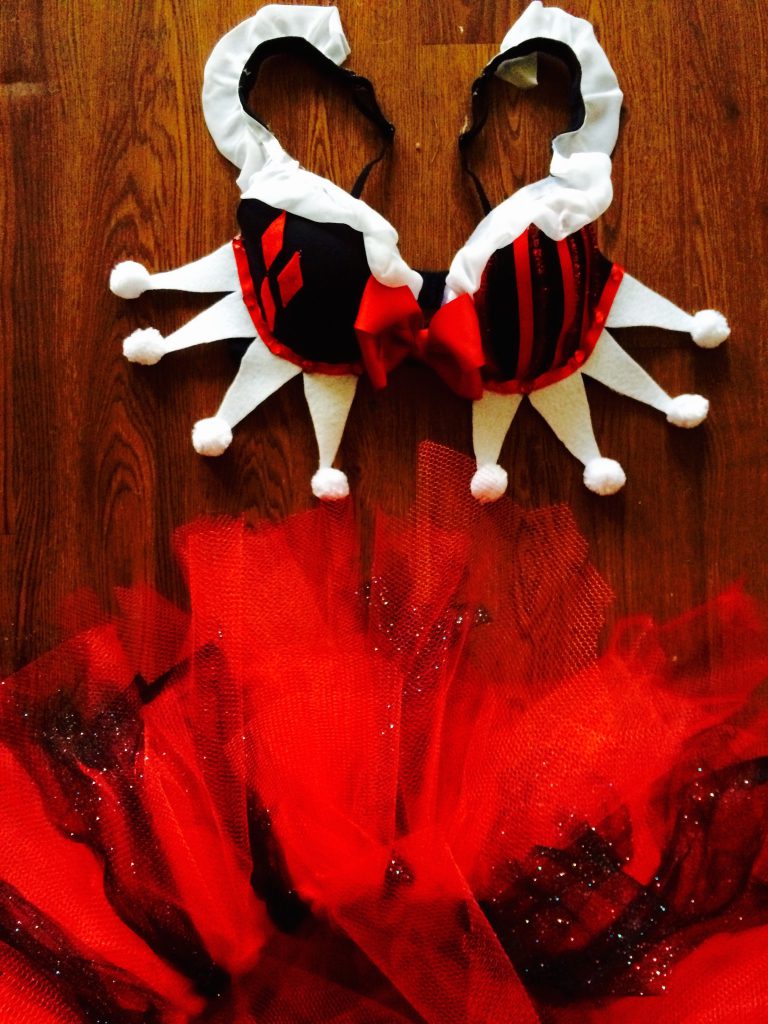 The thing was, she asked me who I was most excited to see, and therefore reminded me what this was all about: Peace. Love. Unity. Respect…and music!
Event and festival fashion doesn't have to follow any particular rule at all, other than that your outfit should make you feel comfortable, confident, and happy! You don't have to wear pasties or tutus if you don't want to…and you can absolutely dress up in fur and fairy wings if your heart desires! It's all about having fun and feeling amazing in your own skin. After all, you're at an event to experience beautiful sounds, amazing colors, and to feel awesome positive vibes. The last thing you want is to feel self-conscious!
That being said, I invite you to follow my tips and tricks to create fantastic festival outfits and have the time of your life!
TAKE NOTE OF THE WEATHER.
It's a good idea to get an understanding of what the temperature and climate conditions will be at your event. Are you inside or outside? Will it be cold or hot? Is rain a possibility? Underpreparing for environment fluctuations can totally take you away from the music. Be two steps ahead by wearing light and breathable layers. If I'm wearing a tutu and tank top at an outdoor festival, I'll pack a light cardigan and a pair of tights in my bag as the temperature cools. I'll also use this bag to store any layers that I don't want as well.
PROPER FOOTWEAR IS A MUST!
Yup, those ballet flats were toast by the end of my first LED event. After gaining some experience in the event and festival field, I've learned that it's best to go for comfort when it comes to your feet. Think about all the walking, jumping, shuffling, and dancing that you'll be doing throughout the day/night…yeah, this is no place for heels! I suggest wearing a shoe that offers both comfort and support. Personally, I love brightly colored Toms, Converse sneakers, or my thin all-black tennis shoes.
BE CREATIVE!
It took me a while to learn this one, but festivals and events are opportunities for you to fully express yourself and be who you want to be! Feel free to wear crazy colors, layer all sorts of textures, and create your own costumes. As long as you're happy and confident, you'll be spreading positive vibes around you all night long! If you choose to make your own costume, try recreating your favorite cartoon, anime, or movie character. Or, you could create an outfit that reflects the theme of the event. For instance, I dressed up as Alice and also the White Rabbit from Alice in Wonderland for the Beyond Wonderland festival this year. Break out your glue guns and glitter! Head to craft store and see if you find inspiration in the aisles. Keep in mind that the sky is the limit!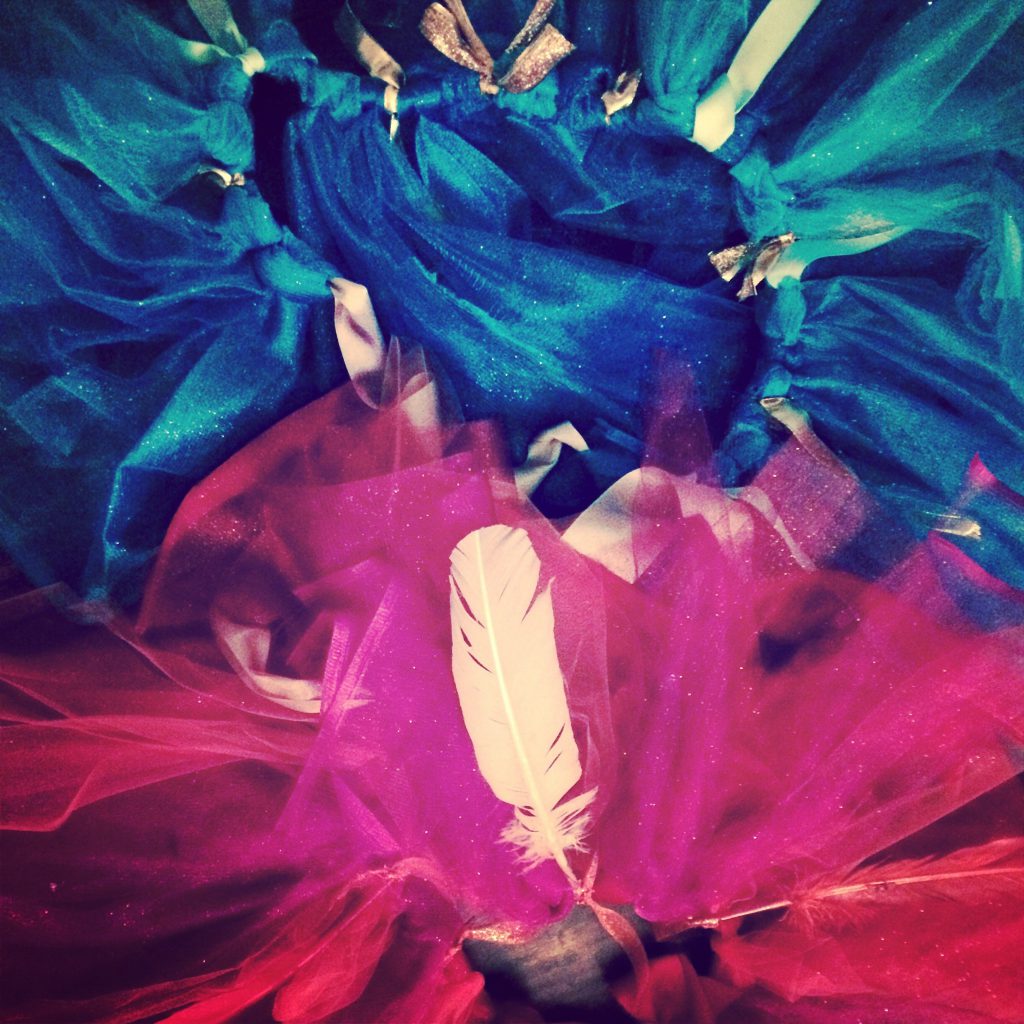 If the arts & crafts approach isn't for you, check out these easy outfit combos that you can try with the clothes that are right in your closet:
Cut-off jean shorts + crop top + flower headband
High waisted skirt + fringe top + cowboy boots
Spandex shorts + cute bra top + graphic tee + colorful knee high socks
If you still need help or want a custom order, feel free to message me! I have a festival costume shop on Etsy where I create custom-made tops, tutus, and full outfits for festivals and events. You can find me at Phoenix Revive where I have laid out some costume ideas like Poison Ivy, Princess Jasmine, and Wonder Woman…I would absolutely love to help you create the festival outfit of your dreams!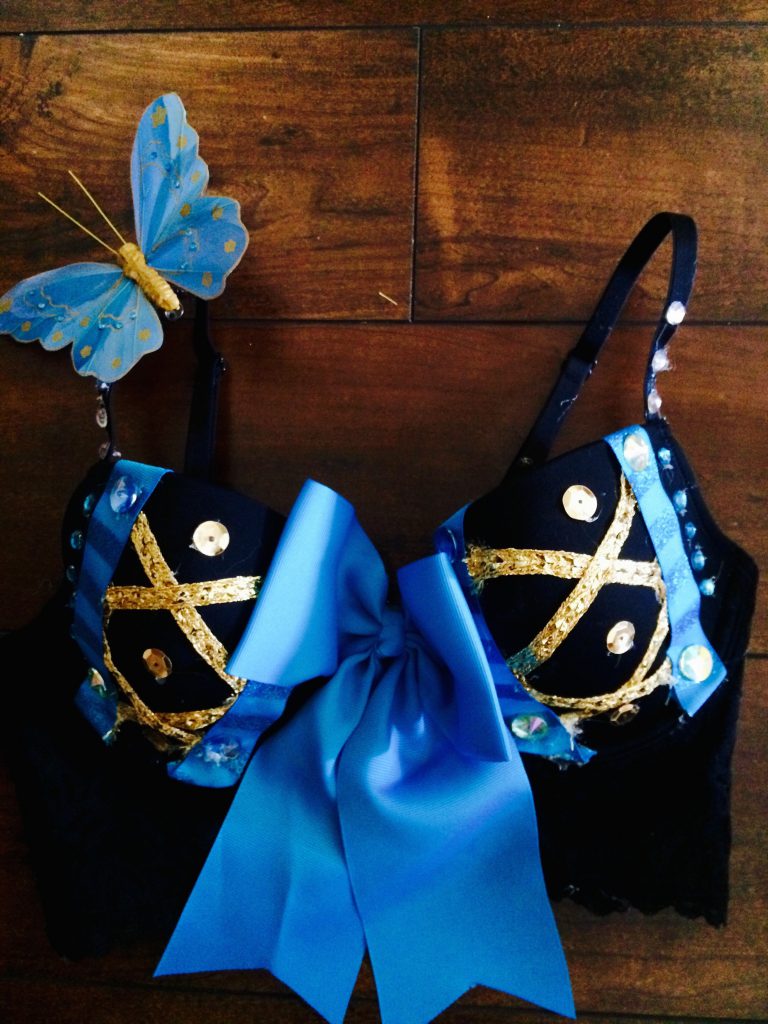 Remember, at the end of the day, the most important thing is that you have fun! Your festival outfit is allowed to be something awesome of your own creation. Whether you decide to dance the night away in yoga pants or shuffle to the stage in fluffies, smile and enjoy yourself!
If you happen to stand next to a girl who is as intimidated and as shy as I was all those years ago, hug her for me please! We're all in this together so share the joy and spread the love!