Are you a producer/DJ? Ever dreamed at spinning at a festival like TomorrowWorld? Here's your chance! ID&T is offering DJs a chance to open up it's Revealed stage. What you'll need to do is submit a remix of Thomas Gold's 'Believe' track. Not only will the chosen winner get a spot on the lineup, they will also:
Be considered to release the track on Revealed Recordings
Premiere on Dancing Astronaut
Win support on Soundcloud via the Artists and Label
Contest entrees will be voted upon by the public by the public – the more votes, the better chance you have at winning!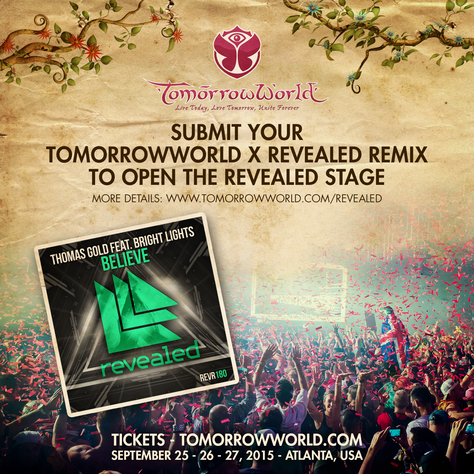 Remixes and voting ends on September 5th at 9:00AM EST. Winner will be contacted via e-mail. For more information, visit: Wavo.
TomorrowWorld is set to take place on September 25th, 26th, and 27th in the Chattahoochee Hills outside Atlanta, GA. Tickets can be purchased on their website.
Follow TomorrowWorld on Twitter and Facebook to stay up to date or visit us here!