If you've got a creative mind and want to take a stab at creating a totem – here's your chance to win! TomorrowWorld is giving festival goers the opportunity to win comfort VIP tickets to the festival. Their requirements are that you must incorporate the TomorrowWorld logo or elements from this year's TomorrowWorld theme (The Key to Happiness) to qualify.
More information can be found here  and also is where you can sign up and submit into the contest. Talenthouse stated:
Judges are looking for a unique structure that will serve as both a beautiful piece of art as well as a photo opportunity destination for the campers. You may submit a ready-made piece, a visual storyboard or concept sketches.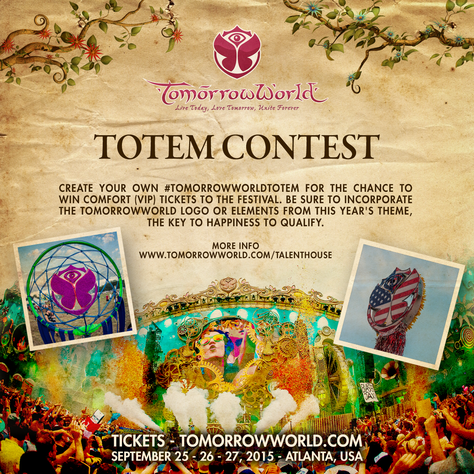 TomorrowWorld is set to take place on September 25th, 26th, and 27th in the Chattahoochee Hills outside Atlanta, GA. Tickets can be purchased on their website.
Follow TomorrowWorld on Twitter and Facebook to stay up to date or visit us here!