XLR8 and Fuzion Four Records are teaming up to present IGNITE featuring Sean Tyas, one of the trance genre's well-known producers, in Kansas City, MO on August 22nd. He will be making his debut in KC at ONE%, one of the city's renowned dance night clubs. Tyas has produced music since the early 2000's. He aired an internet radio show named Tytanium Sessions for an extended period of time until changing it to the name of Degenerate Radio. The show is aired on Digitally Imported's trance channel every Friday at 6PM EST.
Pre-sale tier 1 tickets can be purchased here. Hurry and get your tickets before they increase!
Doors open at 9pm | 21+ to enter
$5 pre-sale tickets available.. $15 early bird tickets. $20 at the door.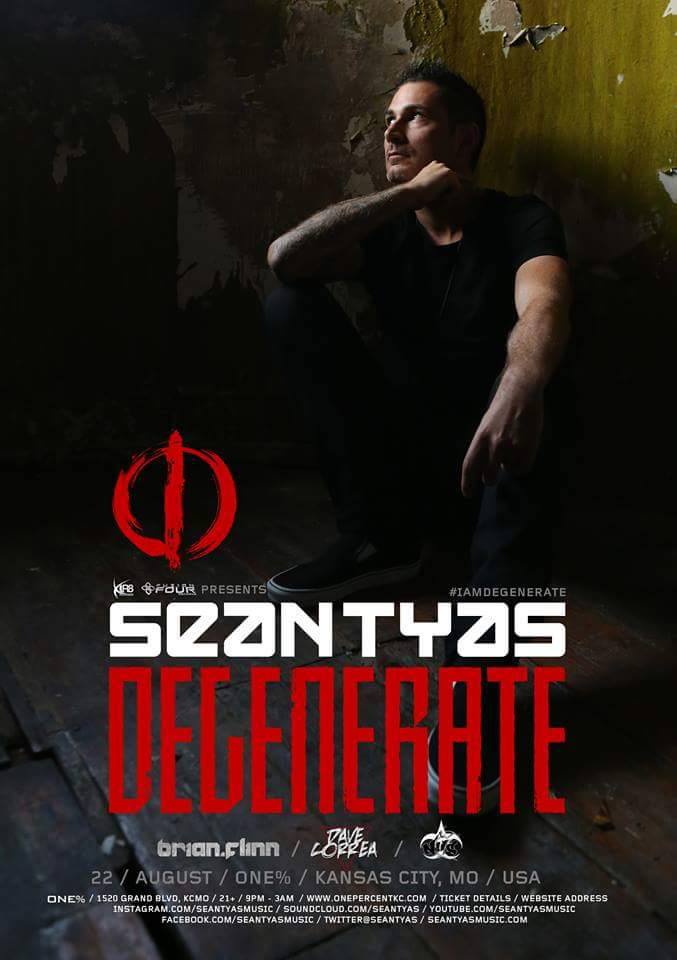 New York's Sean Tyas burst onto the scene in 2006 after releasing his debut single "Lift" on Discover Records which immediately hit number 1 on Beatport. A great start and a sign of things to come as shortly after Sander van Doorn selected him as the winner of the "Punk'd" remix contest. Around the same time Mixmag & Beatport named Sean "Best New DJ" and "One To Watch" marking the beginning of a rapid rise to fame within the cooler ranks of the Trance fraternity.

What followed was a consistent flow of number 1 hit records (including his unforgettable remix of Dash Berlin and Emma Hewitt's "Waiting," and his ground breaking single "Seven Weeks," which spent an astounding 12 weeks at #1 on Beatport), an Essential Mix on the legendary BBC Radio 1, multiple compilations and a diary racked with sell out shows around the world.

Having remixed for the likes of Tiësto, Above & Beyond, Dash Berlin and Gareth Emery as well as co-produced with Armin van Buuren, Simon Patterson and many more of the scene's elite – Sean's discography is a testament to his abilities in the studio where he is renown for turning great tracks into monster hits.
Two local Kansas City artists will be opening for Tyas:
NVS
Brian Flinn – Facebook, Twitter, SoundCloud, Beatport
An epic closing set will be provided by:
Dave Correa  – Facebook, Twitter, SoundCloud, Beatport, Website
————————————————————————————————————-
Fuzion Four Records – Website, Soundcloud, Twitter, Track It Down
Started in 2011, Fuzion Four Records was conceptualized then launched under a core set of Biblically moral and ethical principles with a desire to be more than just a music brand but a vessel of worldwide outreach through music and the personal relationships developed in our interactions with others around the globe. In the first we gained almost immediate support worldwide with one song gaining playlist support on SiriusXM, this initial success inspired founder Aaron Waters to expand the brand to encompass various sub labels each with it's own individual focus on specific genre's from Trance under Fuzion Four Records™ to House under GruvTech Recordings™ to Breaks under Digital Trifecta™ and Techno with Infinite Fuzion™ and as the label grew it became apparent that forming a label umbrella called Fuzion Four Label Group, LLC would be wise, this was followed up with the formation of more labels, Fuzion Four Deep™(Progressive), Solid Black Recordings™(Tech & PsyTrance), Hybrid Fuzion Digital/Black Op™(EDM/Hip-Hop) and in 2014 Full On 140 Records(140 bpm Tech & Uplifting Trance). There is further expansion planned in the future and we have no plans of quitting anytime soon, we're excited for what the future holds for us and the new relationships that will be fostered and we feel blessed to be able to connect with so many great people around the world.
XLR8 Entertainment KC – Facebook