As the plane descended into the Denver International Airport it hit me, I had never spent more than maybe an hour on the ground in this state. This would not only be my first ever trip to Dead Rocks, but also the chance I would get to explore a new city. After landed and navigating through the airport, I was picked up by my good friend Mo. We caught up with each other's lives, as we had not had a chance to hang out in person since Coachella, and he showed me some of the sights of the city. This trip would not just be including him and I though, because a good half of my Coachella Family from Weekend 2 this year would be arriving via car or plane shortly thereafter. One of the things I noticed in the brief time that I was there was that it seemed to be quite humid and stormy looking…but more on that later.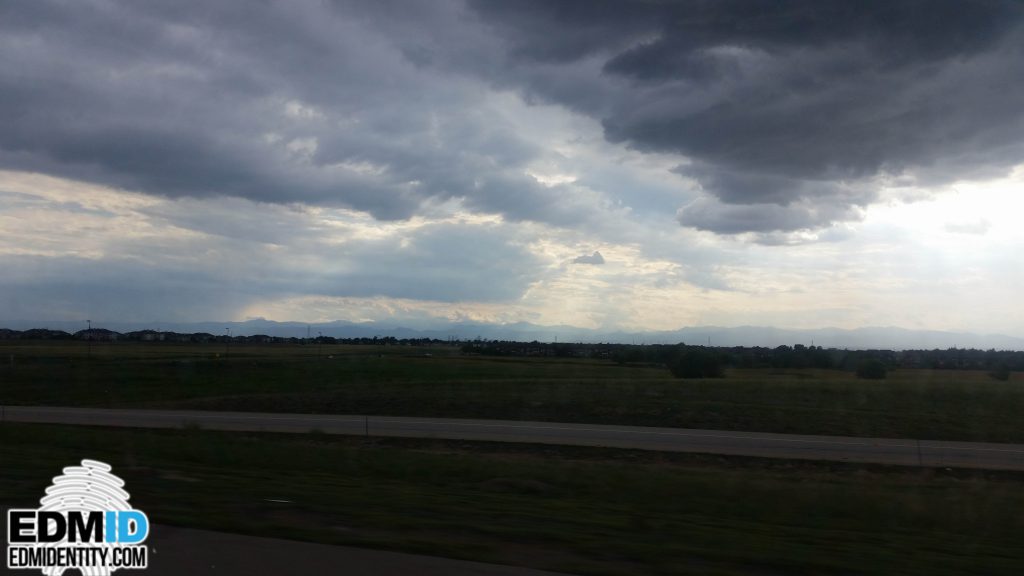 Some of these people had been to Electric Forest, stopping through Denver on their roadtrips home. Others went out of their way to make sure that they could all get together, because as a group we value actual human interaction than simply being stuck behind a computer screen. Where ever we came from though, we were there for two reasons. First, to go to Red Rocks for Zed's Dead's annual show "Dead Rocks" which would feature them alongside Dillon Francis, Paper Diamond, Mija, and others. Second, for those of us who could stay through the weekend, was to be with each other and celebrate the Fourth of July together.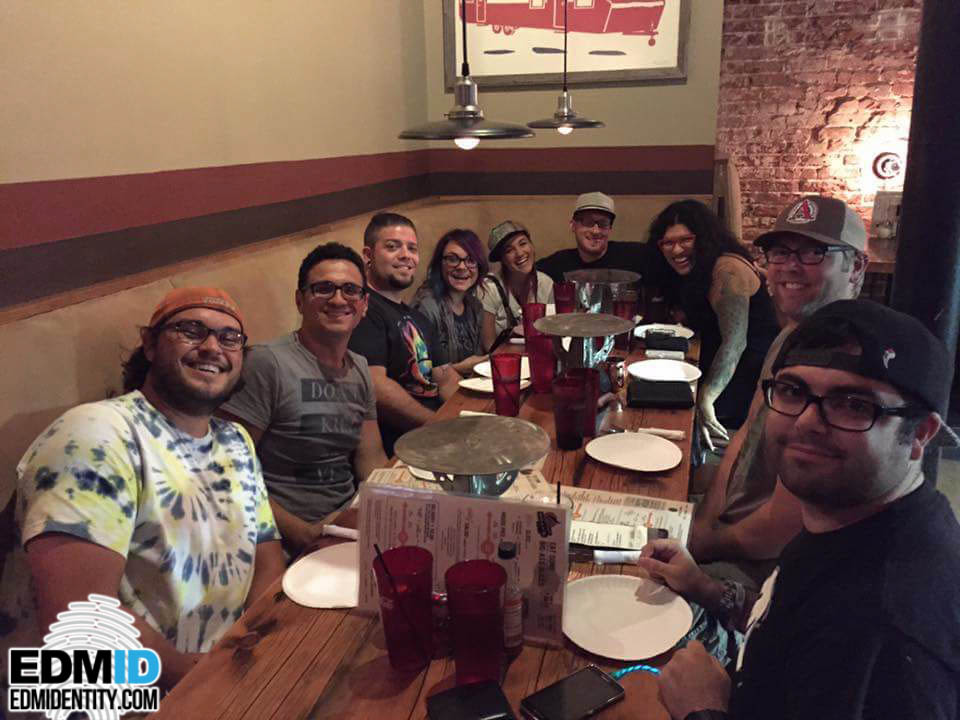 I woke up to the smell of breakfast sandwiches in the morning and we were getting amped up for the show later that day. I had never attending a show at Red Rocks before and honestly had no idea what I was getting myself into. My group and I caravanned out to the venue, and that drive was definitely one of the most scenic ones of my life. The amount of nature and green things, for someone living in a drought at the current moment can be a bit overwhelming. We arrived at the venue, parking on the side of the road due to the lots being full already. We began our trek up the mountain further to get to where the two entrances to the venue were. One surprising thing I saw at the way to the massive staircase was a Dancesafe Booth! It was super cool for them to be there, and there was plenty of information being provided for free concerning different substances.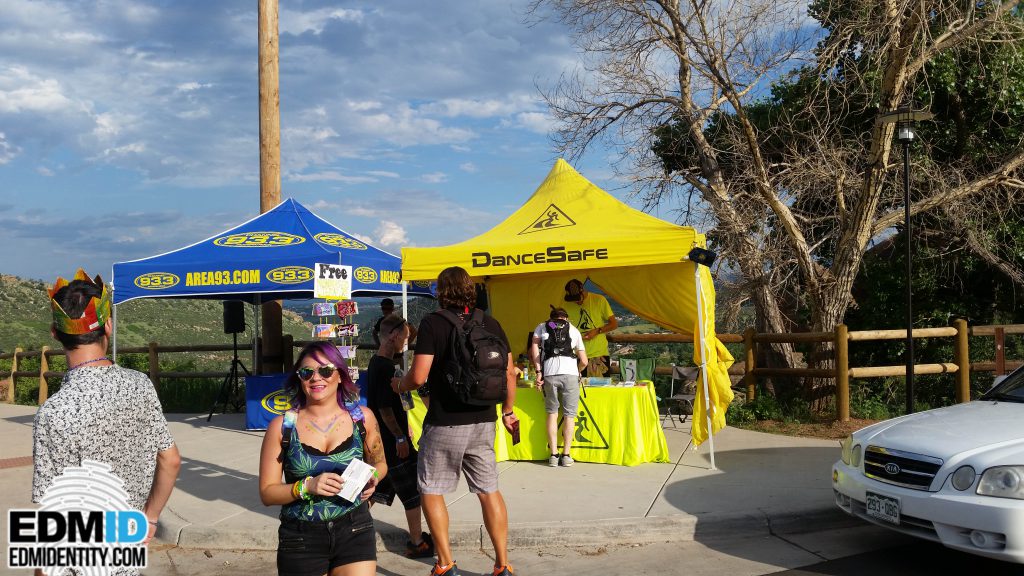 The main stairs seemed much further away, so we chose the closer route, which still seemed like a monumental task. I had my own experience with stairs in the past at EDC Las Vegas, and the first college I attended which was nicknamed the Stair Master as it was built on a hill. Luckily that prepared me for the journey up into the venue, and my group only stopped once or twice to catch our breath. Security was a breeze, tickets were scanned, and we were inside. We had unfortunately missed the opener, Hunter Siegel, but were excited as hell for the rest of the night.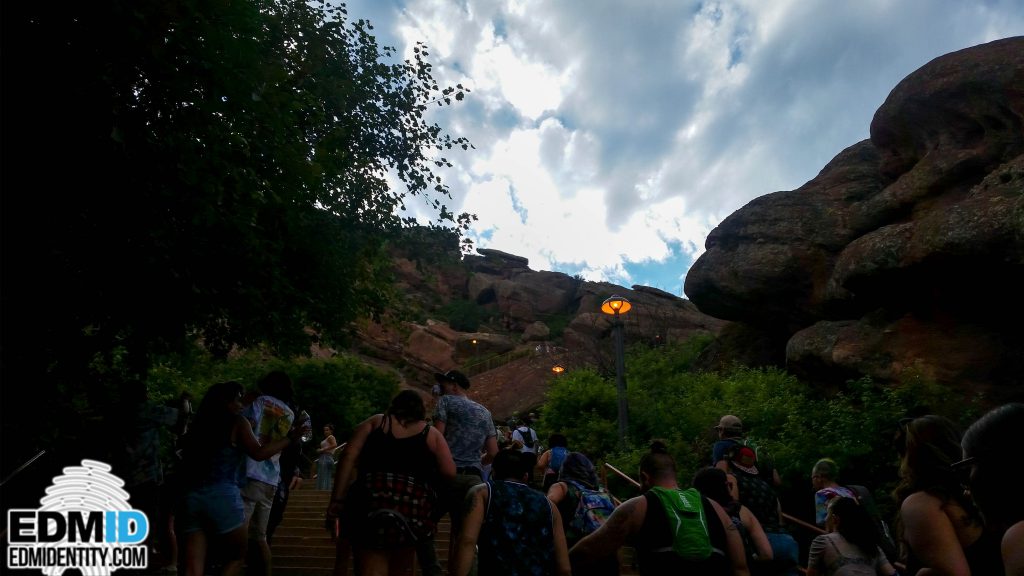 After finding an area in which we were going to be around for the night, I ventured off to find the merch booth and bathrooms. The merch booth was slightly disappointing although I did end up purchasing a shirt(Wish they had the Dead Rocks flag on sale though!). Mija was playing a great set and Haywyre was up next, and there I was taking in the whole view that Red Rocks has to offer. I must note by the way, that the acoustics inside the venue were unreal, and it seemed like there was not a single seat that was bad or too far away. Haywyre closed and that's when things began to get a bit weird.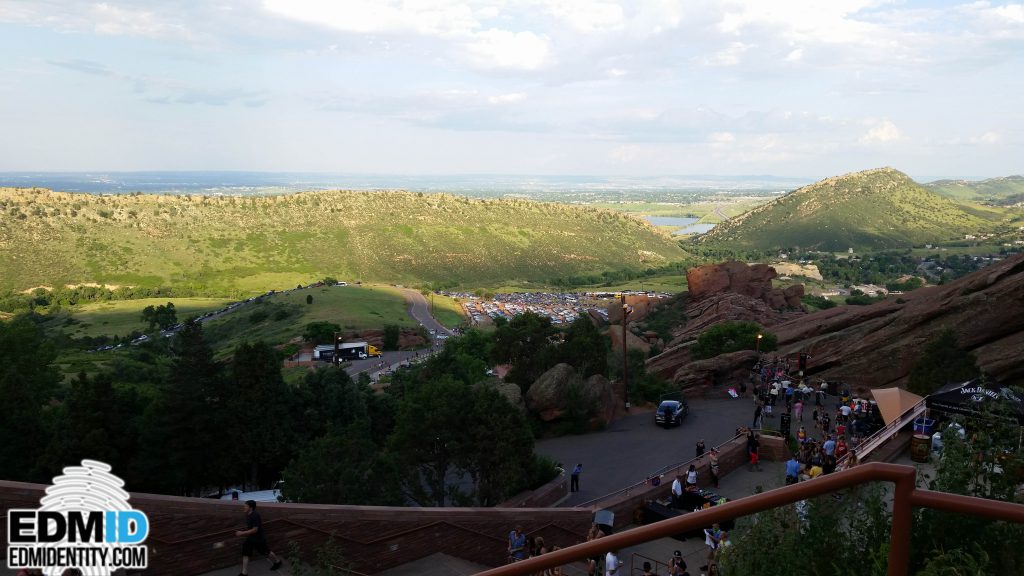 During the beginning of Paper Diamond's set, the wind began to pick up with the crowd cheering after every gust of wind. Then water droplets began to fall randomly on the crowd, with the cheering continuing. Mother Nature must have been pretty mad at that because in a matter of minutes, sheets of water began to rain down on the crowd. What was a happy, fun experience became total chaos for a moment as people fled for cover as a Thunderstorm passed over the venue. Ponchos and jackets were put on as fast as possible and groups of people huddled together in efforts to stay warm and dry. The storm was serious enough that the evacuation instructions were put up on the screen by the stage, but many people just decided to stay put. Everyone who remained made the best of the situation and it turned into an experience that made the trip more memorable. Twentyish minutes after the rain began, it ended, and Dillon Francis was there to bring us back to the vibes we had been experiencing prior to the storm.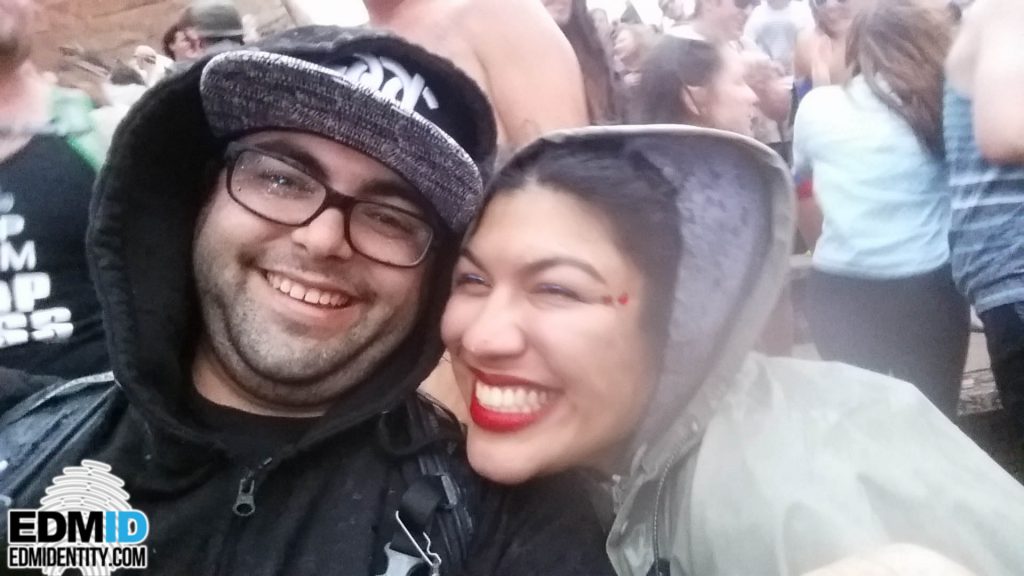 Opening for Zed's Dead, I felt like Dillon Francis was stealing the show. His set was amazing playing one that I felt was even better than the set I had seen him play to close out the Cosmic Meadow at EDC Las Vegas this year. I about lost my mind when he dropped the remix of Deadmau5's "Strobe", and when DJ Hanzel made an appearance the entire crowd went one deeper with him. With the set finishing up, I could not imagine how much better Zed's Dead's set would be or could be compared to that. While Dillon Francis killed it, Zed's Dead just destroyed everyone with quite possibly one of the greatest sets I have ever seen from them. I have been following Zed's Dead since 2009 and I have enjoyed every set I attended, this was hands down the best one. Playing their old and new tracks, mixing in some amazing remixes of other artists, and ending with one of my all time favorite remixes of "Eyes on Fire" I was left speechless.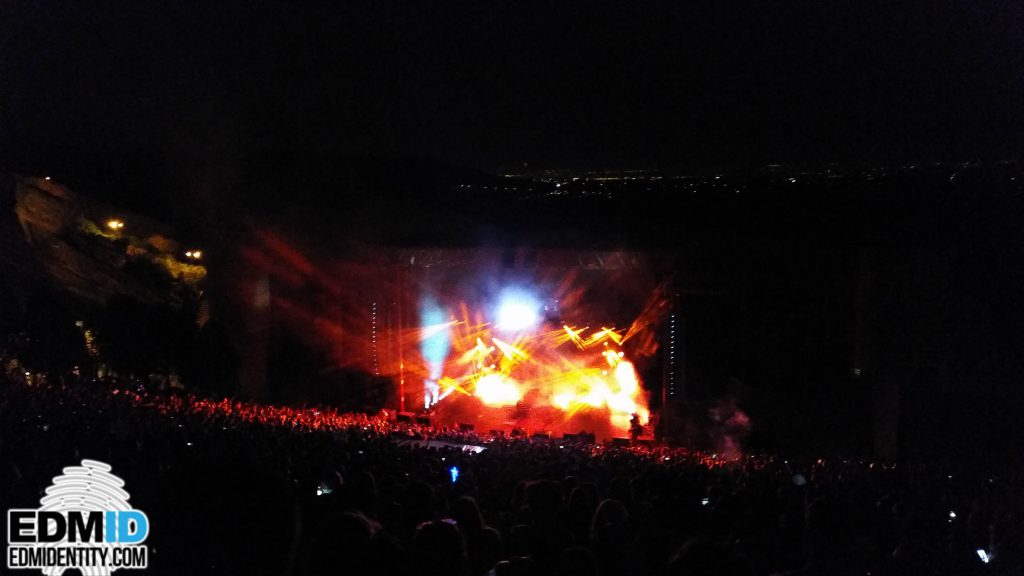 The view from the venue was breathtaking, the music was incredible, and I was with some awesome people who made this entire event one of the best single stage shows that I have ever attended. We stayed until the bitter end and then headed down off the hill, making sure to not leave anyone behind. After arriving at the house we spent a considerable amount of time reminiscing and keeping the party going.
The rest of the weekend was filled with fun and a ton of good food. I wanted to check out the nightlife that Denver had to offer. My choices were between Beta, Church, and Vinyl on Saturday after the Fourth of July festivities had concluded. Vinyl was where I ended up, as my friend Kayla highly recommended that spot. It definitely helped that her sister works as a Bottle Service Hostess there. If you've never been to Vinyl before, I'll give my quick review. The club has four levels total but the basement level was closed that evening. Each level had its own vibe and a different genre; the Main Level was Top40/General EDM, The Second Level was highlighting local DJs but was pumping out some serious Hip Hop, and the Roof was playing Deep House. We had a few drinks up on the top level and enjoyed the view of the Denver Skyline before heading back to the house to hang out with those who stayed.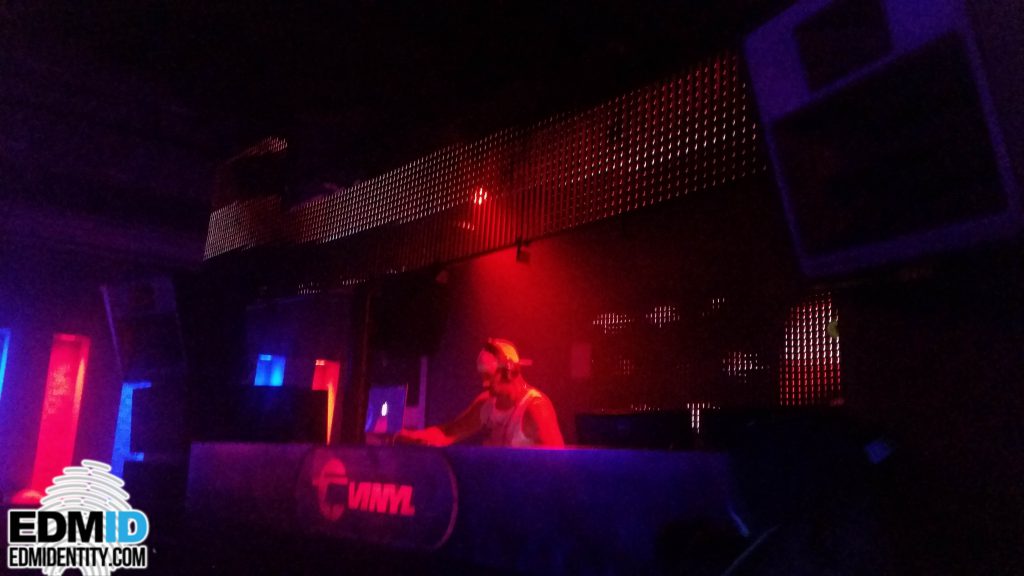 Overall the trip was one of the best that I have been on in a long while. I enjoyed so much of Denver that I most definitely will be returning in the future, and I will definitely have my eye on any show that is at Red Rocks. If you have never been to that venue before I highly suggest you check it out!
Want to see the official Dead Rocks 2015 Aftermovie? Click HERE