Within the bountiful pile of music festivals lies Dancefestopia, the perfect adventure to wrap up the summer for many EDM lovers all over the country. Located in the heart of the Midwest, Dancefestopia (DFT) presents a solid deal for three days of non-stop music.
There are several benefits to DFT's prime location. For one, Kansas City is known to be one of the best places to visit in terms of value. You won't spend an arm and a leg on food or lodging, and there's plenty to do on a budget. Secondly, we are endowed with the monumental Missouri river, which is where the Dancefestopia camping grounds will be placed. You'll be right along the bank with a beautiful view and cool breeze – a lovely way to unwind after dancing the night away. Kansas City also happens to be the heart of America, smack dab in-between most major cities. It's almost a few hour drive from anywhere, making your commute a lot less excrutiating. Richard L. Berkley Riverfront Park is the exact venue, just a few miles from downtown.

If the location alone hasn't convinced you yet, Dancefestopia is known as one of the largest music festivals in the Midwest and continues to build on that claim every year. As if the show wasn't epic enough already, Borda is committed to a production upgrade that includes a boosted sound system with six times the bass than last year. The three stages will also present an augmented new design and appearance. In addition to the enhanced production,  2015 brings VIP camping areas and VIP platforms. Enjoy a more exclusive camping section closer to the main stage, including private bathrooms and a better view of the river. The last three years have shown that more than 65% of Dancefestopia attendees choose to camp rather than stay at a hotel or at home. For more info and tips on camping, check out my Dancefestopia Camping Guide.

If you have a sweet love for EDM, then surely there are several artists on this lineup of 75+ that you'll want to see live. The three stages include the Main Stage, TheUntz.com, and Hy-tekk's Auxiliary, with acts from Bassnectar, Porter Robinson, and Datsik to name a few. Almost all of the headlining artists will run on the mainstage to minimize any conflicting set schedules. And in case you haven't checked out who is headlining yet…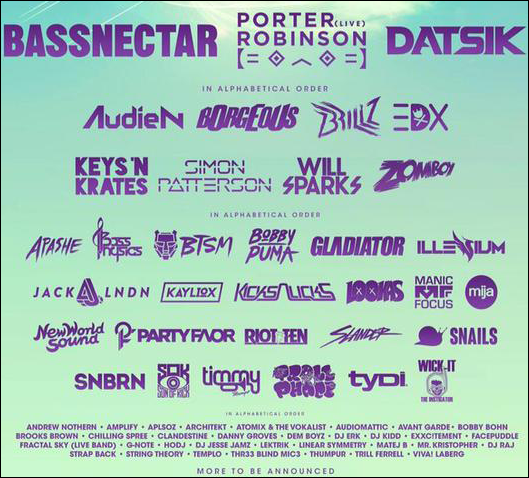 Aside from boisterous music and camping with friends, there are reported to be many other attractions at the venue. Grab a friend and soar together over the crowd on the 450 foot zip line, landing right into the mainstage. As if that isn't exhilarating enough, DFT will also host a helicopter tour all around Kansas City. Grab your tickets quick for this one, as it's first come first serve. You'll also find several free workshops scattered throughout the festival grounds, including yoga and other artistry. Last years setup included a dunk tank and airbag, body painting, free snack bins, and more. We aren't sure if that'll be happening again in 2015, but DFT's website quotes, "there are some things happening that will not be posted, and will be exciting to find on your own." There will also be a tent and totem contest, with last years prizes including tickets for future DFT. More to come on this. Past attendees have also stated that the event security and staff were friendly and helpful, and the porto-potties were clean; a near impossible accomplishment at most venues. To top off these extra activities, DFTs twitter announced that lovebirds who met at last years show will be stating "I do" on the main stage this year. The saying goes that "those who rave together, stay together."

If you simply can't make it to Dancefestopia this year, don't fret – the whole performance will be live streamed for a voluntary amount of money. The proceeds benefit the #Music2Youth and VH1 Save the Music Foundation, so choose your amount generously.
So with less than 10 weeks to go and camping tickets over 50% sold out, Dancefestopia is drawing near. Dates include September 11th-13th. A standard general admission 3-day pass is $159.98. It is an extra $20 if you want to upgrade your ticket to Early Entry, which will allow you to enter the festival one hour before gates open to secure a special camping area and begin setting up. A camping pass to TentCity is only $38.98 per person for the whole weekend. Upgrade that to VIP camping for $124.98 per person. Buy tickets here.
Connect: dft.com | #DFT2015 | @dancefestopia | Photograph Credits