In the past few years alone we have seen a shift in the electronic dance scene where once a meager yet loyal subculture of  music has now taken the country by storm spreading across the states faster that Paris Hilton's dying popularity.
This new revolution of commercialized EDM has left a sour taste in some cultural veterans mouths while all at the same time introducing the unique sounding and infectious bpm to younger generations. What we haven't quite explored as a cultural collective is the sudden steady rise of once very niche, cubby-holed genres taking heed and turning heads at what is now the generic sound and rather stagnant main stage ideal. The rise of sudden 'smaller' genres such as deep house can be sampled and recognized at almost any main stage listener, paving a path and setting a new bar of what it takes  to become a praised and popular DJ across the festival and massive platform.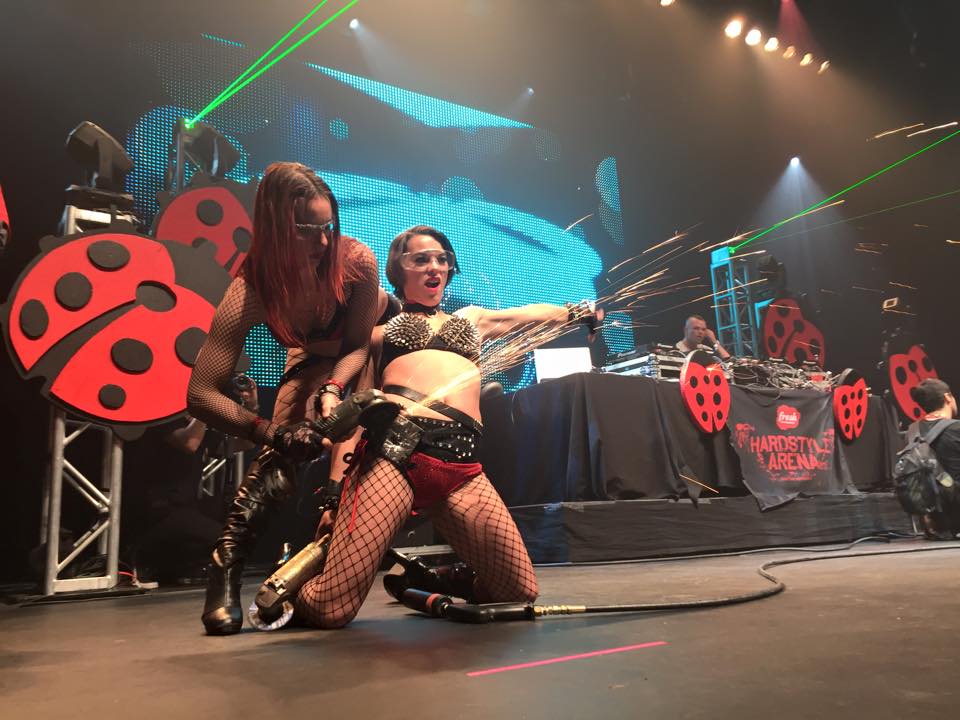 With the record breaking track speed that were seeing festivals sell out and the mainstage packed with new listeners the question now is what will the future of the underground sound develop into? On an uprising note we hear of djs sampling harder bass lines in their tracks and mash ups with the once unheard-of, over sees djs who all have an unmistaken strong fan base with our neighbors across the sea. With DJs once known for their making a name for themselves in the harder styles are now crossing over into the mainstage with their revolution of hard house music including names such as Headhunterz, D-block and S-Te-Fan and once upon a time, the legendary pioneers of hard dance,  Showtek.
The constant debate now lays with older veterans yammering on about the death of a once exclusive, small sub-genre being polluted by the commercialized fame of festival house or mainstage house music. The question now lays is what is to become of one of the last few unpolluted genres of the EDM culture?
The month of may was a abnormally busy month for hard dance fans, in a subversive and exciting moment we either drained our bank accounts in ticket sales, blew up our social media sites spreading the excitement or had to painstakingly choose between the massive events that were once only satisfied in our dreams or in hazy debates between hard dance fans alike.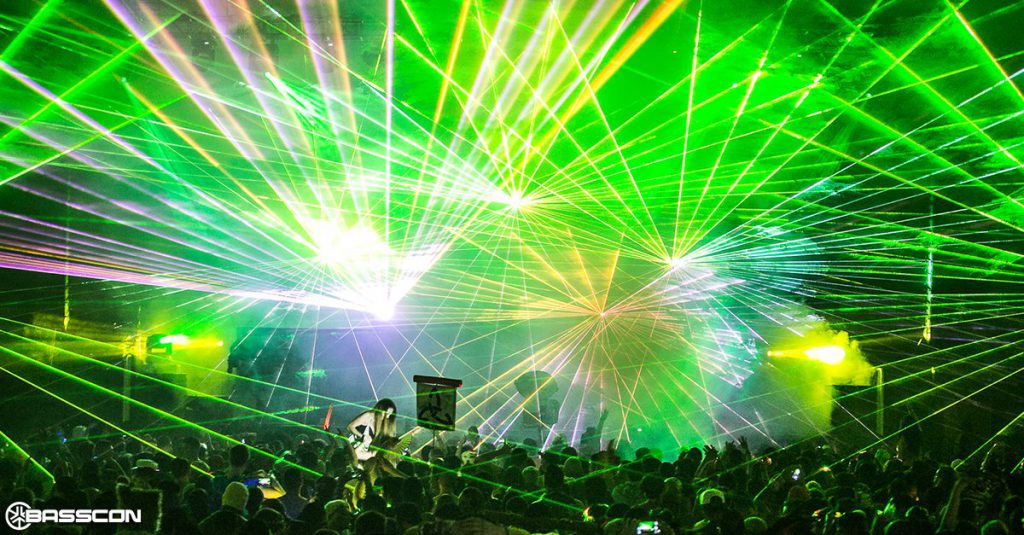 We gathered in a massive warehouse at the beginning of May to celebrate 'Resurgence' an Insomniac production's hard dance showcase  'Basscon Events' which attendance is steadily rising in a formidable manner. Collectively joining the veterans who dusted off their kikiwear or jinco phat pants to join the newer generation of insomniac owls who get to experience the best (that we've seen) of the hard dance scene, ones that the veterans only dreamed about less that five years ago. Keeping to the traditional vibe we gathered ourselves at the NOS Event center in San Bernardino and drooled over the talent that filled our hearts with 150 bpm while simultaneously getting destroyed by every laser that insomniac could pull out of their production warehouse. We all couldn't wait to see what the Insomniac production team built for us considering the last basscon stage that took place in February was hard to beat. This time the stage was a omage to the classic all-American symbol of freedom, a proud flying fierce eagle all gussied up including massive led screen imbedded wings. In an introspective way, it's a way of saying America is welcoming the oversea pioneers of the hard dance genre, which was in no short supply. We welcomed the young talented duo, Audiotricz to their first basscon massive performance, while bringing in other pioneers of the scene including; Adrenalize, Coone, Brenen Heart and local las vegas dj Darksiderz. The anticipation for the night lead into one of the all time strongest collaborations in the hardstyle scene; TNT ( the collaboration of  Italian legends Technoboy and Tuneboy both who started their dj careers in the mid 90's and started their effective collaboration at the start of the new millennia) Technoboy satisfied the eagerly awaited new single, E-biza while Tuneboy introduced the crowed to  "Devotion" an updated, new hard dance anthem that gives a fans a fresh song to add to their 'hardstlye anthem playlist' sitting on par with the immortal hardstyle melody that can only be compared to Showteks 2010 single "FTS," every hard dance fans credo. If you weren't already dripping in sweat, muscles burning to the core from constant movement and ears ringing from the infectious steady bpm upwards of 150, no one could prepare or describe what would transpire when you heard the dutch native hardcore god himself, Angerfist taking the stage. With a barrage of singles dating back to 1998 the legendary master himself was about to challenge the best of hard dance pros to melting the boundaries of electronic production and subsequently 'skull f*king' the minds of so many first time listeners. Angerfist is not for the faint of heart (or anyone who plans on hearing without assistance by the age of 50.) His fan following is of cult status since his long awaited American tour in 2011, as well as his recent massive debut at EDC 2014 and banging in the new year at Fresh NYE 2014. With a white hockey mask (reminiscent of the 80's slasher king himself Jason Vorheese) draped in a black hoodie, his presence is unforgettable as well has the mastery of the hardcore sound. Resurgence, left a taste in all our mouths of an unforgettable sweat ridden memory that yearns to be relived.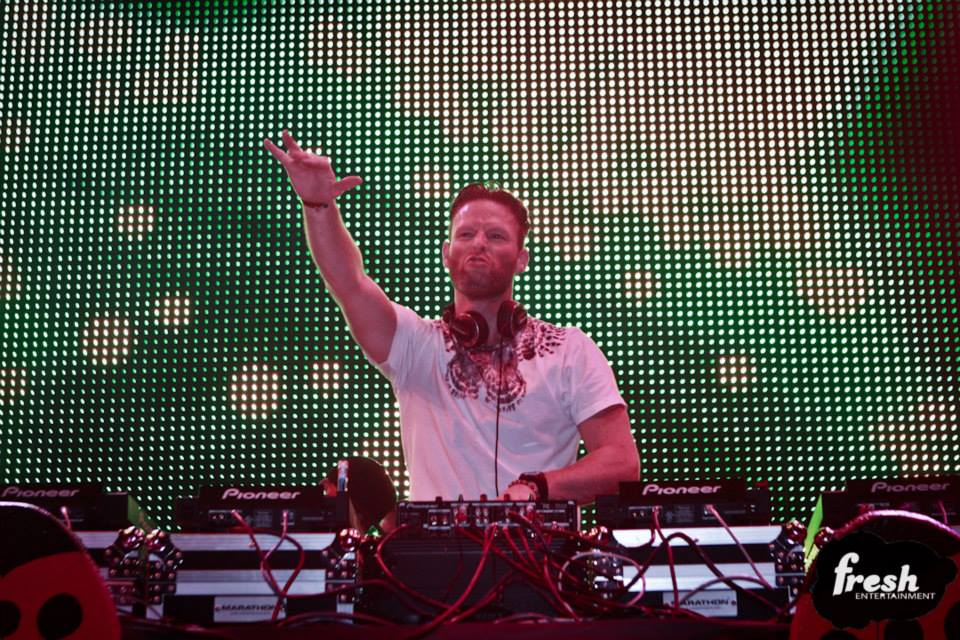 If you hard dance super fans didn't get enough at resurgence, or just prefer a more intimate scene, Fresh Entertainment (also known to seasoned fans in the scene as "Fresh Squeezed") is a synonymous production name with the underground events. Starting in the mid 2000's Fresh Entertainment has always put fan priority first and is quick to adapt to the ever changing scene with quality over quantity. Fresh has paved fan bases for all types of genres and given starts to some of the most recognized talent around the world who once was just getting their start to stadium filling artists. Their newest event "Hardstyle Area" was no deviation from the amazing quality we can always rely on from Fresh. This fully stacked lineup debuted some rising local talent such as Lost Boy and Andrew Lee as well as seasoned heavy hitters like Max Enforcer, AudioFreq, and a barrage of talent from the Netherlands including hardcore producers Evil Activities as well as featuring the second American debut (first being Sounds of Q Dance LA 1) stylizing the rawest talented collaboration starting in 2009, Dj Adaro and Ran-D also known as Gunz For Hire. Gunz For Hire destroyed the speakers with the power of  rawstyle, radiating hollow base, singles such as "Bolivia" "Gangsters Don't Dance" "Swagger" or their melodic tribute "Sorrow."  This night was nothing short of pure enigmatic energy radiating through the walls of the Nokia Club in Los Angeles. Originally placed at the Pico Rivera Sports Arena, due to potential bad weather Fresh Entertainment got much more 'motivated' (ahem) and moved the event to the heart of L.A. The underground vibe has never left this scene, it is just pocketed in facets of smaller events as it always has been. Fresh Entertainment has never been short on supplying the ravers a place to commune to the sounds of whatever tickles their specific fancy. To an outsider, stumbling into this event would seem nothing short of a Freddy Krueger nightmare, the imagery and intense sound alone would be enough to frighten any clueless onlooker. Imagine seeing a stage; flowers the classic "Fresh-themed" ladybug decorations and a led screen. All of the sudden taking the stage two men in suits wearing masks evocative to the abhorrent-chilled film "The Strangers" with the horrifying emergency announcement sampled from the 2013 film " The Purge" all wrapped up with stiletto-sporting bdsm loving go-go's; rope-tied, in a latex wrapped package with a gag-ball for garnish. (A sure sign were all going to hell, oh but a fun ride it shall be).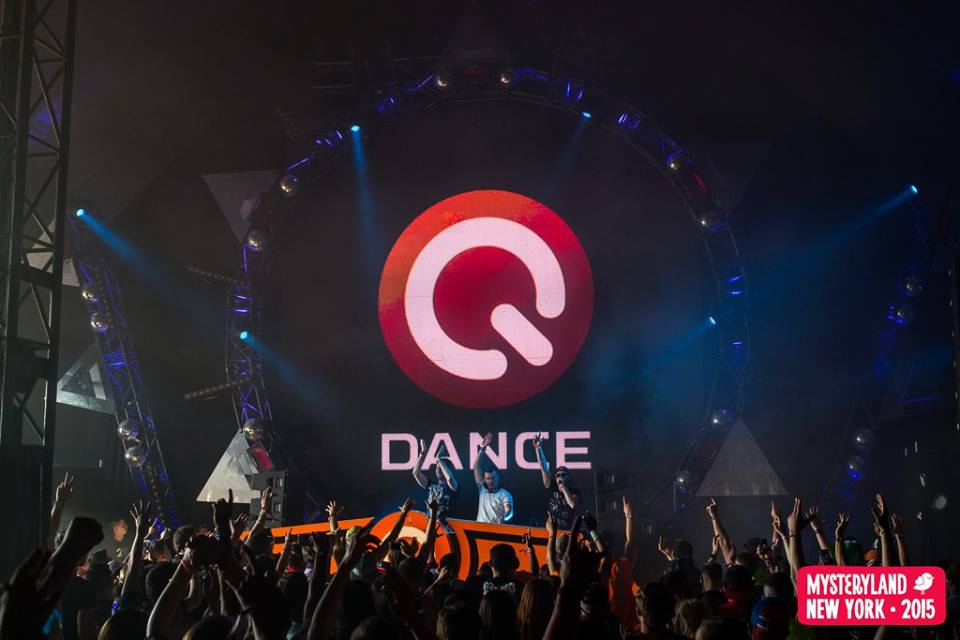 Over the memorial weekend, the dedicated hardstylers (if not slathered in bengay or in ankle sprains yet) had even more daunting choices to make. Stay stateside or fly across country to represent the harder styles at the longest running and most prominent hard dance production company Q-Dance. Located in New York, Mysteryland is held in the heart of Bethel Woods (the same center location for the classic 1969 festival 'Woodstock') The Q-dance stage, is always unique to its own standard and always bring an all-star lineup, this year being no exception bringing the Netherlander melody-man himself, Frontliner.  Sharing the stage was Noisecontrollers, Bass Modudulators  Audiofreq and Q-dance contest winner, Mekanikal. (for those westside, both Noiscontrollers and Bass Modulators shattered the walls at a local Los Angeles nightclub Friday night of Memorial Day weekend). However, this year of Mysteryland, Q-dance only debuted one day versus its usual three, following the footsteps of sister festival TomorrowWorld (with the exception of first year) only holding one day of Q-dance. Be that as it may the distance never stops some fans from traveling 2000 miles to wave their flag proudly in the name of the Q.
The movement of hardstyle, represents a unique energy, showcasing an individualistic style, its boundary pushing, unique, untouched and raw. The variety of fans travel from all over to get a small sip of momentary sanity that is beating strong in the heart of Southern California and spreading like wildfire across the states.In this personal perspective, the reason newer generation fans are drawn to this sound is the same reason why all hard dance fans were, we needed a place to be free. Free of judgment, free to express ourselves. Its never a dull moment with hard dance fans, full of colorful people, all preserving one of the last sacred untouched spaces exempt from the commercialized edm takeover. A place free of an organized fashion structure what are free to wear what we want, dance in every way we choose and the positive enforcement between fans reign supreme to any other genre I still have yet to experience. In an odd way it's a meeting of the minds, all fans have a level of unspoken respect to one another understanding that we understand what hardstyle truly represents. The internal debate separating the scene currently boils down to, "if we let the scene grow will all roads lead to ruin? " In a lot of ways weve seen the disassembled remains of what was once was, purely, as a whole in music, an underground scene. No house music on the radio, no (American) million dollar net worth djs, no place to go but the empty spaces tucked in the commercial business centers of cities or the vast high desert.  The 'destruction' of the scene doesn't boil down to the major labels or companies scooping up and stamping an expiration date on the talent, it starts with us preserving the things we loved about this scene and enforcing it.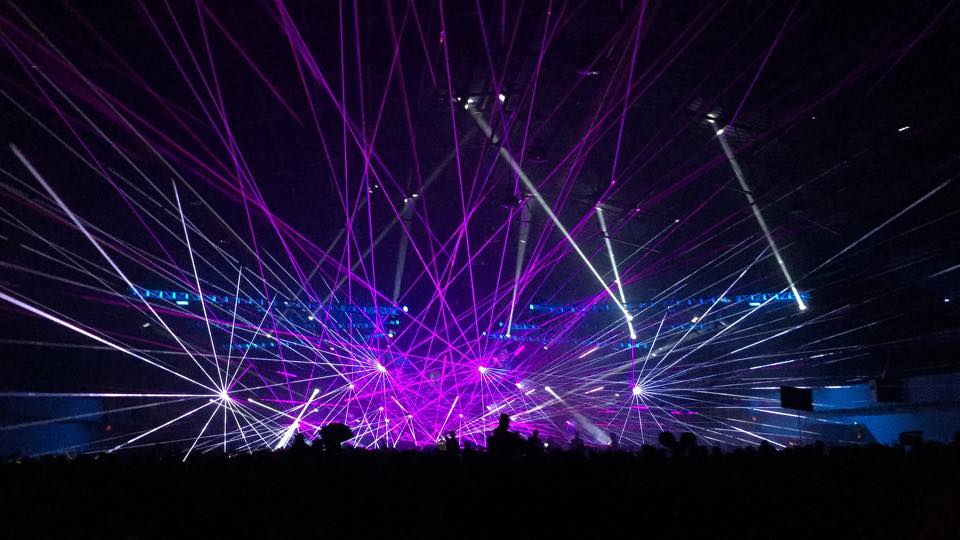 The hard dance scene is the last frontier, the genre is specific to a certain mentality and only attracts a archetype of a specific listener. You ether love it, or you don't. If the hard dance movement continues to thrive and grow the way it is, its because our energy is doing exactly what we wanted it to do in the first place. Grab a hold of your heart and make it start pumping at 150 bpm. Instead of resisting the inevitable changes that may happen, we need to embrace the things we worked so hard for. Insomniac giving us a Basscon stage is proof that they are listening to us, we ultimately have a say. We are experiencing events that never existed less than a decade ago, yet now we can visit a stage dedicated to hardstyle at almost any massive event. And we are seeing numbers grow. The thing with veterans in the scene is like anything else, is change is inevitable. Its about adapting, though many have retired their visors and have hung up their kikiwear pants, we need to enforce the mindset that once attracted us to this scene. Expression and individuality. We can always visit a massive that has a dress code or adheres to a rule that their a 'music festival' and not a rave and somehow witness the same type of person run past us as if Hollister had a sale on high wasted shorts, bound by neon printed cut off tanks and outfits that make you wonder if they have a good relationship with their parents.
Yet if we let this current majority burn themselves out the only people left standing are the people who care for the scene the way as a collective we were all supposed to do. Nurture what makes this scene unique and learn to let go of what is obviously a temporary cash vacuum pickpocketing the dollars of trust fund kids.  Wear the badge of expression proudly, if we let go now then we are just as responsible as the generation of ravers before us. Bragging about what the scene once was and never gave newer generations the structure to recreate it. Its as if you were asked to build a lego replica of a monument, with no instructions or guidelines. We could build it, but it will be missing parts that make this replica unique to its once original form. As a collective we can only try to encourage the new generation to preserve the loyalty of this genre while representing our unique generation for what it is. The scene is a kaleidoscope constantly taking new form and shape. With this subgenre of music we so proudly represent, to all the onlookers and the misanthropic skeptics we adhere to a few rules of our culture, but first and foremost in the words of brenean heart, "F.I.F.O."