There are multiple ways to get to the Las Vegas Speedway with many opinions on which is the better solution.
1) EDC Shuttles
Insomniac provides a shuttle service for a fee. At the time of purchase, the rider chooses their pickup location: Mandalay Bay, MGM Resorts, The Linq, Circus Circus, or Downtown (list of still available). Already sold out locations at the time of this writing include: Excalibur, MGM Grand, Aria, and The Cosmopolitan. After fees, the cost for one shuttle pass is $101.20 which resorts to around $15 per trip. The shuttles have a dedicated route which bypasses regular traffic and deliver riders in a special parking lot. Note: Riders can only use the shuttle pass at their pickup location chosen at time of purchase.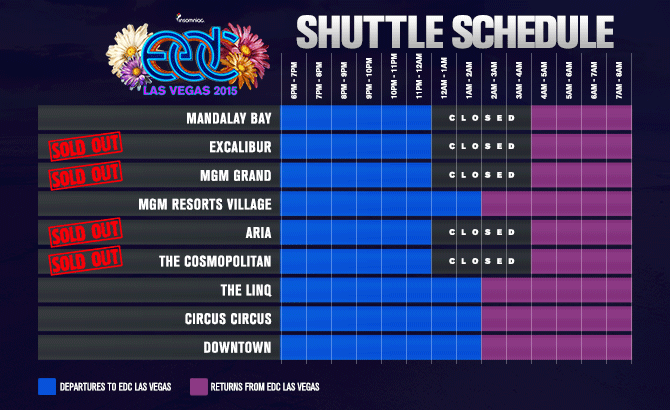 2) Drop-Offs (Taxis, Charter Buses, etc)
Taxis and charter buses are another option for arriving at the speedway. All taxis get to use the same dedicated route as the EDC shuttles and drop off festival-goers at a designated taxi lot. Charter buses also have a designated drop off area. For other drop offs (and pickups), there are two different lots at the speedway – one on the north side and one on the south side. A taxi ride can be around $100 one way if you're headed to the speedway. If you're lucky enough to get a taxi ride back to your hotel after the festival, it might cost even more.
Here are some local taxi companies:
Checker/Yellow/Star 702-873-2000
ANLV/ACE/Union/Vegas-Western 702-736-8383
Whittlesea/Henderson 702-384-6111
Western Cab Company 702-736-8000
Desert Cab Company 702-386-9102
Nellis Cab Company 702-248-1111
Lucky Cab Company 702-477-7555
Deluxe Taxicab Service 702-568-7700 (drop-off service only)
3) Driving 
If you are driving to the festival – I definitely recommend carpooling if at all possible. Traffic will be really hectic and busy. Insomniac recommends not using Google or Waze and using their directions only. They also state that drivers should follow them on social media to get any live updates just in case something does happen or change.
Driving directions: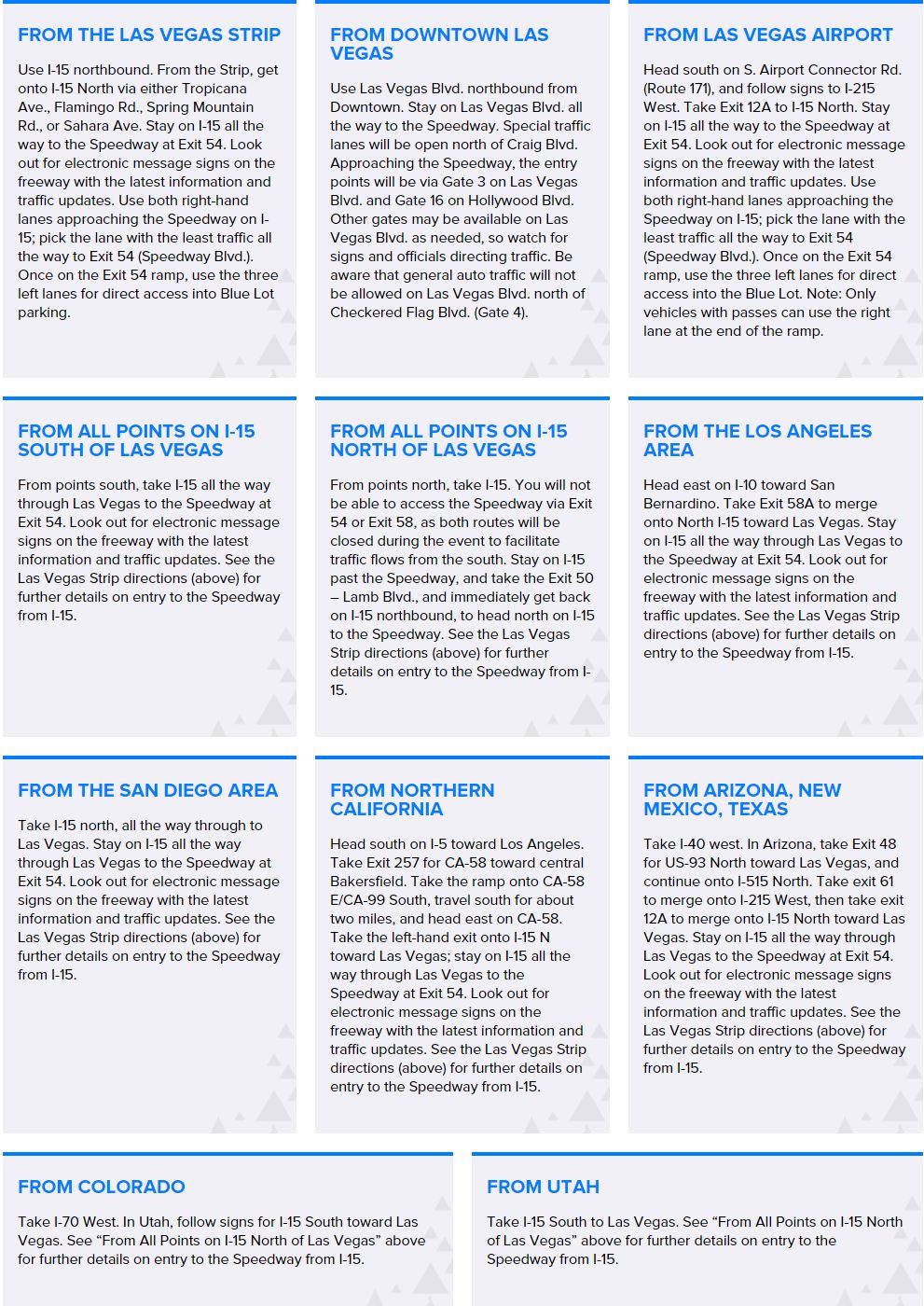 So what about parking if you do decide to drive? Unfortunately, premier parking is sold out so general parking will be the only option (unless you were already lucky enough to get premier). General parking is located on the north side of the speedway (EDC UK/Blue Lot in the map below). Additional parking is located on the west and south sides (EDC New York/Brown Lot). Pro tip: make sure to take a photo or write down any landmarks, signs, etc that you might be parked next to as a reminder of where you parked! Valet parking is available as another parking option. It is available in two lots for $20/day. The largest valet lot is located within the EDC UK/Blue Lot and the smaller is located within the EDC New York – Brown Lot.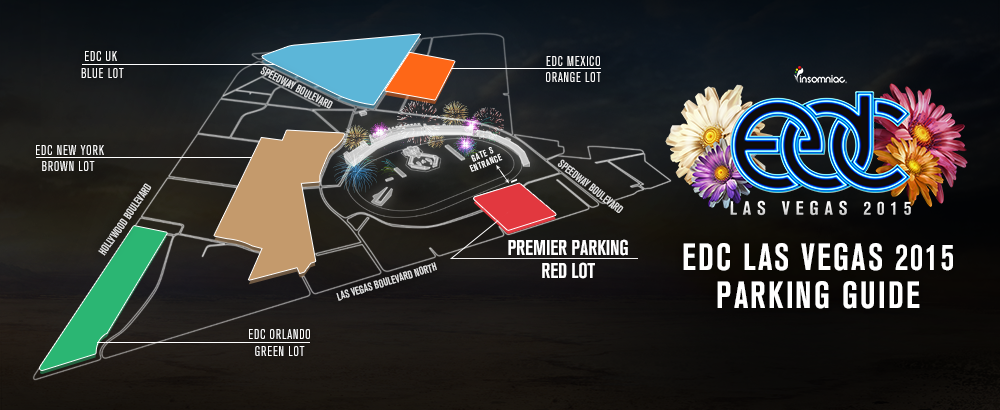 Note: Insomniac does have some lot restrictions. Any vehicles left in the lots between 10am and 4pm will be towed!
Also, listed on their website, they say the following:
Tailgating
Camping/sleeping in your vehicle
Buying/selling tickets
Vandalism
Loitering or other illegal behavior
Drinking alcohol
Illegal drug use
4) HELICOPTER TRANSPORT!
For everyone who is feeling brave and has the extra cash – you do have the option to be transported to the festival by helicopter for a fee of $5,0o0 roundtrip or $3,000 one way. Individual seats cost $500 one-way or $800 round-trip (up to 7 passengers in one helicopter).
Author recommendation: EDC shuttle. I attended EDC in 2012 and 2013 and needless to say, the shuttles weren't exactly organized. However, I can guarantee that it was the cheapest method of transport. After the exhaustion set in it was nice to be able to just hop on the shuttle and get transported back to the strip. That being said, in 2013, the shuttle line was so long on the 2nd day of EDC that they closed the gates and wouldn't let anyone on for hours even though we attempted to leave at a decent time around 4am. My crew and I ended up paying a hefty price for a charter bus to take us back to the strip because we were so exhausted (and had pool parties to attend of course!). We walked around the entire speedway trying to find the lot with the charter buses so make sure you check out the parking map just in case. If you're looking for the cheapest route – shuttles are definitely the way to go.
FAQ:
Can I drink on the shuttle? As you're boarding the shuttle they may ask you to finish or throw out any open beverages.
How long does it take to get to the festival? From the time you step on the shuttle until the time you walk off expect a ride of at least 45 minutes, possibly longer depending on when you leave and any traffic.
What time do the shuttles run? See the above chart.
How often do they run? They run in a loop taking people to the festival, bringing people back and then repeat.
Are there bathrooms on the buses? Most of them have bathrooms. Some may have out of order signs. Don't be that person stinking the place up though, save it for a festival porta potty.
Is there music playing? Some bus drivers play music, others don't. Some that do may play something other than electronic music.