Originally posted on Little Black Diamond's Blog HERE and The Scene Is Dead HERE!
For those of us who missed out on Kaskade's Redux Tour (or for those of us who went but wish to relive the memory), Grant shares his experience with Kaskade's exclusive, sold out show at Voyeur nightclub in San Diego, California.
Kaskade Tweeted, "But I feel a little guilty w everyone glued to their computers. On a weekend. Go get a burrito. You have time.#EnjoySundaySD."
No burrito for me! I checked Kaskade's Twitter page incessantly after his Tweet at 8:34 a.m. Did I trust that I had time? Not really. So I defied Kaskade's commands, and stalked his Twitter for the next six and a half hours. I had a sociology paper to write anyway.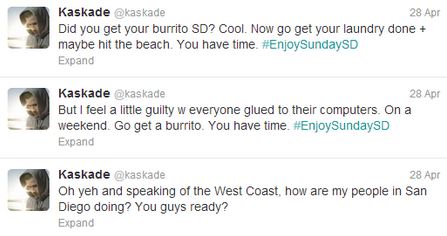 At precisely 3:00 p.m., he Tweeted the link and I scrambled like a madman for my tickets to Kaskade's exclusive "It's You, It's Me Redux Tour." The waiting game paid off–tickets were sold out in minutes, and two of them were mine. I was a happy man. All I had to do now was wait for Friday to experience something magical…and trust me, it was magical.
I met my friends for happy hour drinks at T.G.I. Friday's in the Gaslamp before heading to Kaskade's show at Voyeur. We stood in line for about fifteen minutes. There were a wide assortment of people, many of whom were not aware of Voyeur's fancy club dress code.
Personally, I don't care for Voyeur. The entire club is usually cramped, everyone is packed shoulder to shoulder on the dance floor and the upstairs balcony area feels like an afterthought. The VIP bottle service tables are great…if you have an extra five grand lying around. Tonight was no different. Despite the lack of 'intimacy' Kaskade had promised with his small club tour (it felt like there were more than 500 people packed in the venue), the next three hours were indeed magical.
Kaskade kicked off his set with his tour's namesake song, "It's You, It's Me". My friends and I became instantly immersed in his music. I lost my group after an hour but spent the night dancing happily as Kaskade dropped song after song filled with pure deep house bliss. I loved hearing him mix his most popular singles with deep retro beats, including current hits like "Llove" and "Eyes".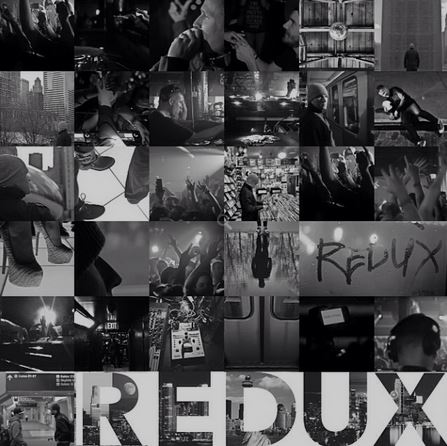 The crowd and I only stopped dancing when Kaskade spoke to us for a minute. He said it was good to be back, and that he was excited because his San Diego show was the final stop in his redux tour. We discovered San Diego is near and dear to Kaskade's heart as he shared a brief history of the shows he's played here. He also said thank you, and told us he loved us. Then it was back to nonstop dancing.
It felt like everyone knew every lyric to every song he played that night. It was bone-chilling to hear the entire crowd belt out  "Be Still" and "Angel On My Shoulder." Other notable songs he played were "Everything", "4AM", "Pose", "We Don't Stop" and the goosebump-inducing "Move For Me".
Then Kaskade asked if we wanted to hear one more song. The crowd and I replied with a resounding yes, and he dropped his classic collaboration with Deadmau5, "I Remember," to close out the night.
I didn't know what to expect walking into this event, but after experiencing his deep house set, I would do anything to go back. Kaskade's immersive music, the loyal crowd and the beautiful atmosphere combined to make this a magical evening. Plenty of the people left that night still "waiting for the drop," but maybe, just maybe, those people will one day come to appreciate a real DJ legend playing a real, deep, and down to earth set that drowned their senses.