Beyond Wonderland Southern California is right around the corner, just two days until the magic happens. Campers are getting prepped for entry tomorrow and I am sure that outfits are being finalized as well. There are quite a few surprises including some amazing food options and special activities for campers including tie-dying, fishing, yoga, and the infamous silent disco. Check it out on that map below!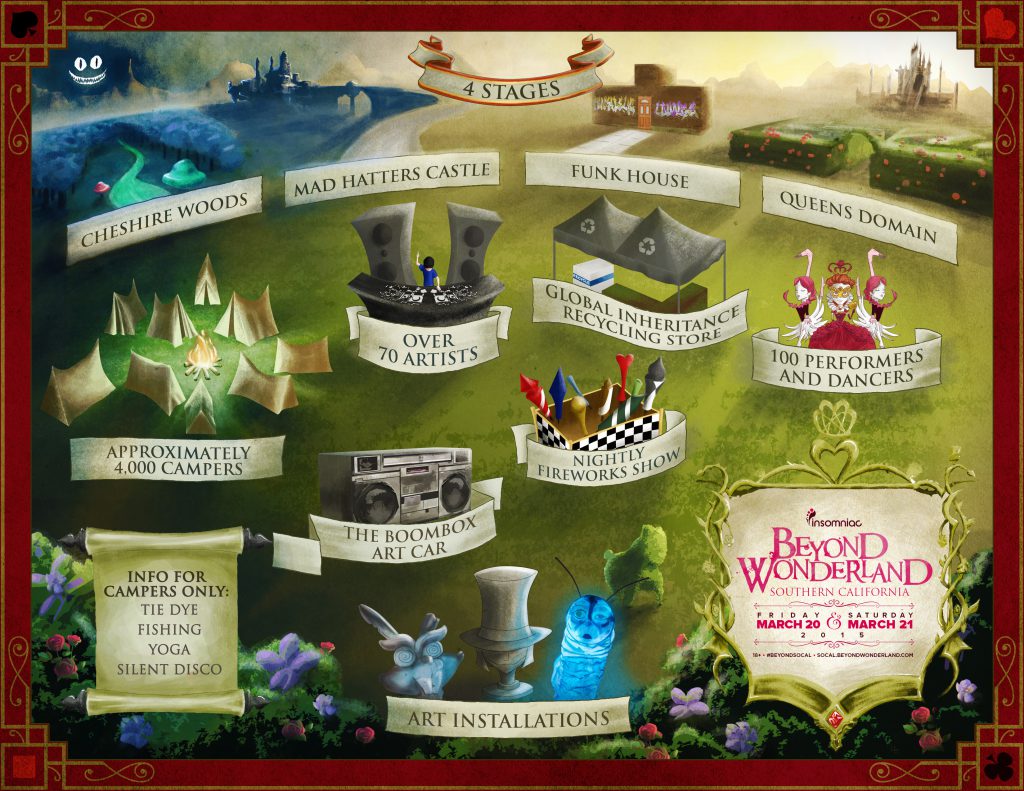 While I anticipate great things at San Manuel Amphitheater, the music side of things is what is most important to me. The diverse lineup of this years edition of Beyond Wonderland lends to top lists of all shapes, sizes, and genres. There are different tastes for different people and one list might not agree with another, so while reading this list(or any other) make sure to remember that your mileage may vary. These are my personal top artists that you should not miss out on at Beyond Wonderland Southern California 2015.
Friday
Dillon Francis– If you have not seen a high energy set of his, definitely check it out. I love the atmosphere he brings to any festival or show he plays at and he brings some insane visuals as well. Great set to just let loose and dance to.
Ilan Bluestone– This London-based producer is rising in stardom faster than any other trance artist currently. He just released single "Tesseract" and has been heavily played by many other trance artists ranging from Above & Beyond to Gareth Emery. For many events people cried out to Pasquale to book some trance acts for his shows, so here you are, enjoy one of the best trance producers in the game right now.
Maya Jane Coles– I have never personally seen her live and I'm excited to see her for the first time. Another amazing London-based DJ, she has brought us some amazing house beats since 2006. Rising in popularity in 2010, she has only solidified her placement in the upper echelon of DJs.  If you get a chance definitely take some time to vibe out to her set.
Astrix– Another trance DJ that is absolutely amazing. Astrix has been playing since 1995 and infecting our heads with some amazing trance. Playing in more of a psychedelic-goa-uplifting style, he tends to show an influence from Infected Mushroom. Do not sleep on Astrix, he is amazing.
Carl Cox– Friday is basically a British Invasion for my selections. This British DJ's career has spanned 4 decades and was ranked #1 in 1996 and 1997. His sets are known all over the world, and if you want to have some fun and dance to this legendary DJ I'd definitely check him out. If you happen to miss him on Friday he'll also be playing Saturday as well.
Saturday
Dotcom– Chris Comstock, aka Dotcom, is a Philadelphia-born DJ who has been putting out some amazing dubstep and trap hits over the past two years. I'm not the biggest fan of trap but his remix of the hip hop hit Tuesday is actually pretty great! This will be a great set to get down and dirty too, don't forget to check him out!
D-Block & S-Te-Fan– Hardstyle is one of my favorite genres, and these two have been playing some of the greatest hardstyle sets since 2005. Recently announcing that they will be entering the house genre under the name "DBSTF", I'm interested to see what style they are going to be playing this weekend.
Nicole Moudaber– Born in Nigeria but raised in London, Nicole is techno/tech house/deep house DJ who has played some of my all time favorite sets. I unfortunately missed her during EDC Las Vegas this year, in a set that many regarded as one of the best of the weekend, so I don't plan on missing her during this go-around. She hosts a radio show "In The Mood" and I feel that she is going to bring one of the best sets of the weekend. Definitely groove out with me while she is on the decks on Saturday, this is a set you won't want to miss.
DJ Jazzy Jeff– Sorry not sorry. Playing with Will Smith since the 80's, Jazz will be bringing you some awesome hip-hop tracks and hopefully we will be able to see this awesome turntablist in action. His style of DJing is nearly a lost art at this point, so don't be afraid to spend some time on listening to where DJing got its roots.
Slander- Pushing the boundaries of trap and the emerging genre trapstyle, Slander has brought high energy sets to many festivals all over the West Coast. I just caught their set in February at Crush AZ and both myself and the crowd had an absolute blast. They are one of our artists to watch on the rise in 2015, and I love their remix of Arty's track "Up All Night", make sure to check it out!