Walking down the streets of Los Angeles the energy is electric. you see a line of colorful people, some look 'normal' for all instinctive purposes, some look colorful, some in a-typical 'rave' attire, and others with brightly colored hair, crazy contact lenses, decorated in a barrage of colorful beads in patterns, adorned across the neck, arms or waist and what seems to be a different take on "MC Hammer" pants or bell-bottoms brightly upholstered in reflective tape that shines like the midnight sky. This is the rave culture, the last remaining underground of this scene, also one of the oldest remaining loyal fan base of the underground scene.
Beginning in 2013, Insomniac Events have been producing a small hardstyle event about twice a year named Basscon. Loaded with lineups including great acts such as DJ Caffeine, DJ Isaac, Lady Faith, Technoboy, Kutski, D-Block & S-Te-Fan, and many more.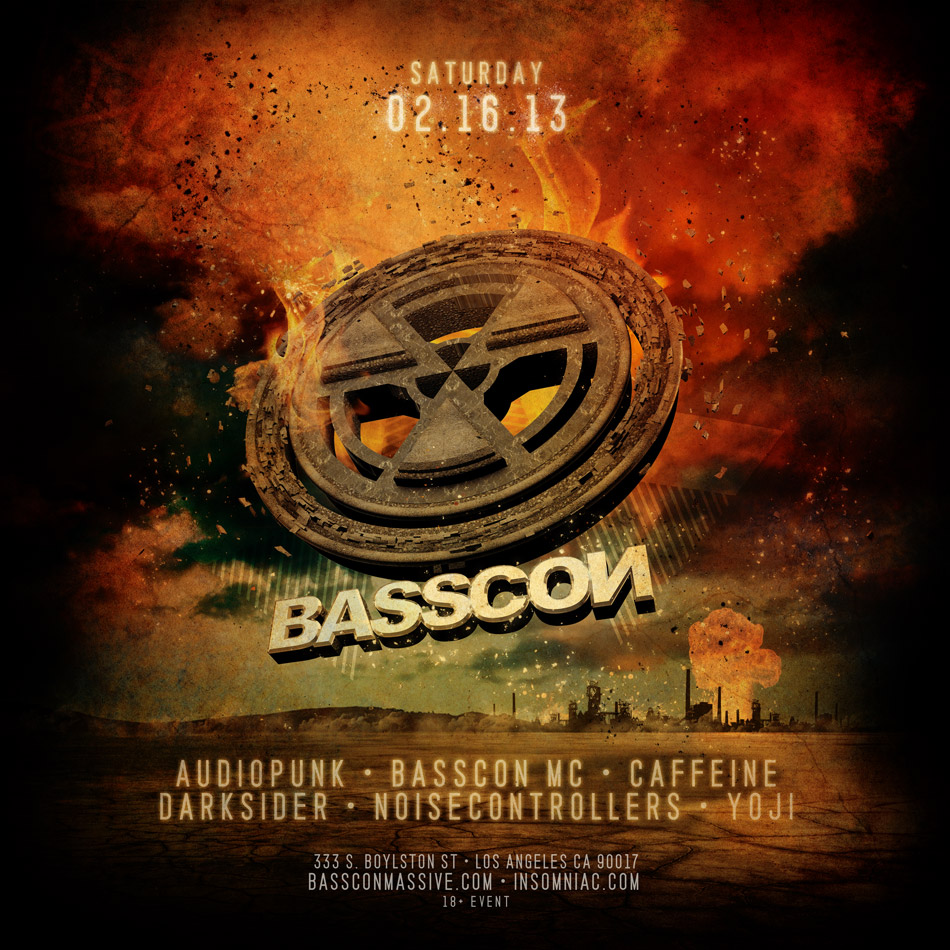 With all talented recognition this is one of the many moments Insomniac Events have lent a hand in seeking out and encouraging new and upcoming talent as well as all homage to classic masters of the scene. Some of the more frequent artists Insomniac Basscon lineup see's are DJ Issac, Lady Faith, D-Block and Ste-phan who are constantly playing at more Insomniac Events.
The theme of Insomniac has always been a unique twist on the bio-hazard symbol, constantly coupled with a gas mask ridden phantom walking through a devastated landscape similar to what you would find in the Fallout video game series.
Within time and of the tight-knit community of the harder styles of dance music we come to see a revolution of what the rave scene has quietly been boiling underneath the warehouses of Los Angeles. This year I have had the privilege of understanding and truly being proud of what Basscon has started to blossom into.
The first Basscon I attended was a small venue in the middle of downtown Los Angeles, then it became the Yost Theater in Santa Ana with a gathering of maybe 300 people, that number being a scant on the generous side. Eventually we emerged at humble and classic NOS event center in San Bernadino, and now we have come to enjoy the beautiful venue of The Hollywood Palladium in Los Angeles. Each year the production gets better, each year the intensity and demand for the harder styles continues to surprise and move vendors to opening their eyes, and within the laws of supply and demand, if you build it, we will come.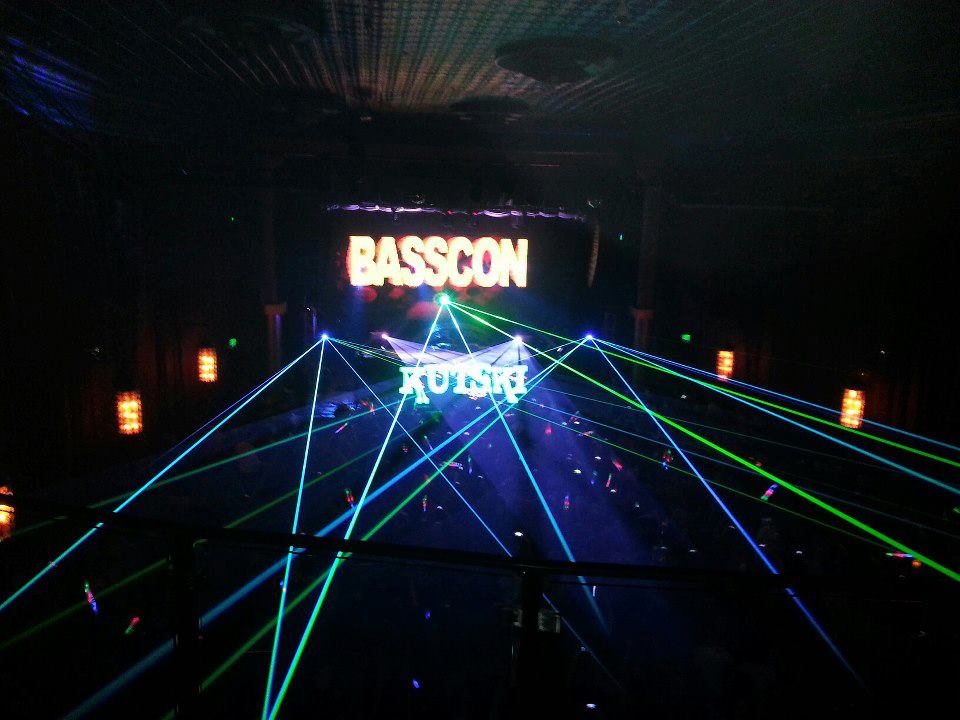 Walking into the Palladium, a venue one ventures so often, to my pleasant surprise was greeted by our Basscon mascot, our gas mask wearing leader, taking the charge on what to expect. Coupled with a few LED screens strategically placed images of eyeballs, electricity and skulls begin to flourish as all eyes drift toward the front of the stage, drawn to the sounds of heavy hollow bass blaring from the speakers. The Palladium is a beautiful venue, small enough to have an intimate feeling of comradery with your fellow hard dance fans, armed with friendly security and prompt bartenders, there rarely is a moment of frustration dealing with the venue. Yet the best feature was the all-star lineup of artists who are pillars in the hardstyle community, gracing us with their intense and masterfully crafted skill that only time can produce, Tuneboy and Dj Isaac have been blowing our speakers out since mid 1990's starting as a pioneer in the european hard bass culture. Coupled with the newer generation of hardstyle artists such as Lady Faith, the pinup poster of perfection for all hardstyle fans who enjoy seeing a female dj destroy the tables,  and not to mention of of the only american hardstyle DJ's ever to come up the scene. Accompanied with LNYTNZ, each artist brought their own unique flavor to the scene attracting every type of hardstyle fan. The only hiccup in the evening was the absence of our raw-style pioneer Ran-D who had visa issues as so many of our Dutch Artists struggle with.

However music brings the energy, and needless to say there was no shortage of positive energy considering Wasteland listened to their fans, and brought a whole new legendary talent across the seas to debuted their first American appearance, Da Tweekaz. Their fast pounding fun eight-bit reminiscent music coupled with an enigmatic vibe that only Da Tweekaz can bring, and according to the crowd, they absolutely did. Opening, they rang the dinner bell with their newer single 'Tweekay-14" summoning every moving body and curious mind onto the dance floor, they captured our attention and held if for what seemed to only be a minute, and yet the hour escaped us quicker than a twenty dollar bill at the bar.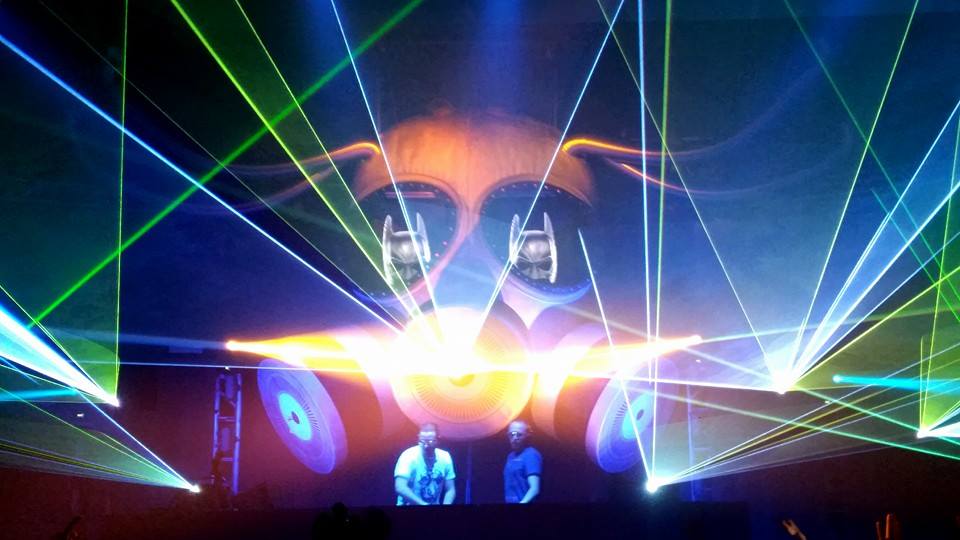 Everything in the hardstyle community is based on the music, the unique form of dance, the creativity of ones celebrated kandi trading and one of a kind shirts that only the harder style dance fans would initially understand. One moment several fans were waiting for was the fearless sing-alongs that only Da Tweekaz could make you feel, while shamelessly belting their phenomenally re-mastered version of "Let It Go" from the musical "Frozen." Every person in that venue singing proudly and loudly in unison to the heartfelt lyrics of inspiration that can even be understood by five year old's, belting proudly in their moms minivan. No shame, just a euphoric moment of pure happiness. Yet isnt that just the idea of music? A shameless form of self-expression only to be shared with a mass of other individuals who share a similar ideology? This form of music, unlike any other sub-genre is fueled by raw emotion, raw power and raw energy. All who connect with this genre has built an emotional connection to the music and through it a connection with its presence and people that live by it. It's an addiction form of expression that can only be understood to those who have passed through the waves of intense raw bass and power of a-capella lyrics flowing through bodies fearlessly leaving it all on the dance floor, taking home so much more than a few comments of how much fun they had, or which set was their favorite. It's an understanding of the raw power of music, and the bigger picture of how music unites us all into one crowd, one entity wanting more. Needless to say Basscon is not going anywhere over the next few years, we can only hope that as the culture grows, we can still expect the same loving and dedicated atmosphere as the sounds of hard dance could only bring.