What is Drew's identity?
Music is an integral part of my life, whether it's listening to trance or house while working or at a festival. I'm always out to discover new and exciting sounds. When video games RollerCoaster Tycoon and Unreal Tournament were the hot new games, one of my friends that I knew through the community forums introduced me to listening to trance on Digitally Imported Radio (www.di.fm) and I soon fell in love with trance, happy hardcore, hardstyle and other fast BPM (beats per minute) genres.
Armin Van Buuren & Tiesto got me hooked on listening to trance and Showtek made me fall in love with hardstyle. Now a days, you'll hear my playlists consist of Markus Schulz, Max Graham, TyDi, Simon Patterson, Darren Styles, Headhunterz, Dillon Francis, Tiesto, Eric Prydz and more. I'm excited for Fatboy Slim and Moby's re-emergence so I'll be keeping an eye on their new releases as I consider them some of the pioneers of the modern scene who helped get electronic music into the general public's ears.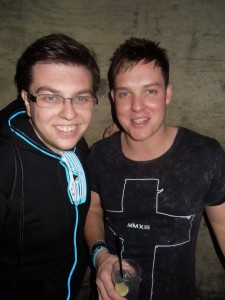 The Minneapolis scene is beginning to expand quickly and is an opportunity for growth for artists and production companies. Shoutout to the crew at Sound In Motion who recently brought Hardwell to the local nightclub as the first stop of the Dyro, Dannic and Hardwell North American Bus tour and are about to hold their 3rd Summer Set Music Festival.
Sometimes the scene tries to divide itself into cliques or categories sometimes. I had even caught myself doing this before. I have found that keeping an open mind to discovering new music and going to smaller shows or stages has provided more fun than the headliners playing bangerz. I felt as though Carnage had the best hardstyle set at EDC 2014 because he played a lot of classics that I was listening to during 2003-2007. Seven Lions had one of the best overall sets and played something from almost every genre imaginable! When you give something in life a chance, you may just discover beauty.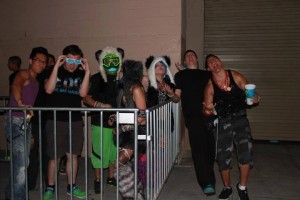 In the fall of 2013, I was an exchange student in Monterey Bay, California and heard that Q-Dance (the largest hardstyle production company in the world) would be bringing their talented DJs and spectacular stage production to Los Angeles. After reading about a Reddit meet-up happening, I brought my friend Ross and we ended up meeting many cool people, including Grant Gilmore, who I consider very close friends now.
There is so many good memories to choose from, but one of the most recent is the Markus Schulz pool party during EDC 2014 week. I was able to represent the Unofficial Reddit EDC group with our limited edition flags and was able to get it signed by the Unicorn Slayer himself. Afterwards, I had the enjoyment of seeing my friend Aman's reaction as I gave him the signed flag because it meant much more to me to be selfless.
Never turn down an opportunity to meet new people in life. They might just be your next best friend.