San Holo dives deeper within himself and explores life's most thought-provoking questions on his third album, EXISTENTIAL DANCE MUSIC.
---
San Holo is no stranger to pouring his heart and soul into his music. It is an extension of his being, with each album personifying his feelings and state of mind at the time of creation. Equally high-energy, inspiring, and vulnerable, the bitbird label boss has struck an immaculate balance in his productions, allowing listeners to feel understood while inviting them to explore life's most introspective questions. This next chapter of San Holo's career sees the genre-defying producer dive even deeper into these shared life experiences, manifesting in a beautifully crafted 15-track album titled EXISTENTIAL DANCE MUSIC.
Music is a powerful tool. Its ability to convey emotions and connect people is more compelling than any combination of words can explain. San Holo used the process of producing EXISTENTIAL DANCE MUSIC as a form of therapy and release while approaching these looming questions every human faces. The power of music gives us the ability to understand ourselves and the world around us in a way nothing else can. As San Holo ushers in this new era, it will be paired with a brand new live show and tour, which he hopes will allow his fans to find themselves along the way.
EXISTENTIAL DANCE MUSIC features collaborations with various artists, including Lizzy Land, Sofie Winterson, AURORA, Whethan, Selah Sol, What So Not, and Bipolar Sunshine. Ultimately, who we are and what we want to become depends on us leading with love and intentionally diving deeper into ourselves. Asking the hard questions, examining our behaviors, and ensuring we are steadfast in our personal growth. EXISTENTIAL DANCE MUSIC is a testament to all these ideas.
Support EXISTENTIAL DANCE MUSIC by listening to San Holo's newest album on Spotify or your favorite streaming platform, and read on for a deeper dive into its tracks and message.
Stream San Holo – EXISTENTIAL DANCE MUSIC on Spotify:
---
EXISTENTIAL DANCE MUSIC begins with "IDK WHO I AM." A sentiment acknowledging the feeling of being lost but also signifying the beginning of a deep and impactful journey.
Every journey must begin with surrendering to the fact we don't have all the answers. With this knowledge, we can see things from different perspectives and begin to explore all realms of opportunity. "IDK WHO I AM" is immediately emotional with its striking piano chords and San Holo's very personal lyrics. These elements draw the listener into a space of comfort and are so pretty that they open your heart and break down any barriers of self-reflection with no resistance.
The opening track of the album sets the precedent for the listening experience where San Holo has expressed EXISTENTIAL DANCE MUSIC is for those who are seeking a deeper connection to themselves through the music they listen to and dance to. It's not so much about "losing yourself" but more about finding yourself. This is where the listener's journey begins.
The album continues with "DON'T LOOK DOWN," featuring frequent collaborator on EXISTENTIAL DANCE MUSIC and talented vocalist Lizzy Land.
Lizzy Land is a major part of the album, offering her delicate and ethereal vocals to each track she's featured on. She also appears on "ALWAYS US" and "SHINE," however, "DON'T LOOK DOWN" is one of the singles that fans were introduced to first before the album was released in its entirety. Lizzy Land's airy vocals sit perfectly atop San Holo's ethereal melodies before dropping into a crescendo of future bass, giving the track textured and exciting variations.
The contrast of faster-paced drums and the idea of slowing down to acknowledge life's small, beautiful moments work perfectly on "TINY FLOWERS." Then, "SILENCE IN MY MIND" dives deeper into calming your mind to sit with your thoughts, feelings, and emotions to understand them better as Sofie Winterson joins in on the fun. In these moments of silence, we can make the most progress in deepening our understanding of ourselves.
Sofie Winterson also features on "I'M SORRY." The track is fluttery from the beginning, with call-back vocals that make you want to sing along, drawing you deeper into the listening experience. When it drops, the track gives moments of San Holo's earlier future bass influences while combining his intentional emotional and existential undertones.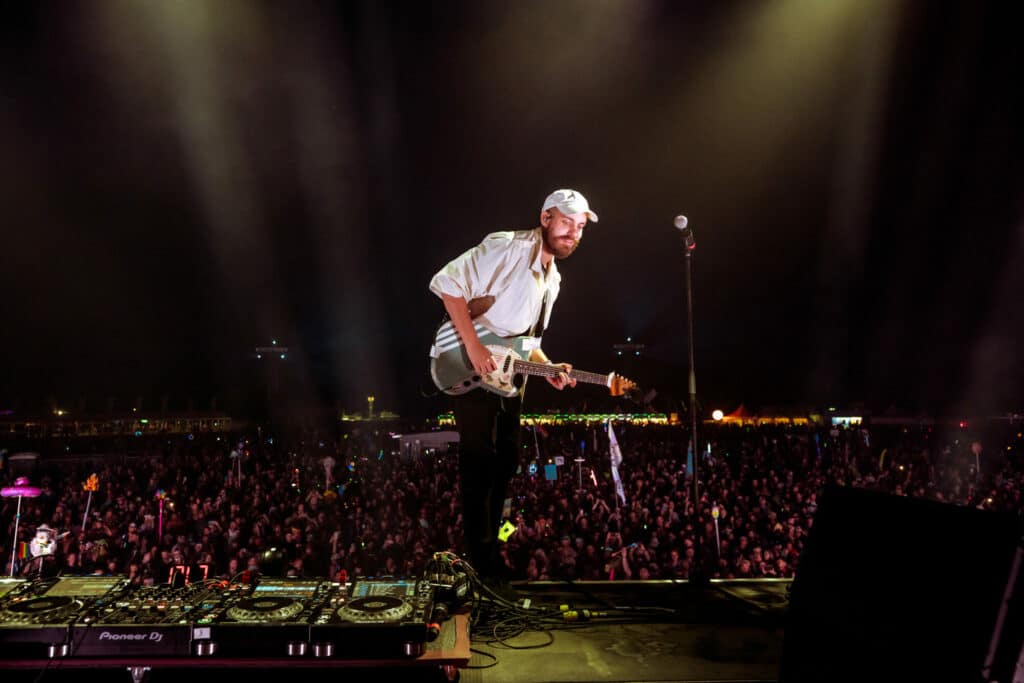 "BRING BACK THE COLOR" with AURORA is one of the more high-energy tracks on the album and is artistically placed in the track list to balance the album's spirit.
"NO PLACE IS TOO FAR" with Whethan and Selah Sol and "ENERGY" with What So Not are also higher energy tracks on the album that come at just the right time in the listening experience; however, "BRING BACK THE COLOR" hits differently with its punchy drums, emotional piano chords, and emotive guitar licks. In addition to these elements, AURORA's vocals and lyricism breathe a refreshing energy into the track, creating a stunning dance-forward tune that blends everything San Holo has learned in his production and life journey.
"IMYSM" is upbeat yet conveys a deep emotional connection to its subject. With its synth progressions and "I miss you so much" leading vocals, you want to sing at the top of your lungs to whoever makes you feel this specific sentiment. This leads perfectly to "DIVE IN DEEPER." A beautiful, melodic song led with striking piano chords and raw audio that makes you feel like you are in the studio with him. The lyrics "So, what if you suddenly realize you've never been at peace" invite listeners to think more deeply about their immediate surroundings. Whether people, your job, or specific life circumstances, the track's lightness and lyrics open your heart to thinking about all the compartmentalized ideas from a different angle.
"LIGHT ONLY" brings Bipolar Sunshine into the mix with his distinct vocals and lyricism.
Almost acting as an interlude to San Holo's "Light," "LIGHT ONLY" is a familiar yet brand new production culminating in everything both artists have learned over the years of working with each other intimately. With fluttery strikes of the piano alongside Bipolar Sunshine's expressive vocals, the track has many layers. Still, they all synthesize in a production that shows each artist has their finger on the pulse of the electronic dance music scene while simultaneously maintaining its uniqueness.
"ALL THE HIGHS" was another single released before the full album dropped and touches on the ebbs and flows of life aligning with the ethos of the EXISTENTIAL DANCE MUSIC vision.
"ALL THE HIGHS" epitomizes the EXISTENTIAL DANCE MUSIC ethos and takes the listener on a journey of its very sentiments. As humans, we are confronted with victories and triumphs but also challenging, sometimes extremely disheartening experiences that make us question everything around us; however, the balance puts life into perspective. As much as we strive to live in a consistently positive environment, those aspects of life would not be as notable without the contrast of the lows. We must remain diligent and open to every experience of life. Whether it hurts or boosts us, every experience leads us to where we need to be.
The album closes with "A MOMENT OF TRUTH," marking the final epiphanies and signifying the next beginning stage of growth.
"A MOMENT OF TRUTH" is the affirmation we should all speak to ourselves as we approach our existential and healing journey. San Holo expressed that as he wrote the album, he contemplated who he really was. We are so much more alike to one another than we are different. Everyone wants to feel loved and to be understood. We learn as we grow older that we very much yearn for many of the same things. Not money or not tangible wealth, but to feel like we have a purpose and place in this world.
EXISTENTIAL DANCE MUSIC was created to take listeners deeper within themselves.
This album was written as a form of therapy to express through music what words cannot describe. It was created from a place of deep emotion and out of a place of true love. EXISTENTIAL DANCE MUSIC is a culmination of everything San Holo has grown to be. As a producer and human being, this outlet is the truest form of expression, and we could not be more thankful for this body of work. This impactful album will allow listeners to slow down and go on this guided existential journey in a world where everything happens so fast, and we can't wait to see it live.
---
San Holo – EXISTENTIAL DANCE MUSIC – Tracklist:
IDK WHO I AM
DON'T LOOK DOWN (feat. Lizzy Land)
TINY FLOWERS
SILENCE IN MY MIND (feat. Sofie Winterson)
BRING BACK THE COLOR (feat. AURORA)
IMYSM
ALWAYS (feat. Lizzy Land)
DIVE IN DEEPER
I'M SORRY (feat. Sofie Winterson)
NO PLACE IS TOO FAR (feat. Whethan and Selah Sol)
ENERGY (feat. What So Not)
LIGHT ONLY (feat. Bipolar Sunshine)
SHINE (feat. Lizzy Land)
ALL THE HIGHS
A MOMENT OF TRUTH
---
Follow San Holo:
Website | Facebook | Twitter | Instagram | SoundCloud | YouTube