BuckTen continues to ascend through the ranks of the bass scene and swung by to discuss his earliest influences and recent successes.
---
Louisiana-based artist BuckTen might be one of the fresh faces on the bass scene but his passion for all aspects of the genre is already shining through. Early releases like the Recognize EP put his dynamic style on display as he delivered a walloping amount of wubs, and he's since gone on to grace imprints like Headbang Society and Electric Hawk Records with other stunners.
This year has seen BuckTen continue on his rise through the ranks of the scene by returning to his home at Headbang Society with the release of "Hit Em With The." This tune saw him team up with Lucas DiLeo to create the absolute weapon, and for added impact he flexed his remixing abilities by twisting Lil Wayne's "Two Shots" into a bass-heavy heater for the masses to consume as well. BuckTen impressed on the performance side of the spectrum as well by playing one of his biggest shows to date by spinning a b2b at BUKU with longtime friend and collaborator Don Peyote.
As the final weeks of the year take hold, BuckTen has firmly set his sights on the future with more releases and shows to come. Looking to gain some insight on his story so far and where he plans to go next, we caught up with this budding talent for a quality chat – so listen to his exclusive guest mix and read on for the full conversation!
Stream EDMID Guest Mix 348 || BuckTen on SoundCloud:
---
Hi BuckTen, thanks so much for chatting with us today. Before we get into some of your recent work, let's look at your past. Who were some of your earliest musical influences, and what led you to develop a passion for bass music?
First off, I'd just like to say thank you guys for having me. I'd say my earliest influences were Liquid Stranger, Downlink, and Trolley Snatcha in around the 2012 era. I think my taste in music, like anyone else's, has definitely evolved over time. I love headbanger music, but I also like pretty melodic music as well. I think my most recent influences are people like Mersiv, Jaenga, and Ravenscoon.
Was there a specific moment in which you realized you wanted to produce music? What were your first steps in making DJing your career?
My first upload was almost 11 years ago, but I think when I started hanging out with one of my best friends, Don Baudin AKA Don Peyote, I really dove into it. We released three tracks in a short period of time when we were living together. Those tracks were Welcome to Paradise, Sound Barrier, and Like The Rain.
Aside from the pandemic, what's the biggest struggle you've faced so far? Have you been able to overcome it?
I'm just going to be honest on this one…one issue I run into is getting my final mix and masters up to industry standard. I've taken courses and have improved quite a lot over the years and can make my tracks playable on my own, but I really do keep myself held to a high standard. I want my product to be just as good as those I am in the scene with. I can thank my friends like Don and my other homie Sean Tessier AKA Boo Munch, for their guidance and help with getting my tracks up to that quality. It really does take a team sometimes to pull everything off, and I am super thankful for them.
Last month saw you drop "Hit Em With The" with Lucas DiLeo. Can you share what the production process for this tune was like? How did it all come together?
I believe I was watching one of Liquid Stranger's mixes on YouTube, and he played a really groovy track that was super easy to dance to. I remember just thinking, "Wow, I really want to try to make something like that as well." So, as soon as that video was done, I opened up Ableton, and I made the chorus. I was pretty happy with the chorus and remembered that Lucas makes weird wubs like this, so I sent it to him to see if he would like to work together on it. Lucas makes some really quality music, and I wasn't surprised when he helped fill out the rest of the track so quickly. I think he sent me back his portion in just a few days if that! Once I threw his portion in, it was a done deal, and I knew we had made a hit.
You also dropped a bootleg remix of Lil Wayne's "Two Shots." What led to you putting your spin on this track? Do you approach remixing the same way as producing original tracks?
I love dropping hip-hop/rap in my sets sometimes just to change things up and refresh the crowd. Being from Louisiana, I've listened to Lil Wayne since maybe 12 years old, and "Two Shots" was one of my favorites. I feel like it was an underrated song, so I tried to revamp it with a dubstep spin on it. I looked up the tempo of the track, and It was 140 BPM (dubstep tempo), and I knew it would be super easy. To be honest, remixes are pretty hard for me. I only have a few of them out there. My own original tracks are much easier to make because they can turn into anything, and there are no real rules. I feel like most people think remixing is easier. Maybe I'm the weird one.
Earlier this year, you took the stage with him at BUKU for a b2b set. What did it feel like to be playing to your home crowd at this festival?
I will say that it was definitely the best day of my life. My entire family came, including friends from high school and fans from playing in New Orleans for years. On top of that, it was with my best friend who taught me so much about music. If you've ever performed on stage, you know that it happens in a blink of an eye. It's like as soon as you walk on stage, you are walking right back off! My only complaint is that it went too fast, and I wish I could relive that moment. I definitely feel honored to be able to play such a historic festival for our city. I have never missed BUKU and always told myself that one day I would play it, and I ended up playing on their 10-year anniversary. It is kind of mind-blowing just to talk about.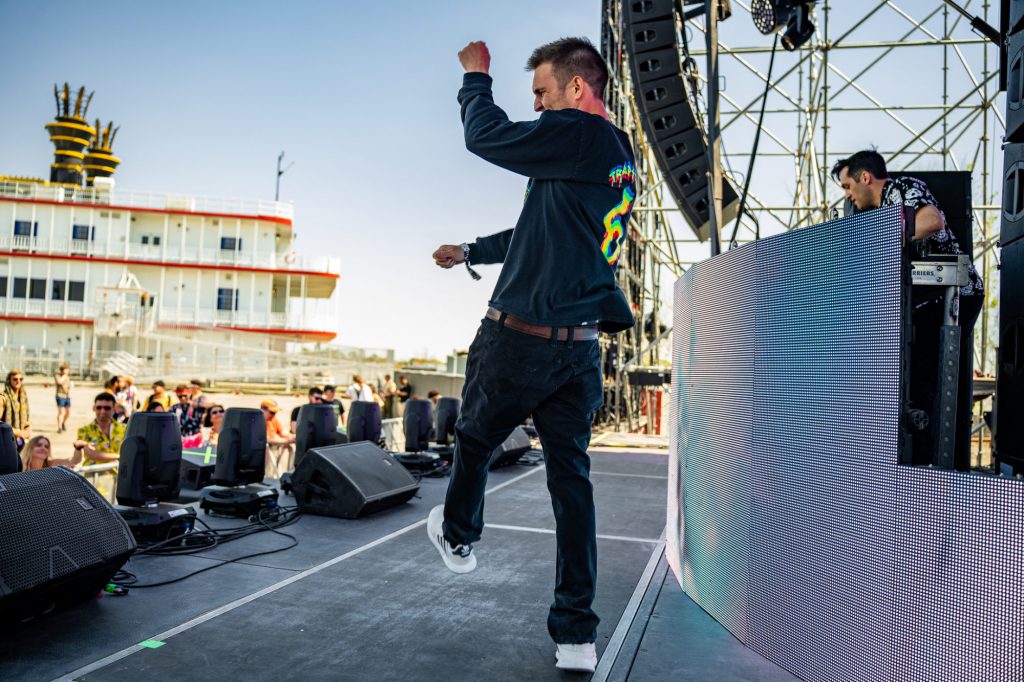 Building off that, if you could pick any festival in the world to play, which one would it be and why?
Easy. I don't even have to think about this one. I went to Wakaan for the first time this year, and I was absolutely blown away by how much fun I had and the energy that came from that festival. It was surreal because it was the same campgrounds as Wakarusa, which I went to multiple times before shutting down. Wakaan is a dream label, and I would love nothing more than the opportunity to showcase my tunes with those guys. I'm just going to keep working hard and trying to release quality songs until it happens!
Finally, what goals do you hope to achieve in 2023? Is there anything we should keep an ear out for in the near future?
I want to release about double the amount of music in 2023. I've got two songs with Boo Munch, two with Emurse, one with Don Peyote, and about six other solo tracks that I'm putting the finishing touches on for release. I have been working with my graphic designer, Alex Ferraro, for the past two months to create my own stage visuals to create a unique experience for when you see me perform. They are truly magnificent, and I cannot wait to show everyone. He really has been crucial to my branding, and am super thankful for the work he puts in. Lastly, I will be putting out a special mix with Headbang Society in 2023 that will showcase all the new tracks I'm putting the final touches on and my new stage visuals.
---
Follow BuckTen on Social Media:
Facebook | Twitter | Instagram | SoundCloud