Smoakland takes their talents to Zeds Dead's Deadbeats with the release of their debut EP on the imprint, Smoak Sesh.
---
If there's one name in the bass music scene that everyone should know right now, it's Smoakland. This West Coast-based duo has quickly made a massive name for themselves in the scene post-pandemic, and they're truly just getting started. Not only have they played in support of huge names like Jantsen, Liquid Stranger, and Mersiv recently, but they've also locked in some huge festival bookings, including their debut performance at Electric Forest, and have a huge list of shows still to come.
It's no secret that Smoakland has always looked up to Zeds Dead and their label Deadbeats. Last winter, the up-and-coming duo made a bootleg of "Journey Of A Lifetime," which is such a cult classic that few would be bold enough even to touch it. But taking the risk of remixing this tune turned out to be worth it. After excited fans of both duos shared it around like crazy online, the track caught their attention, and Zeds Dead shocked the crowd by dropping it at their DC show this January.
This would be just the start of Smoakland receiving well-earned recognition from Zeds Dead and the Deadbeats team. They then went on to play in support of Zeds Dead at the Deadrocks Jamboree this summer for their first-ever back-to-back with Mersiv and recently dropped a tune with the newest Deadbeats compilation that was just released. Now Smoakland is bringing the heat to Deadbeats with their debut EP on the imprint, fittingly titled Smoak Sesh.
Smoak Sesh opens up with some proper bass madness on "Welcome to Smoakland." This track features hip-hop-style vocals from Attitude that demand the listener's attention to let them know "it's about to get lit." It definitely does with the following track, "You Don't Know," with its punchy basslines that get deeper with the second drop. Fans of Smoakland should certainly recognize this one as an ID from their "Speakerbox Thuggin" mix series or if they've seen a set from the duo recently, it's a stunner.
The third track, titled "Paper Chasin," is another that's been an ID for quite some time now, featuring Cyber G on the collaboration duties. Sirens wail throughout the intro before building into a satisfying high-energy drop. The sounds Smoakland creates are often reminiscent of classic dubstep, and this track certainly shows off their ear for blending the old and new.
The inspiration from Zeds Dead can really be heard in the final two tracks, "To The Top" and "I Need a Dream." Both are vocal-driven, with "To The Top" bringing a fun pop-style element to the project while still sticking with their signature bass sounds. "I Need a Dream" features vocals from Koli and really hones in on the Deadbeats style combining melodic elements with gnarly dubstep. All in all, this is a fantastic debut from the duo on the imprint and hopefully is just the start of more to come.
Smoak Sesh is out now on all platforms, so be sure to give it a listen and let us know what your thoughts are on this EP from Smoakland on Twitter!
Stream Smoakland – Smoak Sesh on Spotify:
---
Smoakland – Smoak Sesh – Tracklist:
Welcome to Smoakland (feat. Attitude)
You Don't Know
Paper Chasin (with Cyber G)
To The Top
I Need a Dream (feat. Koli)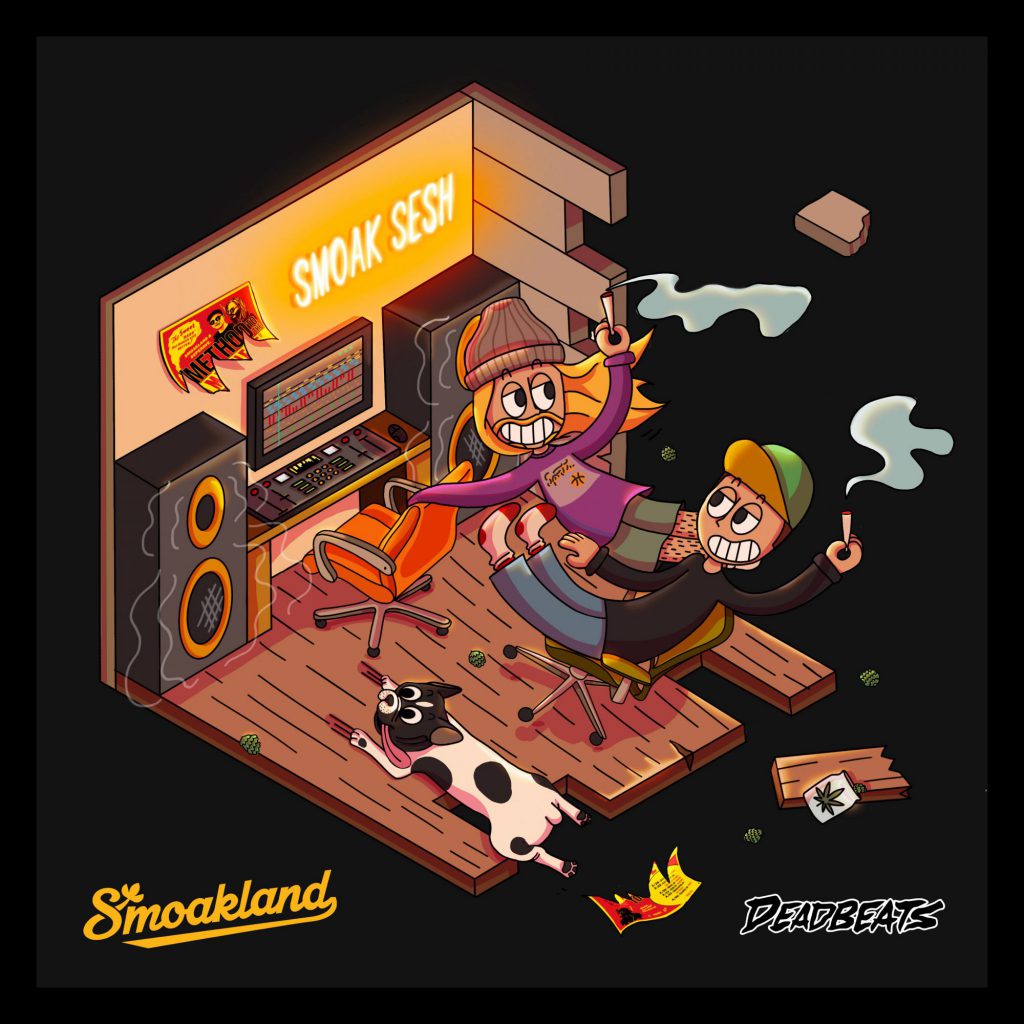 ---
Follow Smoakland on Social Media:
Facebook | Twitter | Instagram | SoundCloud