Second Sky is set to make its return this year with a stacked lineup. Stay in the know before you go with the set times and essential info!
---
After two years, Porter Robinson's Second Sky Festival returns to the Bay Area this weekend. The two-day event will take place on September 18-19 at the Oakland Arena Grounds, and features a diverse lineup including KNOWER, Wavedash, Jacob Collier, Jon Hopkins, Jai Wolf, and Madeon. Additionally, Porter will be opening each day with his brand new Air to Earth project and closing with the debut of his Nurture Live Set.
Fans will enter the world of Second Sky with immersive experiences, and as incredible as 2019's inaugural festival was, this year is sure to level up and exceed expectations. Lockers and various food options will be available throughout the venue. Additionally, the Robinson Malawi Fund will be onsite accepting donations.
To ensure the safety of all attending, proof of vaccination or a negative COVID test within 72 hours of the event are required. Attendees are also asked to keep their masks on despite vaccination status, except when eating and drinking. The venue is outdoors but safety should still be the number one priority.
The remaining tickets are still on sale! Get yours in time for next weekend and check out the FAQs for more information.
---
Second Sky 2021 – Essential Info:
Date: September 18-19, 2021
Ages: 18+
Hours: Doors at 11 AM both days
11:50 AM – 10 PM Saturday
11:30 AM – 9:40 PM Sunday
Venue Address: Oakland Arena Grounds – 7000 Coliseum Way, Oakland, CA 94621
Tickets: PURCHASE HERE
Facebook Event Page: RSVP HERE
Acceptable Proof of Vaccination
A physical copy of a COVID-19 Vaccination Record Card issued by CDC
A digital copy or image of such card
Please make sure the proofs include FRONT and BACK of the card. All details must be legible. You MUST bring a government issued photo ID that matches the details indicated on the proof. More information on COVID protocol can be found on the Second Sky website.
---
Second Sky 2021 – Set Times:
---
Second Sky 2021 – Venue Map: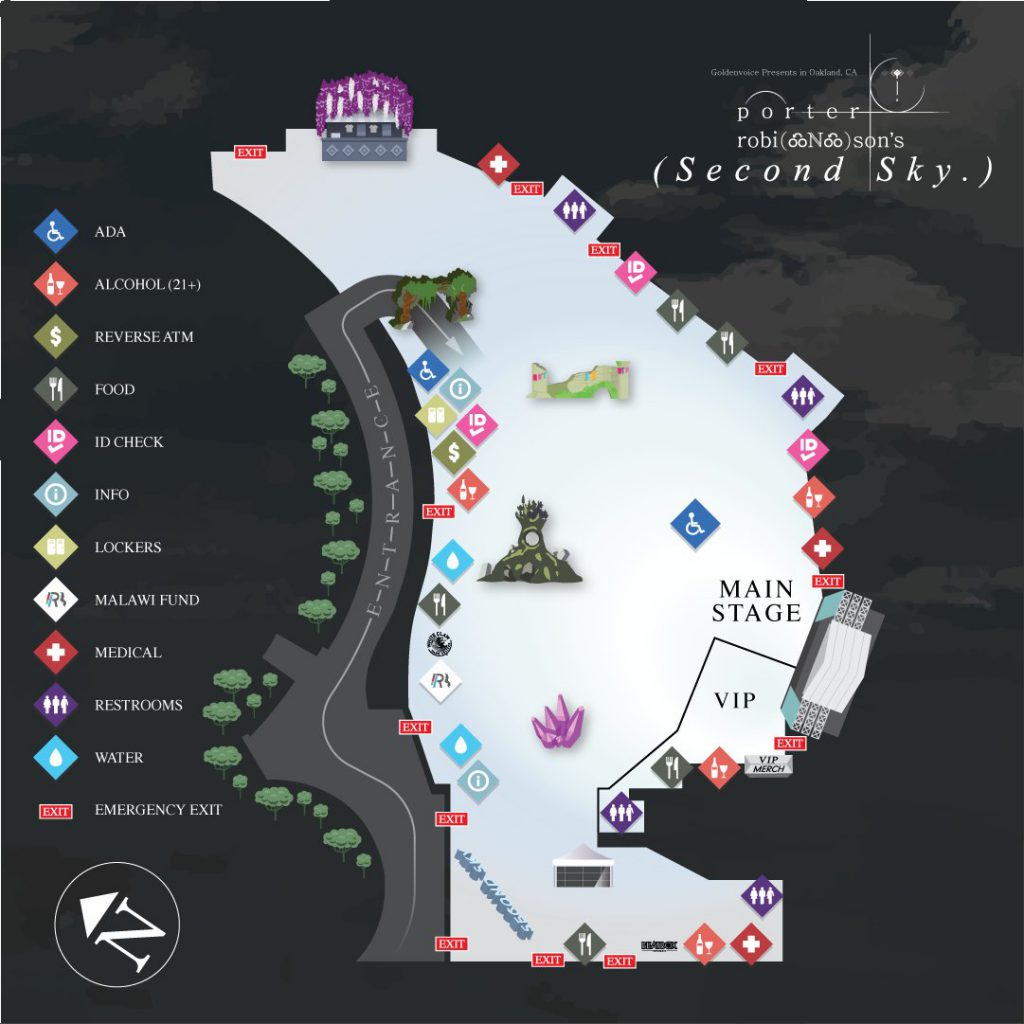 ---
Reminder To Mind Your Belongings:
Unfortunately, many people have reported pickpockets, bag slashings, and theft of wallets, smartphones, purses and other valuables during this festival season. While this small number of bad apples in the bunch doesn't define an entire crowd, there are opportunistic people who come to these events to take advantage of unsuspecting partygoers and it's important to be mindful of your valuables while at Second Sky.
Looking for tips to keep your belongings safe? Check our post highlighting some ideas!
---
Second Sky 2021 Do's & Don'ts:
Allowed Items
YES Personal Protective Equipment (PPE) Masks
YES Backpacks (medium)
YES Binoculars
YES Blankets or Beach Towels
YES Breast Pumps
YES Cigarettes (unopened)
YES Chapstick
YES Dancing Shoes
YES Digital Cameras (NO detachable Lens)
YES Disposable Cameras
YES Ear Plugs
YES Eyedrops
YES Fanny Packs
YES Film Cameras (NO Detachable Lens)
YES GoPro's (NO Poles/Extenders)
YES Gum
YES Hand Sanitizer
YES Hats
YES Inhalers
YES Lighters
YES Make-up
YES Polaroid Cameras
YES Rechargeable Batteries (Mophies)
YES Single Compartment Purses
YES Small Bags (20″x20″ or less)
YES Sun Block (Non-aerosol)
YES Vapes/E-Cigs
YES Walkie-Talkies
YES Water Bottles (Empty, Non-Metal/Glass, Reusable) & Camelbaks (Empty, 64 oz. or less)
Prohibited Items
NO Aerosol Products
NO Air Horns
NO Audio Recording Devices
NO Balloons, Balls, Inflatable Balls, Frisbees
NO Bicycles, Skates, Skateboards, Scooters
NO Body Armor
NO Bota Bags
NO Caution Tape/Rope
NO Chains/Chain Wallets
NO Chairs
NO Coolers
NO Custom Signs
NO Drugs or Drug Paraphernalia
NO Drones, Remote Control Aircraft, Toys or Cars
NO Fireworks/Explosives/Flammable Liquids
NO Flags
NO Flyers, Samples, Giveaways, Promotional Items
NO Full Facemask
NO Glass
NO Golf Carts, Dune Buggies, Electronic/Motorized Scooters
NO Hammocks
NO Hover Boards, Segway's, Self-Balance Wheels
NO Kites/Sky Lanterns
NO Large Misters
NO Laser Pointers
NO LED Gloves, Hula Hoops or Glow Sticks
NO Metal, Steel, or Aluminum Water Bottles
NO Musical Instruments
NO Outside Food or Beverage
NO Pets
NO Professional Cameras/Video Cameras
NO Selfie Sticks
NO Spray Paint or Markers
NO Stuffed Animals
NO Squirt Guns
NO Tents
NO Umbrellas (beach, rain, etc.)
NO Vape/E-Cig Liquid Refills
NO Weapons of any Kind (Includes Guns, Ammo, Pocket Knives, Pepper Spray, etc.)
NO Wagons or Wheeled Carts
---
Connect with Porter Robinson:
Website | Facebook | Twitter | Instagram | SoundCloud
Connect with Second Sky Music Festival on Social Media: