After nearly two decades in the business, Mark Knight broke free from pandemic isolation to share the Untold Business of his debut studio album.
---
Over the course of his career Toolroom founder Mark Knight has had a hand in several hundred productions. Yet as any producer will tell you, no matter how prolific, a studio album is not simply a compilation of individual productions. While albums may come more naturally to some than others, for most, it can take quite some time to arrive at one. For Mark Knight, Untold Business marks that first studio album for the masses to consume, and it was well worth the wait!
Everyone responded to the pandemic lockdown differently, and for Mark Knight, it was the perfect opportunity to throw himself into album creation mode. If creating his debut album during the pandemic wasn't challenging enough, he decided to up the ante by producing each and every song on Untold Business with a collaborator and/or feature vocalist. At a time when getting multiple people in the same room was an enormous challenge, if not outright impossible, Mark Knight worked with so many others including D.Ramirez, Jafunk, Chenai, Kat Deal, Gene Farris, Gia Re, The Melody Men, Mr V, and James Reynolds just to name a few.
By way of example, the lead single "Everything's Gonna Be Alright" features not only vocalist Beverley Knight but the London Community Gospel Choir as well! It's a perfect opening to an album focused on the positive as a foil to the negative overtones of the pandemic itself. "I wanted to write a song of hope as we come out of this incredibly tough time," said Mark Knight. "I feel that musicians and producers have a responsibility to provide the soundtrack to people's lives, and with this glimmer of hope on the horizon, I wanted this song to be a moment of positivity for the future ahead."
Of course, that single was just a taste of what's in store on Untold Business – so purchase or stream the album on the platform of your choice, and read on below for the full album review!
Stream Mark Knight – Untold Business on Spotify:
---
The previously released opening track is a buoyant kick-off to this lively, upbeat, and uplifting dance album.
After the opening track sets the upbeat tone, we move on to "Bit By Bit" which definitely carries the theme. Both lead singer Chenai and the background vocals are strong contributors to the layers of uplifting beauty in this track. This all on the backdrop of a classic 4×4 rhythm that will keep your feet moving from start to finish. When the vocals refer to "bit by bit, step by step" you can't help but think she's talking to you about your dance moves. Alas, it's actually referring to building up the love of another.
While the clear dance rhythm continues into "Feel The Pressure" Mark Knight now moves listeners into the disco-inspired territory.
"Feel The Pressure" opens with the dialing-in of an old-school analog radio until landing on the desired disco station. The DJ refers to "all you boppers out there in the big city … who know how to get down" in classic disco DJ style as he spins the track. To me, part of the previously Untold Business in this track is the modern take on a number of classic '70s sounds. The best part is that this isn't the only song on the album with this theme. Then, "Love Is All We're Living For" carries on with a slightly more R&B feel and lovely vocals from Gia to keep the vibes rolling on strong.
While there are more disco themes as the album progresses, we now begin to move into a more funk-driven style.
"You Saw Me" features the first male vocalist on the album and a more funk-driven style to the mix. Damon Trueitt brings a deep and soulful voice to this track while the tune itself is consistent and driving for a perfect dance beat. And while the next up "It's A Wonder" isn't as funky, it definitely carries listeners on their dancefloor journey. The higher-pitched vocals of Alex Mills act as a nice foil to the deepness of the previous track. Together they feel like two sides of the same coin.
If you really enjoy the funk, have no fear, the next two tracks will take you back there again.
First, we have "10,000" with Clementine Douglas, which brings a classic funk rhythm, horn section, and lofty vocals. Douglas tells us that we're sending her "10,000 miles higher" but in reality, it is she that is sending us! Next, we have the title track "Untold Business" and there is a lot going on in this song. There's some old-school rhyming from the two male vocalists, lots of depth from the female supporting vocals, and driving funky rhythms and synths. For some reason, I picture Will Smith and Diana Ross as an unlikely combination to cover this track.
"Fire Burning" and "Pass It Up" round out this funky section with both of these tracks that will take you back to the time of Soul Train. But soon after, the pair of "All 4 Love" and "If It's Love" comes at us with steady snares and interludes of horns and other traditional instruments. These two are decidedly less electronic but are no less driving and dancey, so get up and move! Mark Knight then closes out the album with "Tonight" to round out the release with a track that brings more of a storyline along with it. Chenai is back on lead vocals with support from Mr. V who brings a poetic chorus to the track. This one drives right to the end and you'll be dancing till it's done.
Mark Knight Untold Business brings fresh life to classic styles and does so in stunning fashion.
There are so many remarkable things about this album: that it's Mark Knight's first, that he completed it entirely during the pandemic, and that he managed to collaborate during a time of isolation. But what's most remarkable? That he and his collaborators can bring us back to the time when disco ruled the dancefloor, yet do it while keeping us firmly planted in the 21st century. Untold Business is a funky and groovy escape from our current times and brings a party to the dance floor. Be sure to check it out!
---
Mark Knight – Untold Business – Tracklist:
Everything's Gonna Be Alright (feat. London Community Gospel Choir) with Beverley Knight
Bit By Bit (feat. Chenai)
Feel The Pressure (feat. Shingai)
Love Is All We're Living For (feat. Gia) with Michael Gray
You Saw Me (feat. Damon Trueitt)
It's A Wonder (feat. Alex Mills)
10,000 (feat. Clementine Douglas)
Untold Business (feat. Gene Farris and Jafunk)
Fire Burning (feat. Mike City) with James F Reynolds
Pass It Up (feat. Robert Owens) with D.Rameriz
All 4 Love (feat. Tasty Lopez) with Rene Amesz
If It's Love (feat. Laura Davie & Melody Men)
Tonight (feat. Chenai, Mr V)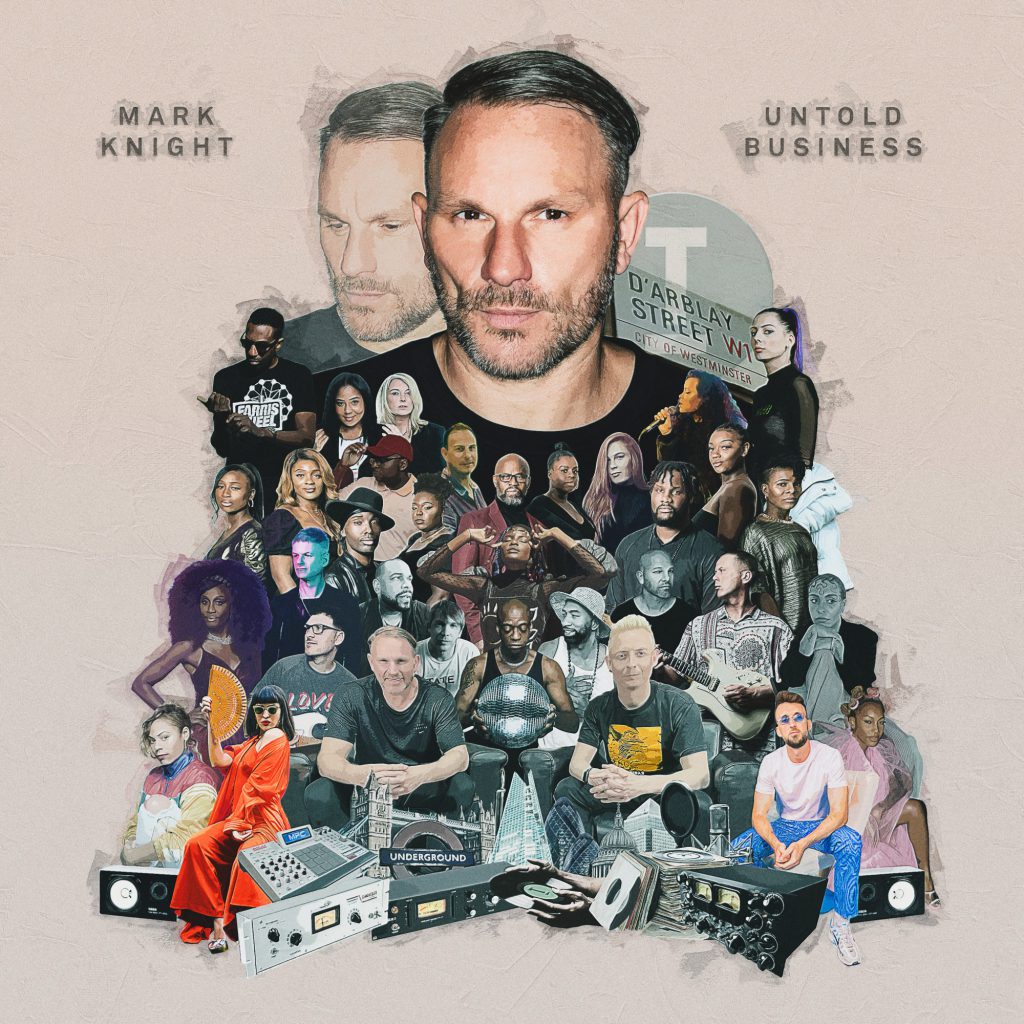 ---
Connect with Mark Knight on Social Media:
Website | Facebook | Twitter | Instagram | SoundCloud | YouTube