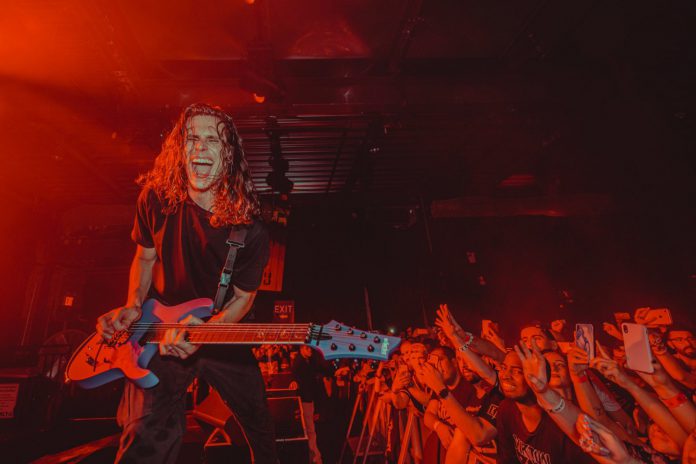 After announcing that his rock/metal album is due out in June, Sullivan King dropped the details for his forthcoming LOUD & RECKLESS tour!
---
Since first breaking onto the scene Sullivan King has paved a pathway for heavy-metal driven bass music and is taking no prisoners along the the way. Earlier this year, he delivered two fresh singles, "VENOMOUS" with Spencer Charnas of Ice Nine Kills and "DOMINATION" with Kayzo and Papa Roach, and just this month added a third to the mix with "LOUD." His latest track sees him team up with Jason Aalon Butler of FEVER 333 and was paired with the news that an album was set for release in June.
Taking to Twitter after the release of the new single, Sullivan King said "Come to think of it… Can't just announce a new album without also announcing a new tour," which drew attention from his fans. Soon after, he unveiled that he'll be infiltrating select cities across the US this fall on the LOUD & RECKLESS North American Tour!
The first stop for the LOUD & RECKLESS tour will take place in North Carolina where Sullivan King will play for three days in Asheville, Raleigh, and Charlotte. Then, he will embark on a trip up and down the East Coast with stops in Minnesota and Michigan as well. After that run of shows that will carry him into the new year, Sullivan King will then head to California for shows in San Francisco and Los Angeles, and is set to close out the run of announced dates in Oklahoma City next February.
These are just the initial dates for his tour, so stay tuned for more that will be revealed in the future. Pre-sale tickets for the LOUD & RECKLESS Tour will be available on Thursday, May 27 with the remaining tickets being available on Friday, May 28. Text 1-205-363-6351 for the access code or visit his website for tickets and more tour information.
Watch Sullivan King – LOUD (feat. Jason Aalon of FEVER 333) on YouTube:
---
Sullivan King Presents: LOUD & RECKLESS Tour – Phase 1 Announcement: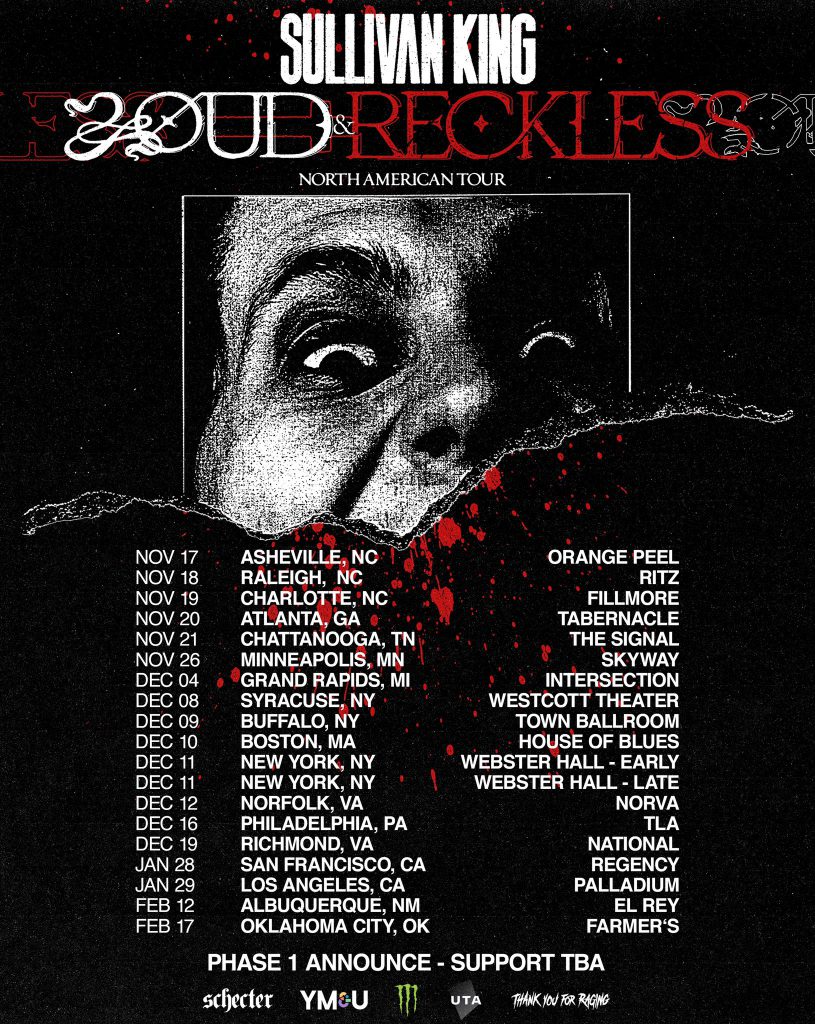 ---
Sullivan King Presents: LOUD & RECKLESS Tour – Phase 1 Dates:
Nov 17 – Asheville, North Carolina – Orange Peel
Nov 18 – Raleigh, North Carolina – Ritz
Nov 19 – Charlotte, North Carolina – Filmore
Nov 20 – Atlanta, Georgia – Tabernacle
Nov 21 – Chattanooga, Tennessee – The Signal
Nov 26 – Minneapolis, Minnesota – Skyway
Dec 04 – Grand Rapids, Michigan – The Intersection
Dec 08 – Syracuse, New York – Westcott Theatre
Dec 09 – Buffalo, New York – Town Ballroom
Dec 10 – Boston, Massachusetts – House of Blues
Dec 11 – New York, New York – Webster Hall – Early
Dec 11 – New York, New York – Webster Hall – Later
Dec 12 – Norfolk, Virginia – Norva
Dec 16 – Philadelphia, Pennsylvania – TLA
Dec 19 – Richmond, Virginia – Nationial
Jan 28 – San Francisco, California – Regency
Jan 29 – Los Angeles, California – Palladium
Feb 12 – Albuquerque, New Mexico – El Rey
Feb 17 – Oklahoma City, Oklahoma – Farmer's
---
Connect with Sullivan King on Social Media:
Facebook | Twitter | Instagram | SoundCloud | YouTube | Twitch