Australian artist JVMIE stopped by to chat about how she's pressed on during the pandemic, what her creative process is like, and more!
---
Australian born singer and songwriter Jamie Lee Wilson, better known as JVMIE, has become well-known for lending her voice to a number of artists in the realm of house and trance over the years. Whether she's working with legendary artists like Darude or rising artists like QUIX, her powerful voice has a magnetic quality to it that takes tracks to the next level. These vocals also make her live performances an unforgettable, soul-touching experience for those who love dance music.
After living in Australia and traveling around the world, JVMIE settled in LA while working on her music career. But when the COVID-19 pandemic took hold of the country, she made a decision to return home to Australia, and stay there during the quarantine with her family.
That did not stop her artistic creativity during this time though, instead, she found herself working harder in the studio to churn out some fantastic new tunes.
Releasing a bevy of new originals while also working with artists like Giacca & Flores, JVMIE even found a way to deliver multiple music videos during the quarantine as well. Looking to gain more insight on her creative process, influences, and life in quarantine, we couldn't pass up the chance to chat with her, so check out the music video for "You Don't Even Know That I'm Alive" and read on for the conversation!
Watch the music video for JVMIE – You Don't Even Know That I'm Alive on YouTube:
---
Hi JVMIE, it was a pleasure to meet you at Avalon back in February when you were performing live with Darude. Please, tell us more about the tracks you performed and about the creative process with Ville.
Hi Tatiana! It was lovely to meet you too! At Avalon I performed Hide and Timeless, my two singles with Darude. It was such a fun night, there was an incredible energy at Avalon, I love that venue. Whether collaborating on music or live, Darude is such a pleasure to work with. All of our collaborations have been remote; me recording at my studio in LA and Darude working from his, sending ideas back and forth. He's a pro, he knows what he likes and he's also open to suggestions. For me, the most important thing to have with a collaborator is rapport, and he has a way of making you feel instantly comfortable and respected.
Your quarantine has been quite productive. You released three new tracks "All In This Together," "In the Deep End," "Follow You Down," and even managed to make a music video. All these tracks are very sensual and touching, Can you share the story behind them?
Aww, thanks very much for that. Honestly, the response has been quite overwhelming. I'm so moved that this music is touching people! 2020 has been such a chaotic year and I really hoped people could get some relief from this project. These songs were created in remote collaboration with film composer Lionel Cohen. When COVID hit we started collaborating remotely. We sent a few ideas back and forth and through writing and experimentation, just naturally developed a 'sound'. We had no idea it would turn into this! It's been a saving grace during some pretty difficult times.
Are you currently working on any music? Are there any releases coming up?
I've been working with a few DJs on upcoming singles. There was a disco track with Giacca & Flores on June 22, a single coming out on Universal in a few months, and I just worked on a vocal for BROHUG. In isolation, I've been keeping busy writing an album with LA-based film composer Lionel Cohen. It's a little more chilled than my past releases, but it's really special. The latest single, "You Don't Even Know That I'm Alive," dropped earlier this month.
Your songs ranked on many charts across the globe and I know you performed all over the world. What was your most memorable experience throughout your career?
Topping the Billboard chart was a special moment for me. In terms of live performances, I'm so grateful that music has taken me all over the world. It's certainly been an awesome ride! I had some really memorable shows (and crazy moments) in Russia. I've loved each and every Groove Cruise performance. What can be better than performing with friends, partying 24/7 and travelling to awesome places?
I'd have to say one of my most memorable experiences was an impromptu gig at a Pukka Up Boat Party in Ibiza. I'd just supported David Guetta at Pacha Ibiza and played at some other clubs around the island and the boat party was a last-minute thing. The sun was coming down, we were out on the water, and they hoisted me up onto the roof of the boat and threw me a microphone. I just started riffing with the DJ, the crowd was going off, it was a really special moment.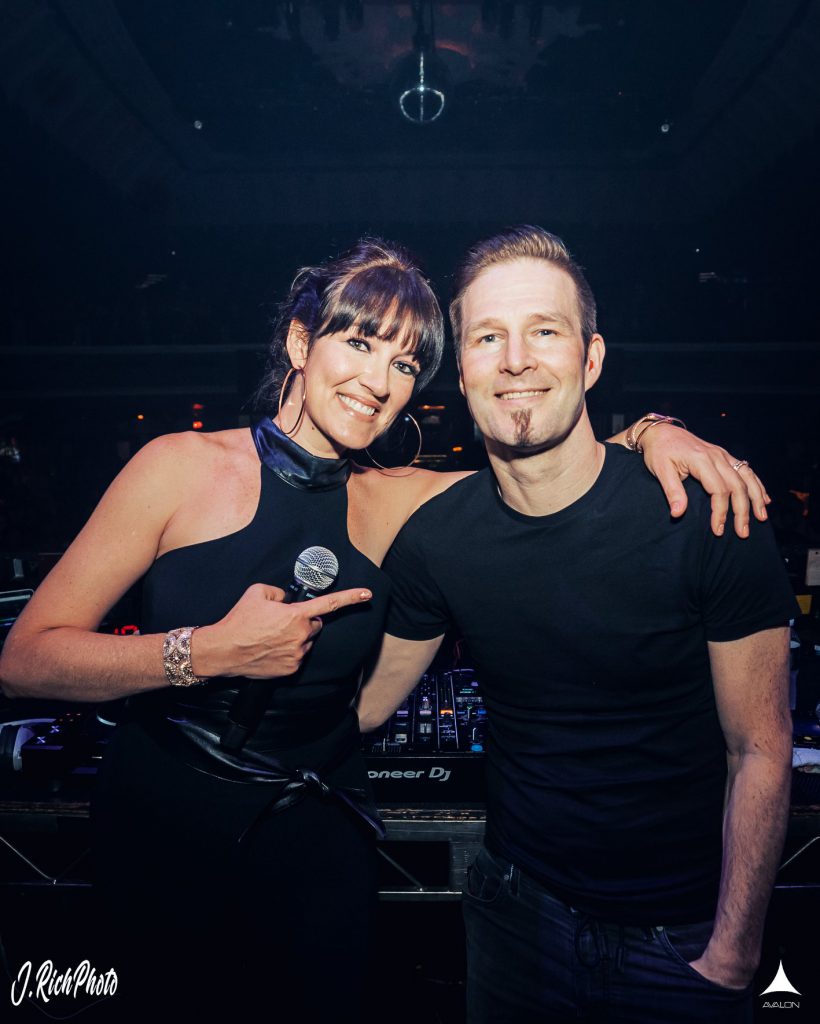 We all have our favorite artists who influenced our musical taste. Who are your top five artists/singers/DJs on your list?
This is a tricky question, my taste is so varied. I grew up listening to bands like Radiohead, Björk, and my Dad's Led Zeppelin collection. My Mum loved soul music and big voices, so I got into Chaka Khan and Thelma Houston which for me, influenced the transition into house music and voices like Julie McKnight and my good friend Chris Willis who's been the voice behind a lot of David Guetta tracks. There are so many DJ's I love, but being a singer, my influences are always about the vocal and the song.
You are now back to Australia. Why did you decide to leave LA and are you planning on coming back?
I really didn't want to have to leave LA and resisted it until it became the only logical choice at the time. It was incredibly stressful. We were confined to our apartment and already self-isolating. Then there was talk of the Australian borders closing and all flights being canceled and the thought of not being able to get back to my family if I needed to was frightening. So I made the very difficult decision to return until things calmed down. There's no time limit on when I'll return, but as soon as things in LA start to open up again, I'm really excited to get back! That time is what the second single, "Follow You Down" is actually about.
As this year brought us a lot of uncertainties and drastic changes, artists are forced to adapt to absolutely different lifestyle in quarantine. What is your new routine as an artist, and what message do you have for your fans to keep the mood up?
It certainly has been a crazy ride! I hope everyone's holding it together. I miss being in the studio, collaborating, and performing live, but I'm grateful that I'm able to write and record from home. That's been a saving grace during this pandemic. My advice would be to remember that this isolation time is not forever. This is a unique moment where we can reset. Take advantage of it, spend time with family, do the things you want to do. I also highly recommend lounge room dance parties to keep the mood up! My Apple Watch tells me they burn a significant number of calories too. Stay safe and sane everyone!
Thank you for your time, Jamie, I hope you will keep making us happy with your beautiful music and hope we will be able to see you perform live soon!
---
Follow JVMIE on Social Media:
Website | Facebook | Twitter | Instagram | SoundCloud | YouTube