Nightmare Festival has announced official pre and after party lineups, showcasing massive talents that are sure to set Halloween off right!
---
After BADVSS Entertainment announced the official lineup for this year's installment of Nightmare Festival we couldn't wait to experience this fresh edition. With artists such as Tipper, Liquid Stranger and Gramatik, many wondered if there was any way for Nightmare to top what is already such a massive announcement. To no one's surprise Nightmare Festival has stunned once again with the news of two official pre-parties and two official after parties!
The creators of Nightmare have spared no expense to create a massive showcase of talented artists and now there are even more acts added to the mix. BADVSS Raves is hosting pre-party shows on Thursday, October 17 at the U Street Music Hall and Friday, October 18 at the Canal Club. Both lineups proudly present Champagne Drip, Luzcid and Tvboo on the nights leading up to Nightmare weekend.
As if four nights of madness was not enough, Nightmare plans to end off each night with two insanely stacked afterparty lineups. Hosted by Karma DC, Nightmare has lined up Mr. Bill, Digital Ethos, Frequent b2b Keota and VCTRE on October 19. In addition to the first night, the venue is also hosting artists Esseks, Hydraulix, Mystic Grizzly, Choppy Oppy & Sketchy Pete on October 20.
We are all more than psyched to see how Nightmare Festival comes together this year at its new home with such mind-blowing talents. Gather all your best ghouls and gals, break out your best costumes and come join us on the floor at this years' nightmarish  festivities!
Tickets for Nightmare Festival 2019 pre and after party are on sale now on the BADVSS Raves site with prices starting at $15. Grab your passes now and let us know if you'll be attending in the comments!
---
Official Nightmare Pre Party at U Street Music Hall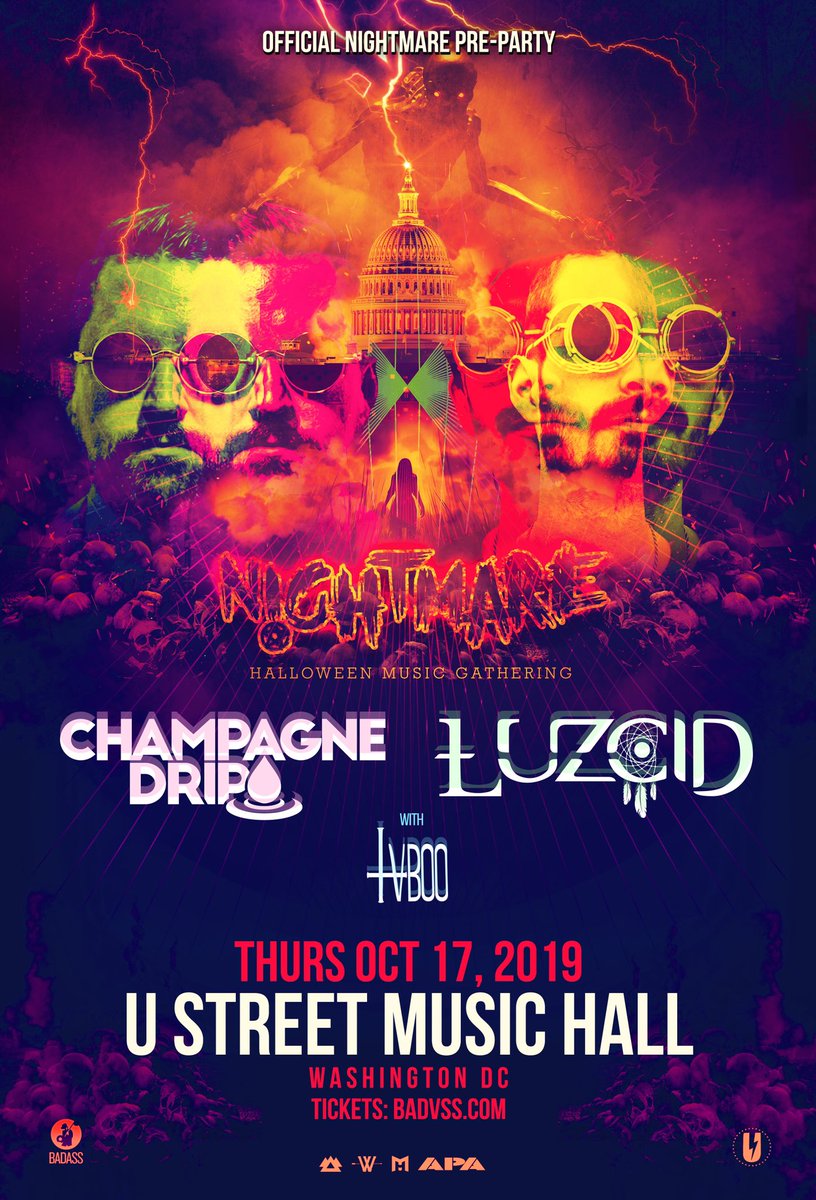 Lineup: Champagne Drip, Luzcid, and Tvboo
Date: October 17, 2019 10:00 PM –  2:00 AM
Venue: U Street Music Hall 1115A U St NW, Washington, DC 20009
Age Restriction: 18+
Cost: $15
Tickets: Purchase Here  
Facebook Event Page: RSVP Here
---
Official Nightmare Pre Party at the Canal Club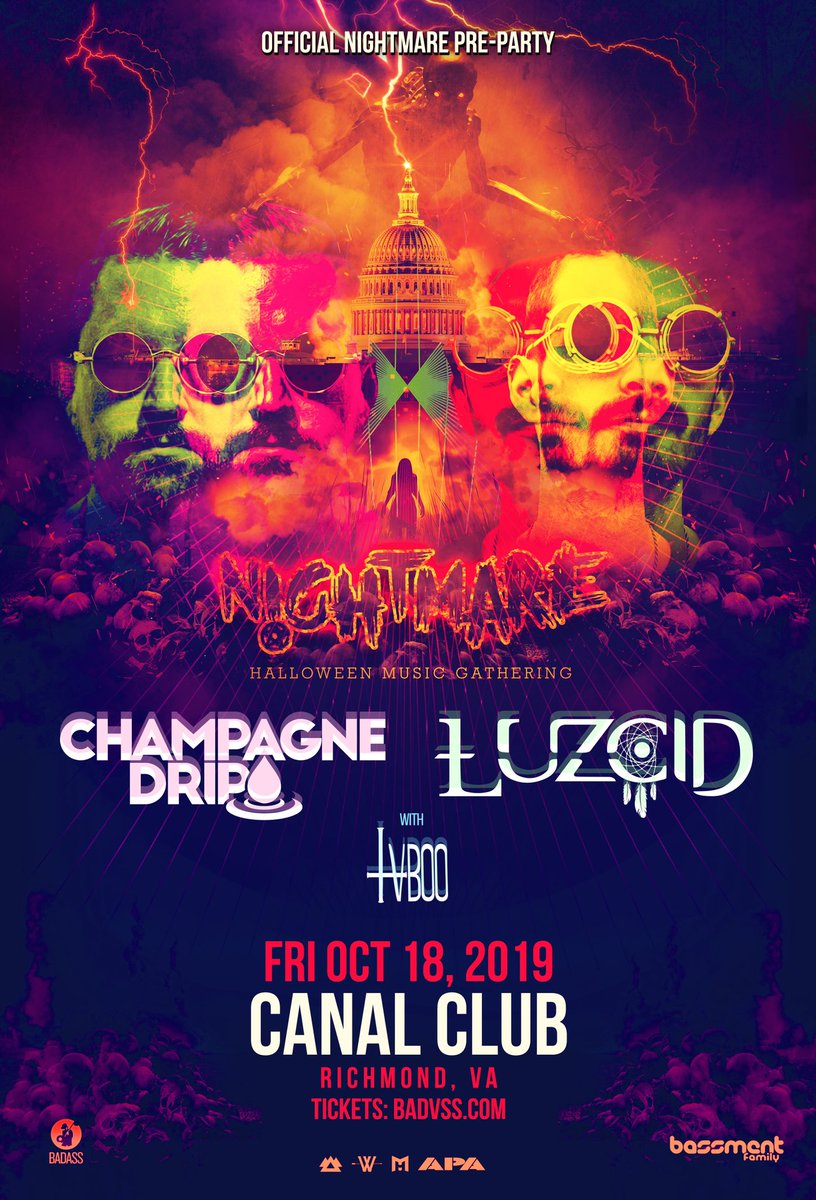 Lineup: Champagne Drip, Luzcid, and Tvboo
Date: October 18, 2019 9:00 PM –  2:00 AM
Venue: 1545 E Cary St, Richmond, VA 23219
Age Restriction: 18+
Cost: $15-$20
Tickets: Purchase Here
Facebook Event Page: RSVP Here
---
Official Nightmare Night One After Party at Karma DC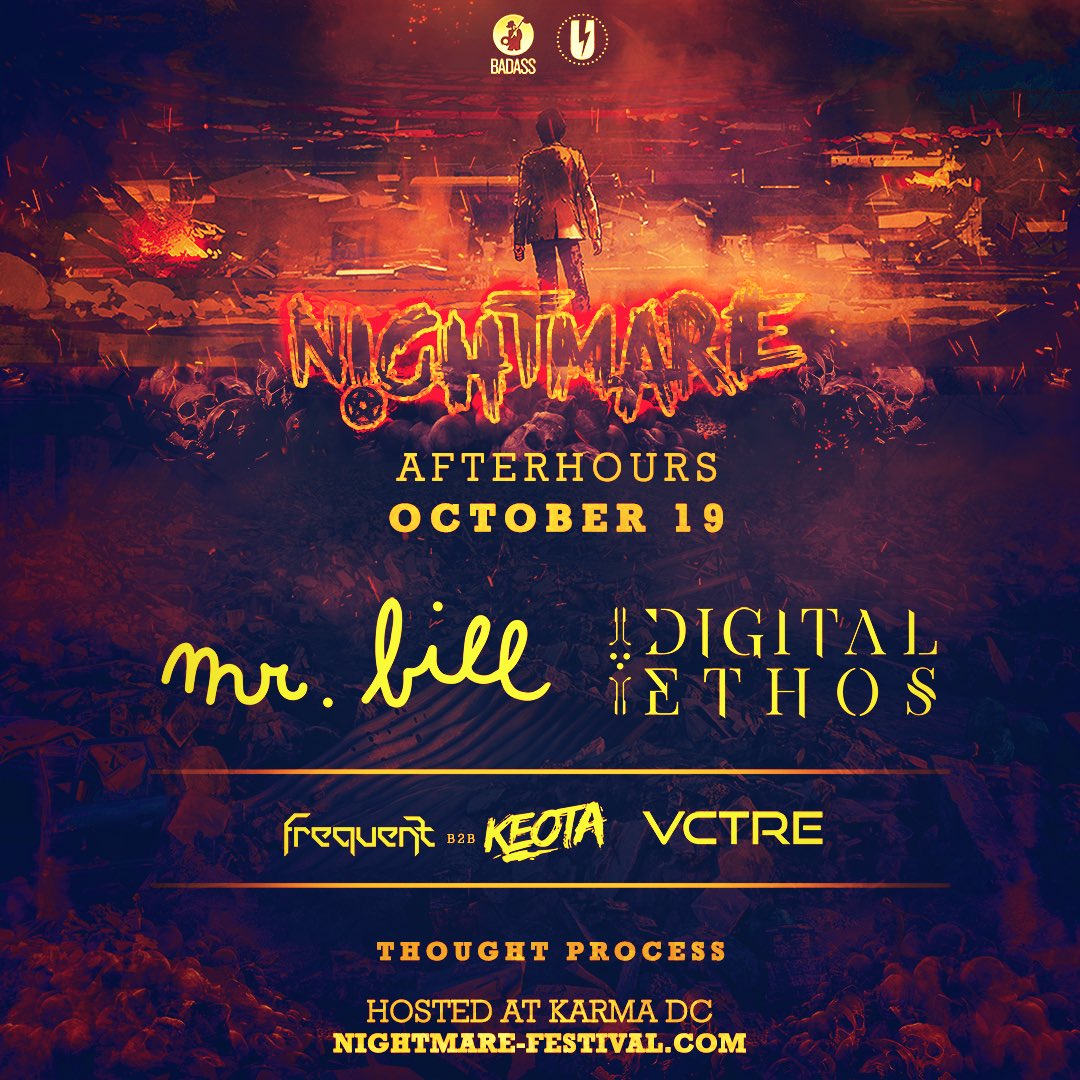 Lineup: Mr. Bill, Digital Ethos, Frequent b2b Keota, VCTRE
Date: October 19, 2019 11:00 PM –  4:00 AM
Venue: Karma DC 2221 Adams Pl NE Washington , DC 20018
Age Restriction: 18+
Cost: $20-$30
Tickets: Purchase Here
Facebook Event Page: RSVP Here
---
Official Nightmare Night Two After Party at Karma DC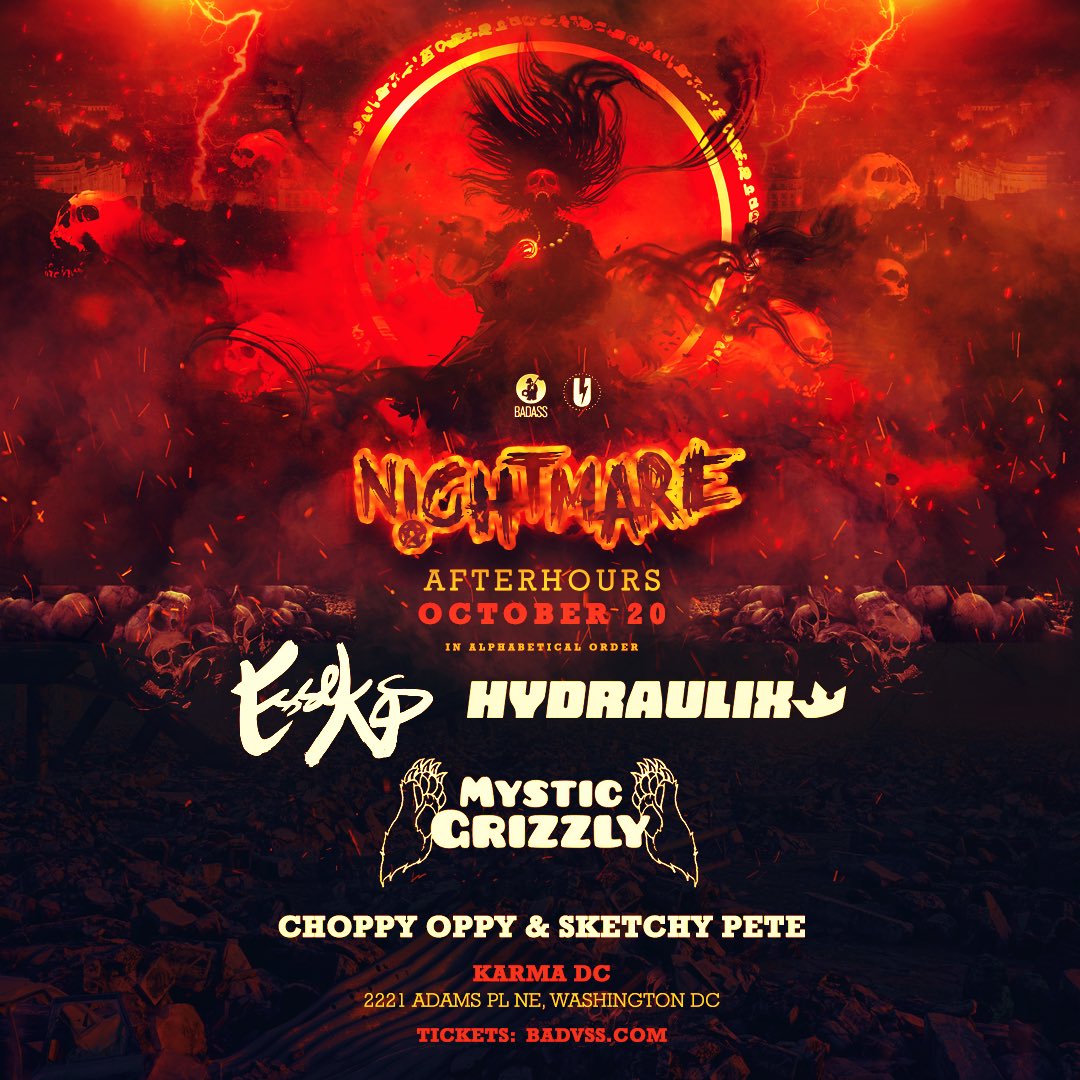 Lineup: Esseks, Hydraulix, Mystic Grizzley, Choppy Oppy & Sketchy Pete
Date: October 20, 2019 11:00 PM –  4:00 AM
Venue: Karma DC 2221 Adams Pl NE Washington , DC 20018
Age Restriction: 18+
Cost: $20
Tickets: Purchase Here
Facebook Event Page: RSVP Here
---
Connect with Nightmare Festival on Social Media: