On Saturday, September 7, join Lady Faith and Darksiderz for a night of bangin' hardstyle at Elation Extinction! 
---
Being a newcomer in the Vegas nightlife scene hasn't stopped Elation from booking some of the best artists across the electronic music spectrum! They've recently been bringing the heat through partnerships with Dreamstate, numerous extended sets, and more. Now, with Lady Faith and Darksiderz, Elation is bringing hard dance to the Vegas community in the form of Elation Extinction.
Anyone even remotely interested in the hardstyle scene in America and around the world knows the name Lady Faith and Darksiderz has been heating up the genre for years. On, Saturday, September 7, Lady Faith and Darksiderz will be dominating the stage at Elation's Extinction event to bring their hardstyle kicks to the Vegas hard dance community. They will be joined by Brandon Phantom, NickyP, Keiji b2b Hpnotic, and System Malfunction.
Lady Faith is a seasoned professional who is responsible for tunes such as "Moxie", "Bad Bitch", and "PLUR". Darksiderz is a mysterious figure with an unprecedented otherworldly sound that infects the minds of his listeners. Both Lady Faith and Darksiderz have been on numerous and will both be seen playing at EDC Orlando! Whether you've fallen in love with the Queen of Hardstyle's signature dark and high energy style, Darksiderz mystifying being, or just looking to give hardstyle a chance, there's no better place to be than Elation.
Tickets for Elation Extinction featuring Lady Faith and Darksiderz are moving fast. Grab yours today via Nightout.com with promo code EDMIDENTITY or enter our contest below for your chance to win a pair!
---
Want to attend Elation Extinction ft. Lady Faith and Darksiderz? Enter our contest!
Win a Pair of Tickets to Elation Extinction featuring Lady Faith!

---
Elation Extinction ft. Lady Faith and Darksiderz – Essential Info:
Date: Saturday, September 7, 2019
Ages: 21+
Hours: 8pm – 3am
Venue Address: CMXX – 920 S Commerce St, Las Vegas, Nevada 89106
Tickets: Purchase HERE
Facebook Event Page: RSVP HERE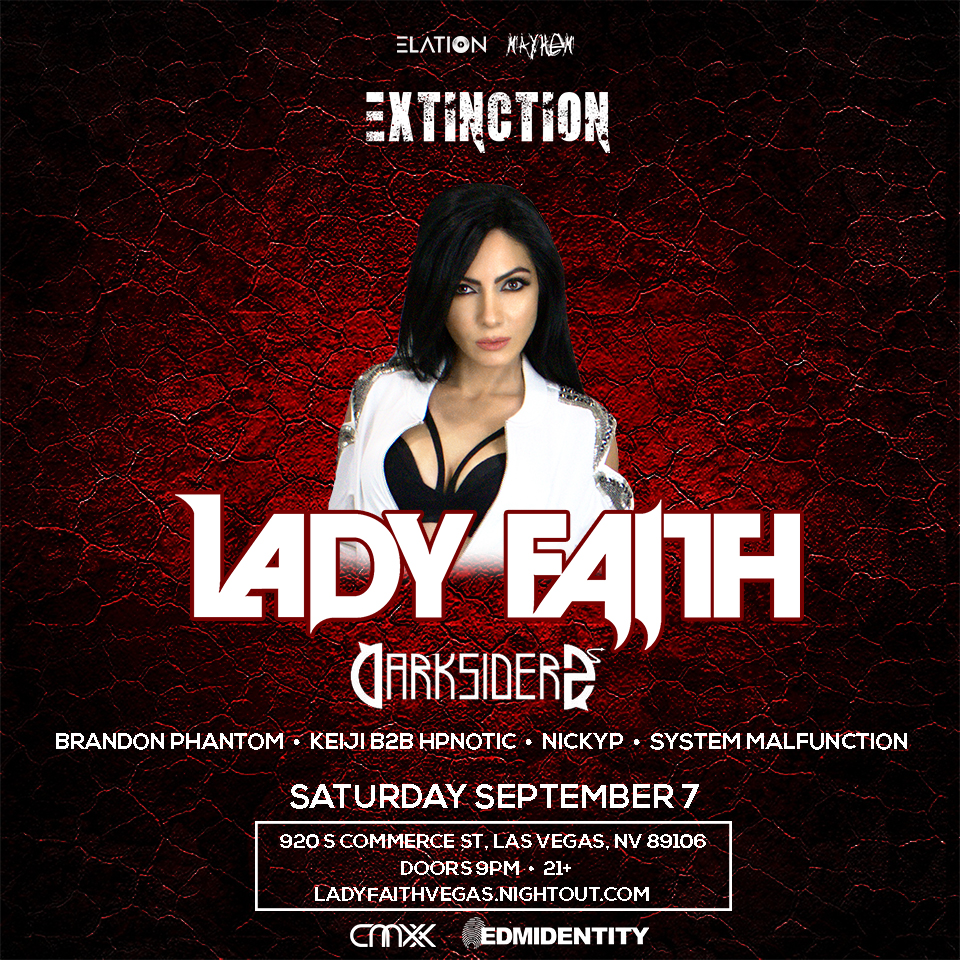 ---
Follow Elation on Social Media:
Website | Facebook | Twitter | Instagram
Follow Lady Faith on Social Media:
Website | Facebook | Twitter | Instagram | SoundCloud | YouTube
Follow Darksiderz on Social Media:
Facebook | Twitter | Instagram | SoundCloud