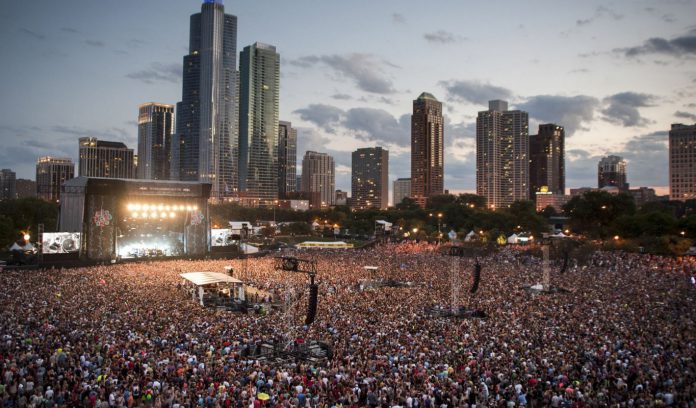 Lollapalooza is back once again in Chicago's Grant Park. Get the festival map, set times, prohibited items, and more here!
---
Columbus Drive has shut down, hotels are full, the summertime weather is perfect, and Lollapalooza is here. Taking place annually in the middle of Chicago every August, Lollapalooza hosts a mix of all kinds of popular music. Additionally, the lineup has always included a stage almost strictly dedicated to electronic music. Known as Perry's, this stage has now evolved into the third biggest stage at the festival with some of the most popular names in EDM.
Some specific things to keep in mind prior to attending are the bag specifications and the prohibited items list. Also, remember that unlike other festivals, there is re-entry throughout the day at Lollapalooza. I recommend using the north entrance at Columbus and Monroe for a much shorter line when entering the fest! However, Lollapalooza really has all you need with plenty of food options and other activities throughout the grounds. Check Lollapalooza's information page for locker rentals, Lolla cashless, and more.
In addition to the stacked lineup of electronic music, there's also plenty of afterparties to attend around the city. Whether you're visiting Chicago for a long weekend or just taking the train down for a day or two, Lollapalooza is sure to provide us with another year of great times and memories. Hosting some of Chicago's best restaurants and some of the world's best music, keep reading for more essential information on this year's Lolla!
---
Lollapalooza 2019 Essential Info:
Dates: August 1-4, 2019
Hours: 11AM-10PM
Venue Address: Grant Park, Chicago, IL
Box Office Hours: Wed 12-7PM; Thurs-Sun 10AM-9PM
Box Office Address: 500 S. Michigan Ave. Chicago, IL
Tickets: Purchase HERE
Facebook Event Page: RSVP HERE
---
Lollapalooza Set Times: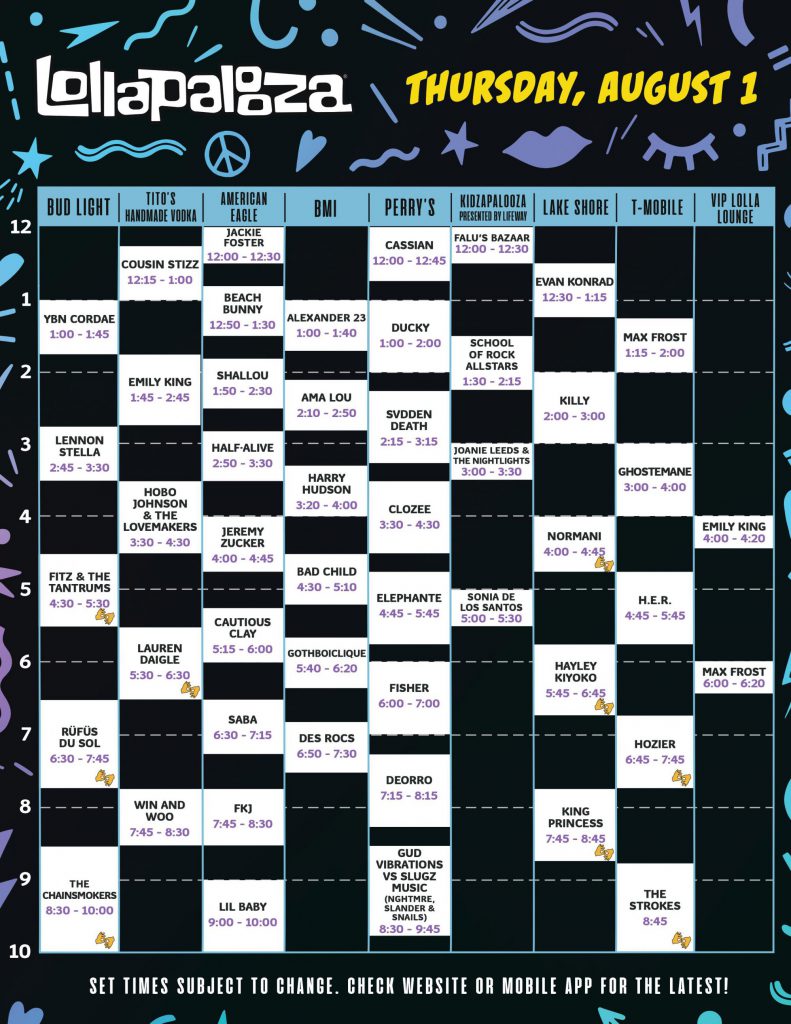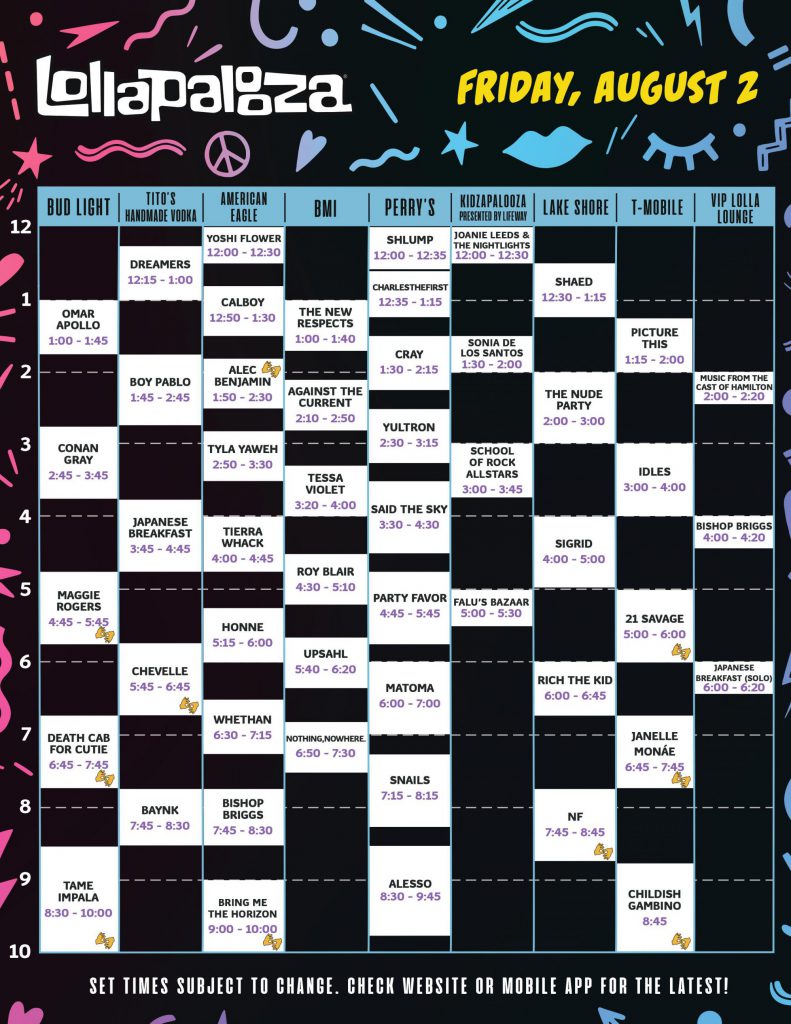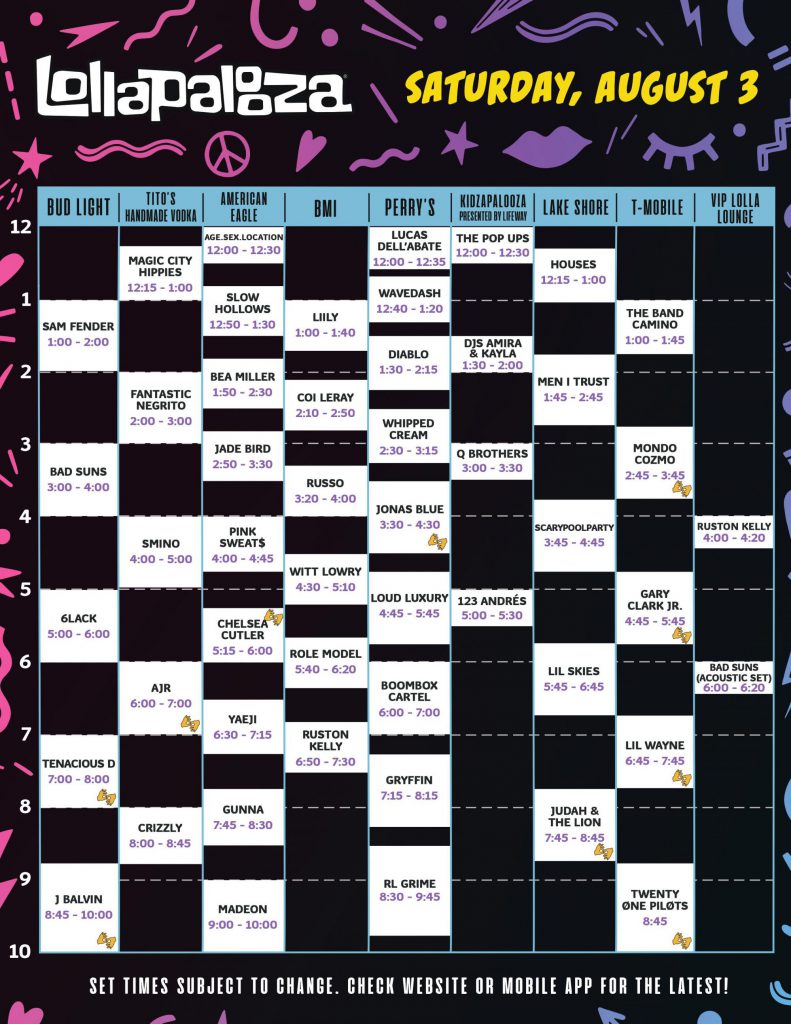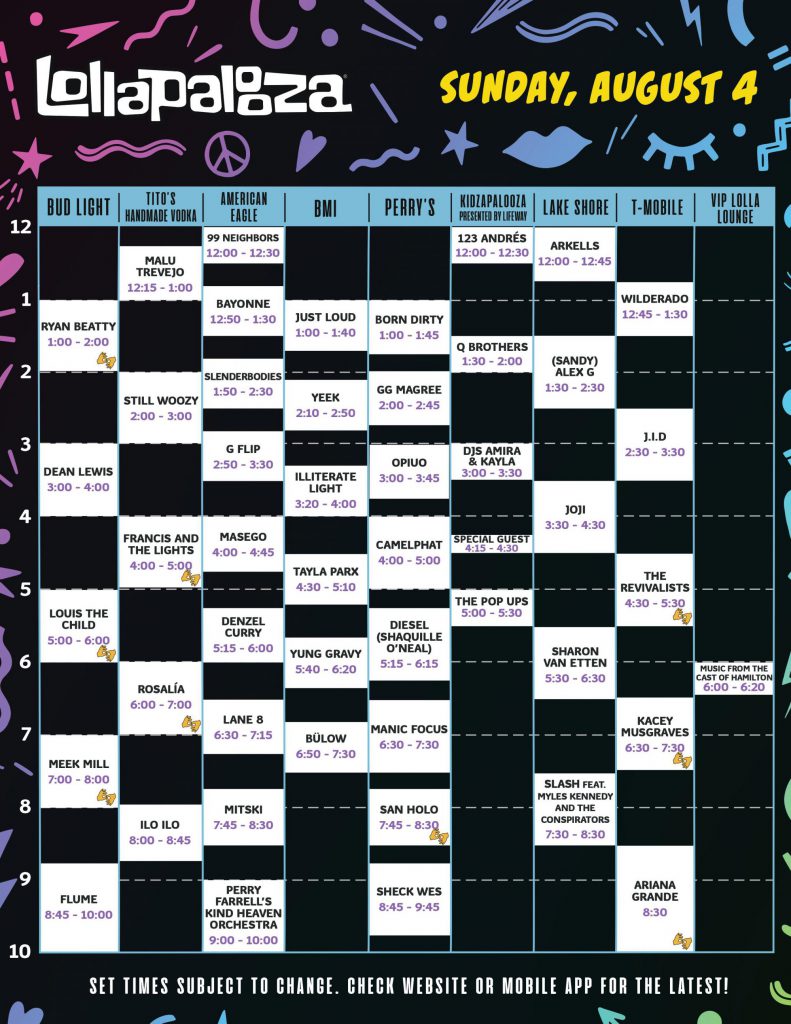 Lollapalooza 2019 Festival Map:
(Download the hi-res version from Lolla's website)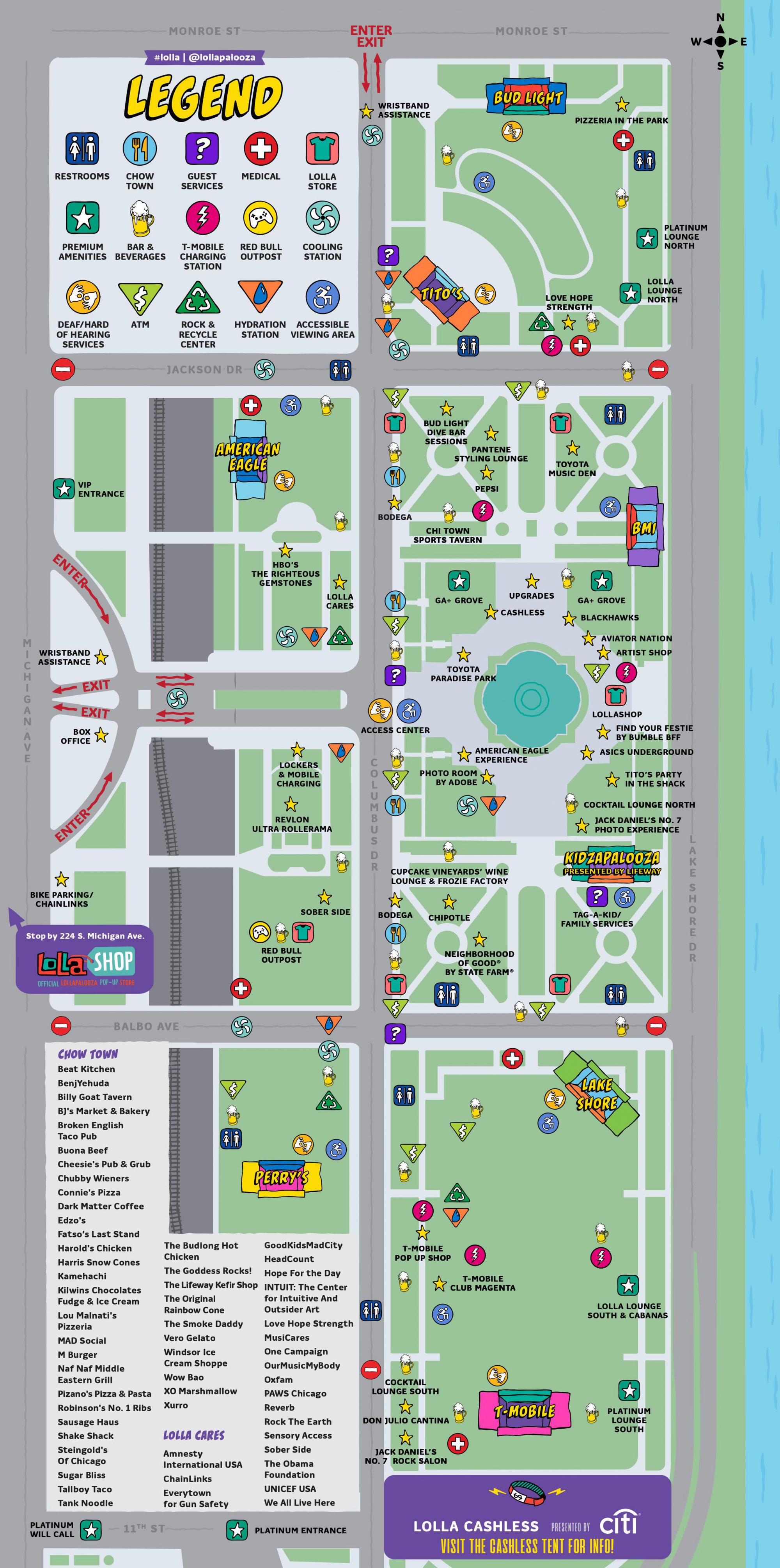 ---
Lollapalooza 2019 Do's & Don'ts:
Permitted Items
Strollers
Binoculars
Blankets, Sheets, Towels
Cameras (basic point and shoot consumer-grade cameras) without detachable lenses and other accessories (monopods, selfie sticks, tripods, GoPro mounts, and other attachments are not allowed)
GoPro cameras without accessories
Sealed sunscreen lotion (no aerosol containers)
Empty hydration packs and water bottles (plastic or aluminum). Max size 36oz. for Yeti type hydration rambler (www.yeti.com/rambler)
Prescription Medicine Requirements:

Anyone needing prescription medicine at the festival must present the pharmacy-labeled container which states the prescription, dosage, and patient name to our medical staff at each entrance gate. Patrons are only allowed a sufficient supply of the prescribed medication for that day.
Medicines needing to be inhaled or smoked are prohibited unless they are a prescribed inhaler or labeled prescription bottle. Per Chicago Park District Policy there is no smoking or vaping in Grant Park.
Over the counter medications are allowed in a sufficient supply for the day. Bottle contents will be verified by medical personnel at the entry gates.
Prohibited Items
No Cigarettes, E-Cigs or Vaping devices (Chicago Parks Department Policy)
Aerosol containers (including sunscreen and personal beauty products)
Any and all professional audio recording equipment
Any and all professional video equipment – no video recording will be allowed
Professional cameras (any camera with the option to detach a lens)
Any and all camera accessories, such as selfie sticks, tripods, monopods, go pro mounts and attachments, detachable lenses, or other commercial equipment
Drones or any other remote flying device
Frisbees
Totems, Flags, Banners
Coolers of any kind (exceptions may be made for medical use)
Framed backpacks
Hammocks
Glass Containers
Firearms, explosives, and weapons of any kind (including pocket knives, pepper spray, fireworks, etc)
Illegal and Illicit substances of any kind
Drugs or drug paraphernalia
Outside food or beverage (including alcohol) of any kind
Umbrellas
Professional-grade radios or walkie-talkies
Pets (except for service animals)
Skateboards, scooters, bicycles, wagons, carts (including red wagons) or any personal motorized vehicles
Tents, canopies, or shade structures of any kind
Unauthorized/unlicensed vendors are not allowed. No unauthorized solicitation and materials including handbills, flyers, stickers, beach balls, giveaways, samples, etc.
Large wallet and waist chains that exceed 12 inches in length and width of 1 inch
Bicycle chains and other such chains will not be allowed
Bicycles inside the festival grounds (free parking is available near festival entrance)
No Chairs of any kind
No Inflatable furniture. Rafts, chairs, etc.
Per Chicago Parks Policy all parks are non-smoking
Bag Policy
Bags will be restricted to small purses, totes and drawstring bags only. Bag size may not exceed 14" x 11" x 5" (35cm x 28cm x 12cm), or 30 linear inches (75cm) in total, and must have no more than one singular pocket or opening. Backpacks and bags with multiple pockets are prohibited. Hydration packs are allowed but must be emptied of all liquid and have no more than two pockets in addition to the one holding the water reservoir. Learn more here.
---
Reminder To Mind Your Belongings:
Unfortunately, many people have reported pickpockets, bag slashings, and theft of wallets, smartphones, purses and other valuables during this festival season. While this small number of bad apples in the bunch doesn't define an entire crowd, there are opportunistic people who come to these events to take advantage of unsuspecting partygoers and it's important to be mindful of your valuables while at Shambhala Music Festival.
Looking for tips to keep your belongings safe? Check our post highlighting some ideas!
---
Follow Lollapalooza on Social Media:
Website | Facebook | Twitter | Instagram