Let the re-envisioned vibes of Euphoric Nation & David Thulin's "Sparks Fly" light up your night and set the tone for a brand new adventure in sound!
---
Whenever Euphoric Nation and David Thulin get together in the studio the result is nothing short of pure magic! Stealing the spotlight this past February, the high-octane trance dream team delivered "Sparks Fly" a peak hour stunner featuring the dominating vocals of Marsha Mae.
Out now on OHM Music, Euphoric Nation and David Thulin want to keep the party rocking at full tilt with three brand new "Sparks Fly" remix offerings that promise to breathe new life into a track that has already set the tone for a massive 2018 season in sound!
Remixes from Danilo Ercole, Jackson Snapp, and Spark & Shade are featured on the release, giving a new spin to the quality tune. Stream the release below and read on for our take on this three-track remix package!
Stream Euphoric Nation & David Thulin – "Sparks Fly" (The Remixes) on SoundCloud:
Get ready to warm up your muscles and strap on your most comfortable kicks because these remixes will get you busting a move on the dance floor!
First up for your listening pleasure is the Danilo Ercole extended remix! You know what they say. If it ain't broke don't fix it. Instead, why not plump it up with a fantastic twist on the guttural bassline and add an extra two and a half minutes so we can continue to enjoy the journey!
Finding a balance between uplifting emotion and deep driving rhythm is what Danilo Ercole has come to perfect and on the extended remix of "Sparks Fly", we enter a realm in which Danilo Ercole sits on the throne of full circle sound domination. You are going to want to put this one on repeat!
Next up to reinvigorate the soul comes from the brilliant wheelhouse of Jackson Snapp. As a trained pianist, guitarist, and theory student since his early teen years, Jackson has embarked on a quest that would ultimately lead him to find a home among the brilliant rising stars in the dance music industry, and we couldn't be more excited!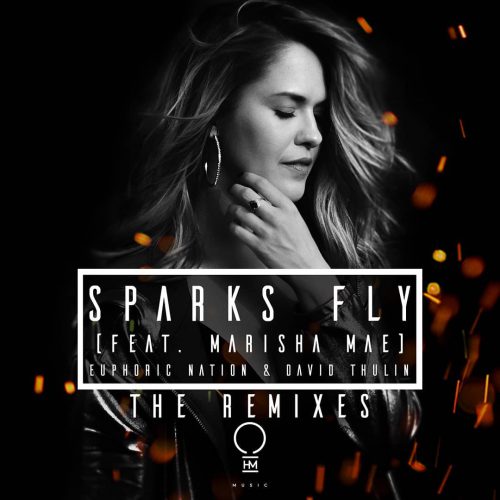 Adding a tech-driven lead-in, stylized synth character, and a roller coaster ride of rhythmic detail, it is the deep hypnotic breakdown that truly inspires "Sparks Fly" to enter a new chapter of intensity as Marsha Mae's voice captures the pure essence of a genre defined by a heightened emotional expression.
Rounding out the package comes from the forward-thinking minds of Maxem and Noadja under their appropriately titled and increasingly relevant Spark & Shade moniker. From the darker shades of progressive house to the light and airy emanation of melodic trance, together these two trance tastemakers have developed a brand of sound all their own.
Prepare for your soul to run free among a backdrop of musical transcendence as Spark & Shade pull back on the bassline intensity but allow room for a quirky hint of thunder as the festival inspired melody draws us in for a ride up to trance heaven!
Before you go, let's travel back in time and check out David Thulin & Euphoric Nation's debut OHM Music offering called "Destiny"! And as always, stay locked in with OHM Music as they continue their quest for ultimate dance floor dominance delivering only the freshest of game-changing tunes that our beautifully eclectic industry has to offer!
---
Connect with Euphoric Nation on Social Media:
Facebook | Twitter | Instagram | SoundCloud
Connect with David Thulin on Social Media:
Website | Facebook | Twitter | Instagram | SoundCloud