Coachella will always hold a special place in my heart, but this year was different from any other I have attended.
---
There is no better feeling than entering the Polo Fields and losing yourself in the vastness of Coachella. It's a festival where good music is plentiful and the skyline is full of palm trees, mountains, and fiery orange sunsets. This was my eighth consecutive year attending Coachella and it has become easy to see just how massive the festival has become.
There is more than enough to stimulate your mind for three days, and this year was already feeling different from past editions. Between the expanded venue, changes to stages, new art installations, and more, the lead up to Coachella this year was feeling like a brand new experience.
The buzz from Weekend 1 heightened the levels of excitement and you could feel that something different was happening in Indio. What I didn't know is just how different it would be, and just days before the start of Weekend 2 we received some news that would change the plans for many.
The WalmartChella Experience started things off in all the right ways.
The Thursday before Coachella, known as Day 0, is the day car campers look forward to most as they wake up early or drive through the night, hoping to land a spot in the elusive Lot 8. It is also notoriously known for being a day of unwinding, meeting up with old friends and making new ones, and wandering the campgrounds.
Unfortunately, this year's weekend 2 car campers were informed Wednesday night by way of the Coachella App and their social media channels that due to high winds car camping would not open until Friday at 3 AM. In all the years I have camped at Coachella I have never experienced this and it immediately threw off our plans. After brainstorming possible choices and checking in with different groups, we decided to leave a few hours later than planned but with enough time get there early enough to beat local traffic and get in line if the advisory was lifted.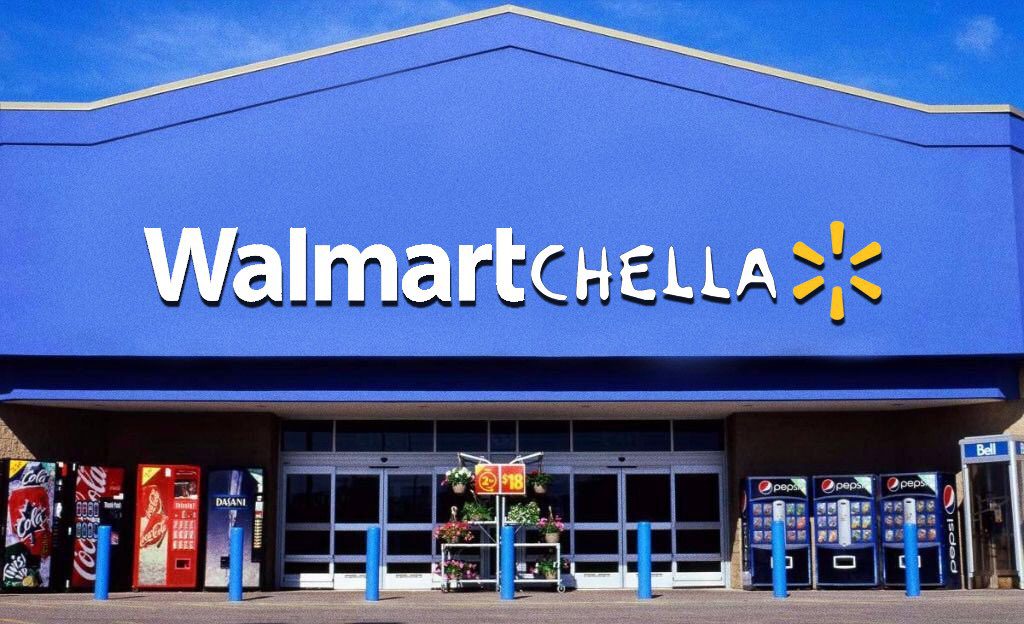 We made do in the Walmart parking lot with other Coachella camping refugees to pass the time.
Overall, five hours were spent there with many other campers who didn't have a place to go before code enforcement began kicking people out. Around 100 cars ended up finding a nearby park to spend the last remaining hours of Parkchella. It had been awhile since I've seen that many young people in a park throwing frisbee and hanging out. Walmartchella and Parkchella were a nice silver lining to the whole situation and reminded me Day 0 can be anywhere as long as you have good people around.
It was about 11 PM when we got word the security line for car camping opened and we caravanned over to get in line. After a long day of waiting, we finally got through security around 1 AM and landed a spot in Lot 8 on 811S. It was hilarious trying to set up camp with headlamps and low light, but we got everything up within an hour. My crew played it cool the rest of the night and talked about the artists we were excited to see over the weekend, bonding before the craziness would begin.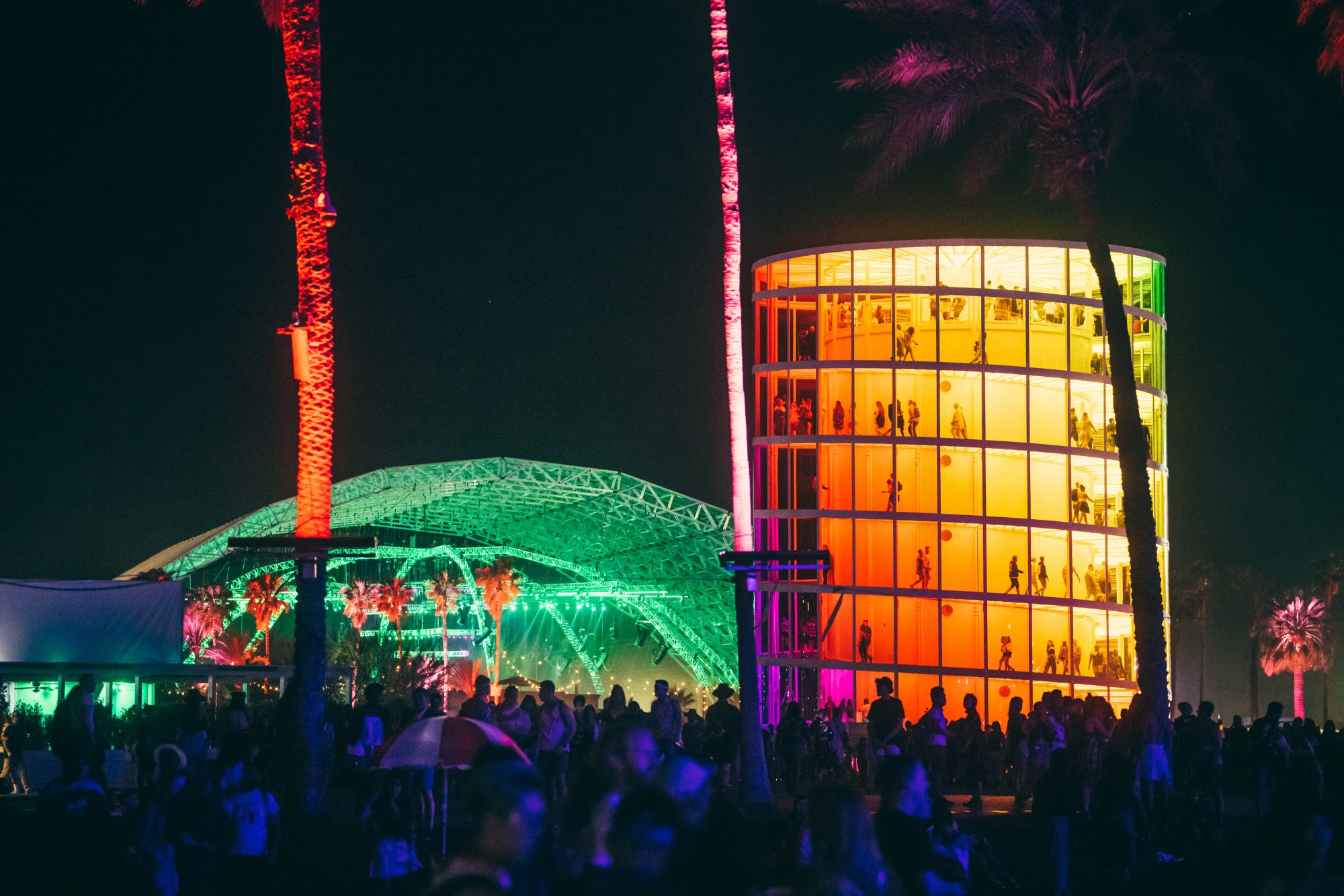 As Coachella grows so do the festival grounds, and this was the most noticeable difference to me this year.
I took notice of how much larger Coachella was as I tried walking from the newly located Sahara to the Outdoor or Mojave to Main. It was a major trek to get most places compared to previous years, but the added space was definitely worth it. Instead of catching half sets it made more sense to prioritize full ones, and the amount of walking didn't take away from the fun it just made getting around take longer.
Besides the venue expansion, the biggest difference was the new set up and location of the Sahara. It moved next to the festival entrance and was set up sideways. The new direction of the stage helped accommodate the huge crowds throughout the weekend, and everything new about the Sahara to me was a positive change. Having the structure sideways made it easier to get up close in the crowd and the production elements were epic. But enough about the changes, let's talk about the real reason I was there… the music.
Friday was set to be a great day of music, and I was excited as ever to start catching some sets.
Upon waking up though, I quickly heard the news about Avicii's passing and was struck with a wave of emotion. I connected with his music and he was one of the main artists that brought me into the electronic scene. It's sad to lose someone that has given you so many great memories, but Avicii would have been smiling at all the love Coachella was showing him.
I composed myself and gathered the crew to get food. Our camp spot was two streets away from the Camping Center so we had easy access to Silent Disco, a wide variety of food, the general store, and other activities. I got an acai bowl and chicken tenders to fuel up then headed into the festival for Whethan.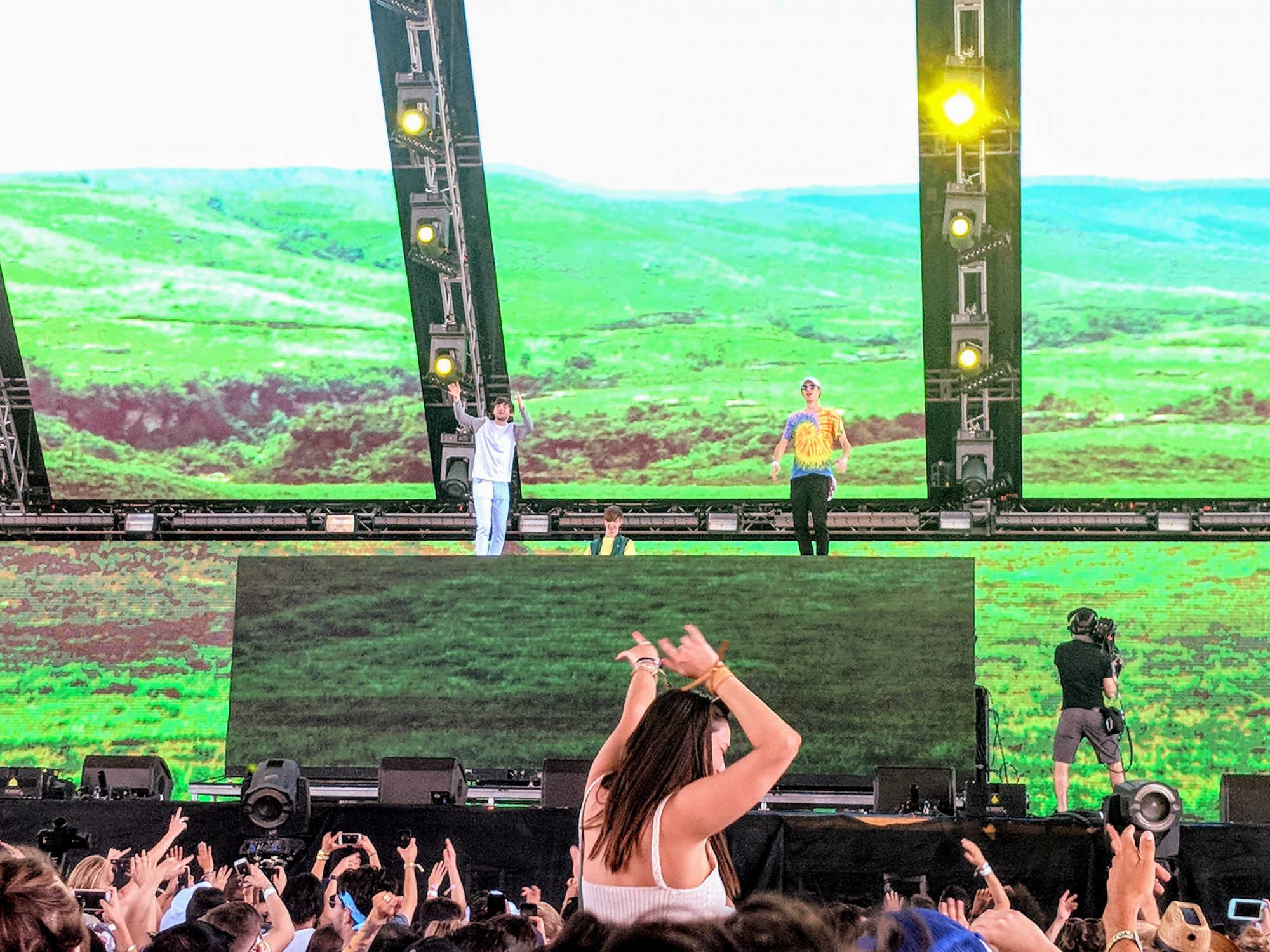 Whethan was one of my top electronic artists to see and his set was worth getting in early for.
He played a 50-minute set full of original tracks and brought out a handful of guest performers including Mascolo for "Good Nights" and Dua Lipa for "High". At one point he dropped "Weekend" and Louis the Child jumped on stage to hype up the crowd. Needless to say, after Whethan's set I was amped for the rest of the day.
I bounced around a few stages then found myself at Kygo just after sunset.
I wasn't planning on seeing Kygo, but I am happy I did. He commanded the main stage and put on the best set I've ever seen him play. As an electronic artist, the Coachella main stage is a special slot to play and he made the best of his time. Kygo played live with all the production bells and whistles he brought to the table, and pretty much every track had the accompanying vocalist performing live as well.
When it was time to close his set he did it in an emotional way with a tribute to Avicii. The crowd lit up with lighters and phone lights as "Without You" began to play. You could feel the collective energy of the crowd focusing on Avicii. There were smiles and tears, but we all finished the set by dancing and remembering one of electronic dance music's most beloved artists.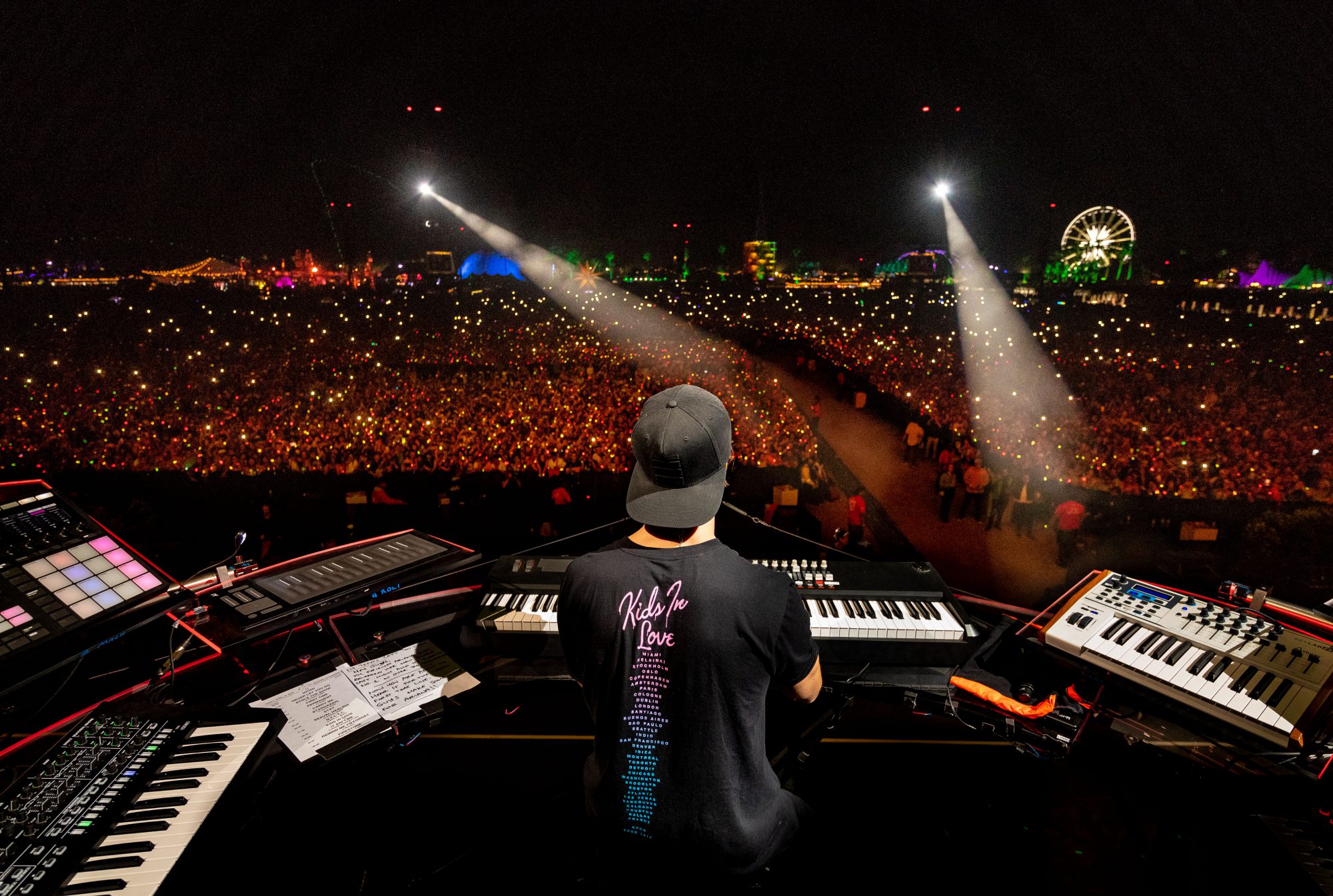 Soulwax blew my mind to end Friday's festivities.
Soulwax's set is one that I probably would have missed had it not come so highly recommended by the music connoisseurs of the Reddit Coachella group. I have never seen a group of musicians so in sync on stage. The frontmen were mixing synths and analogs while drummers interchangeably played different parts of a track. The guitarist and bassist were continuously shredding funky basslines and huge solos. They all wore matching white suits and had the crowd tuned in to the performance dancing the whole set. By far my favorite new music discovery of the weekend.
Saturday began with Marian Hill at the Outdoor Stage.
Throughout the entire weekend, Marian Hill's set was the only one I saw that had technical difficulties. Five minutes into the set Jeremy's MIDI and piano went on the fritz and never fully recovered. Samantha and Steve continued the show as true performers with an acapella of "One Time", but it never picked back up. It was a bummer because it was their first Coachella, but I have seen them before and I know they put on a show.
After Marian Hill, I meandered over to the main stage to get my dose of funk from Nile Rogers & CHIC and Chromeo. These were my favorite back to back sets of the weekend because the sets complimented each other perfectly. Nile Rogers & CHIC brought the old funk classics with "Le Freak" and "Good Times" while Chromeo followed with the new school electro funk. I danced the hardest all weekend at Chromeo especially when they dropped tracks from their upcoming album, "Must've Been" and "Bedroom Calling".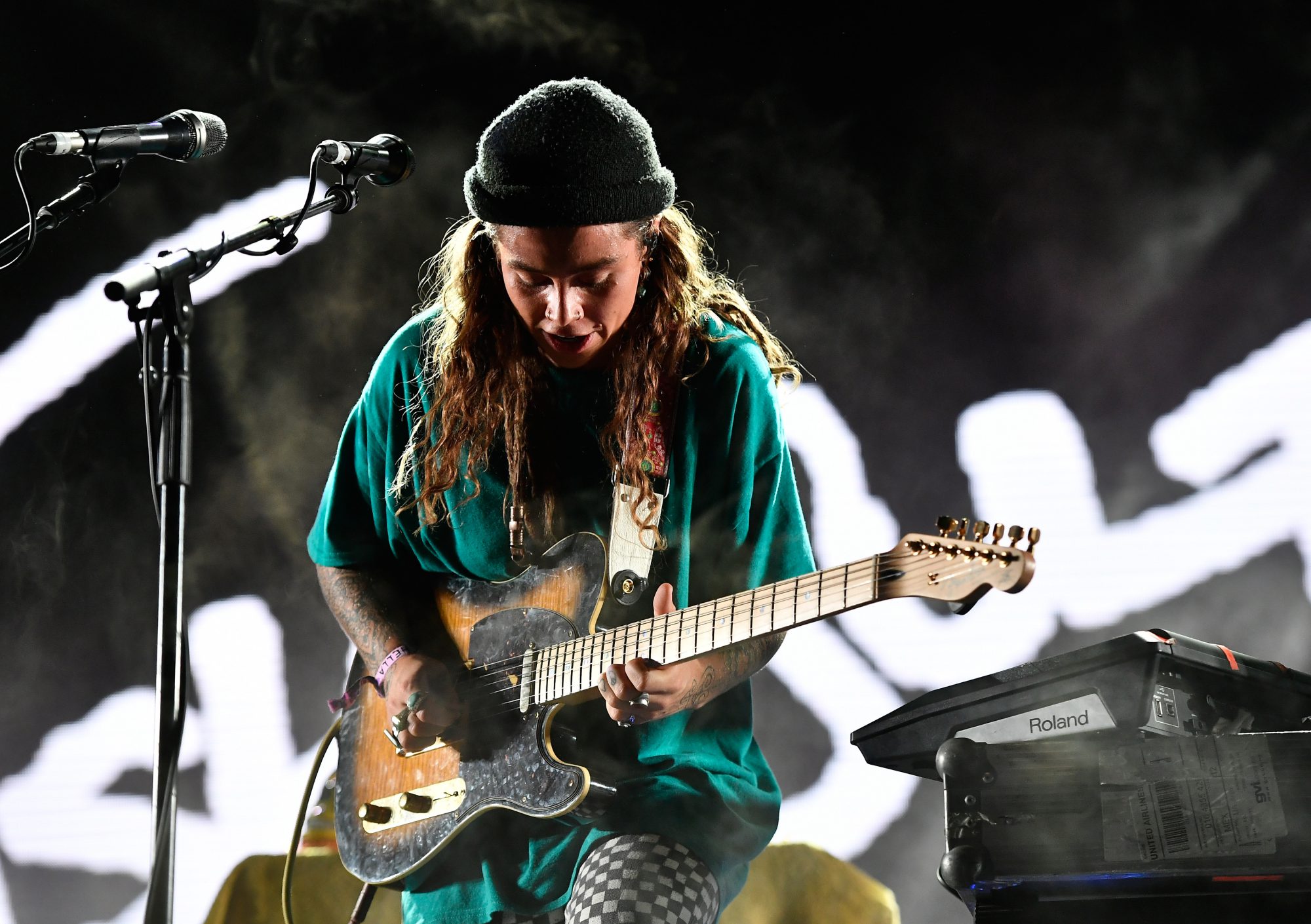 Overall though, Saturday was really all about a hidden gem at Coachella, Tash Sultana.
I tried to tell my friends to join me for the set, but none of them listened, their loss. Tash Sultana is an insanely talented multi-instrumentalist, one woman band that never plays the same set twice and performs with an unwavering and contagious energy. She seamlessly loops guitar rhythms and percussion while belting out passionate vocals and dancing around the stage.
You can tell how much music means to her from the energy she puts out into the universe during her set. She is the most authentic and talented performer I have ever witnessed and I am stoked she is getting the love and exposure she deserves. I pretty much melted when she played an 8-minute artfully crafted version of "Notion". If you missed her you messed up.
From start to finish, Sunday was by far my favorite day for music, and I camped at the main stage because I wanted to have the best spot for Odesza and Eminem.
Eminem was my number one set to see over the weekend because he had been on my concert bucket list forever. While some fans might not enjoy his new music, there is no denying he played an iconic role in shaping the hip-hop scene in our lifetime. The stage set up brought the audience into Marshall's world as it resembled Detroit's 313.
He played a mix of old and new tracks and brought out a handful of guest performers. Skyler Grey sang the vocals to "Stan", 50 Cent rapped his verses in "Crack A Bottle", and Dr. Dre performed "Still Dre" and "Guilty Conscience". Eminem's set should have been my favorite of the weekend, it was everything I wanted from an Eminem show, but Odesza had stolen my heart before that.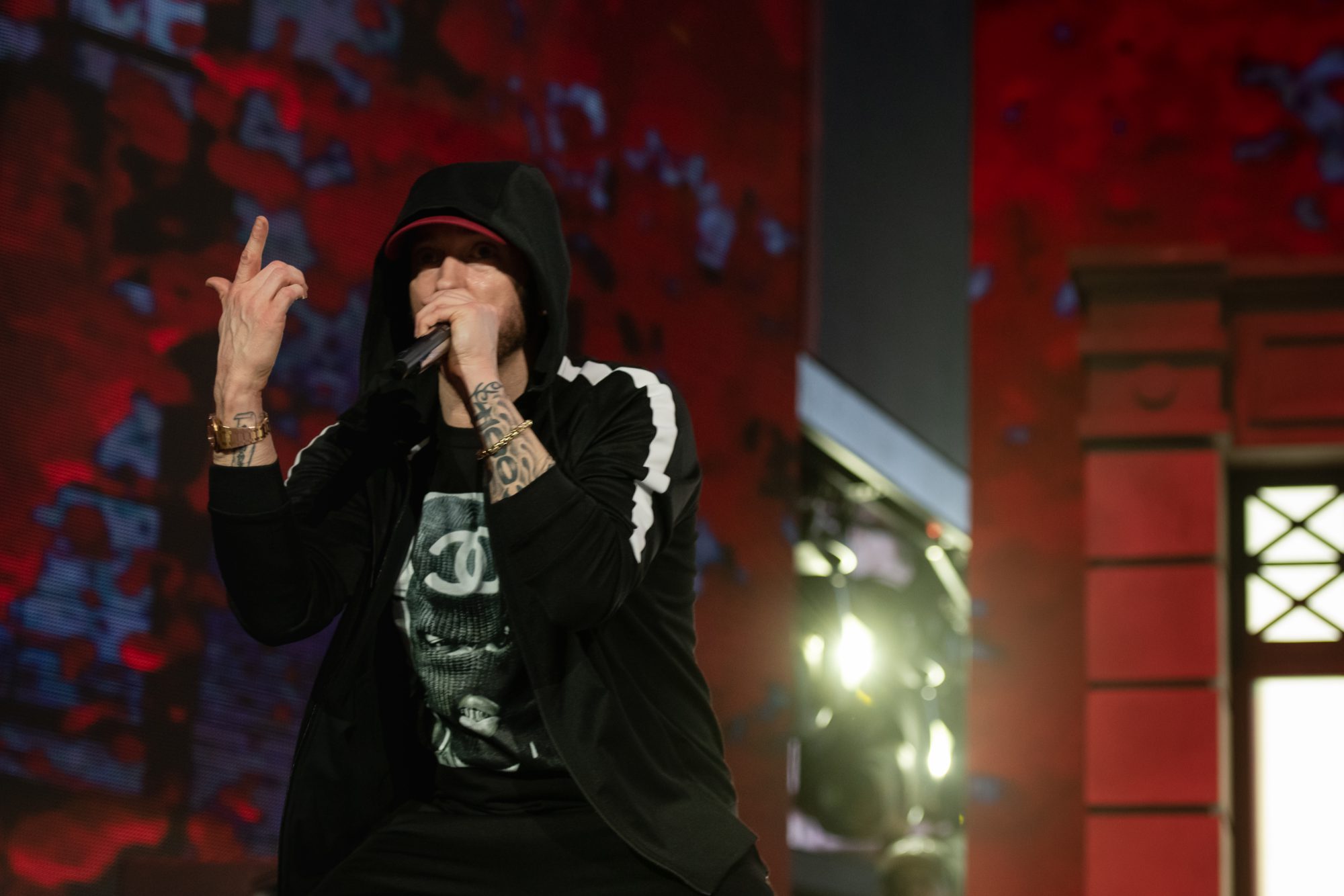 Odesza on the main stage right after sunset will be an experience I never forget.
The entire team that put their show together is on another level and I had the best seat in the house. Their music pairs perfectly with the cinematic elements, stage production, and visuals, and it makes you feel like you're almost in a movie. If the music wasn't so bouncy I would have simply just sat in awe.
They played everything from "Late Night" to "Say My Name" and then an incredible mix of "Falls" and "Across The Room" that made my heart soar. For an hour I was entranced by the happy atmospheric sounds of Odesza and when I think back on it all I can do is smile.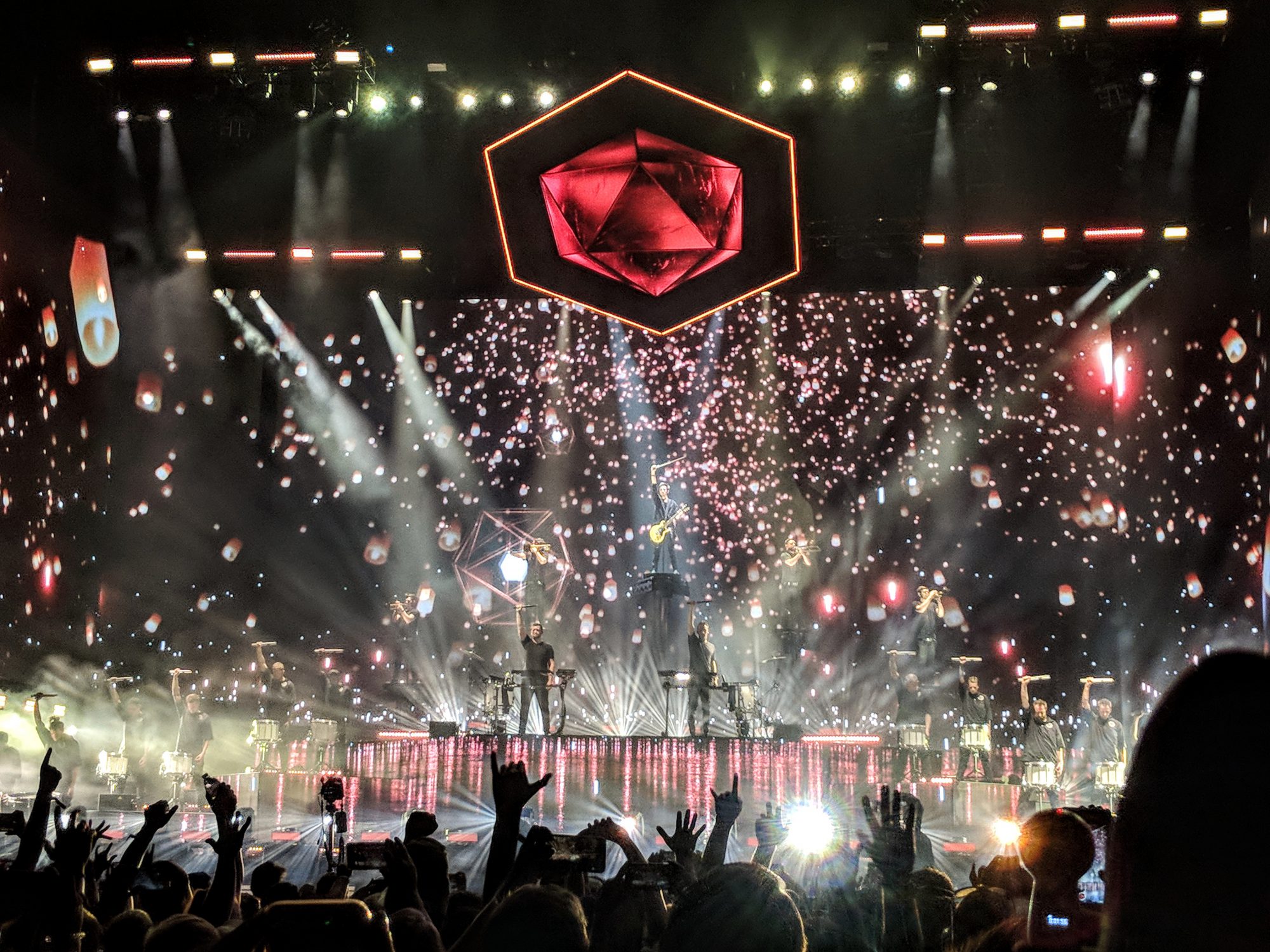 Aside from the music, Coachella always hosts some of the best art installations I have ever seen.
While not always as prominent as their lineups, the art this year was very impressive. Before even walking into the festival I could see some of the towering pieces that immediately caught my eye. The first installation I gravitated toward was the tall central building called Spectra by NEWSUBSTANCE. During the day you could see attendees winding up and down the building, and by night it lit up with all colors of the rainbow.
Walking to the top during the day was beautiful because you could see Coachella through different tinted lenses, but the night viewing was a whole different experience. Once I made it to the top there was a panoramic view of the festival that made me feel on top of the world. Everyone looked like little ants scurrying from stage to stage and it was even cooler to watch the production of each stage from atop the building.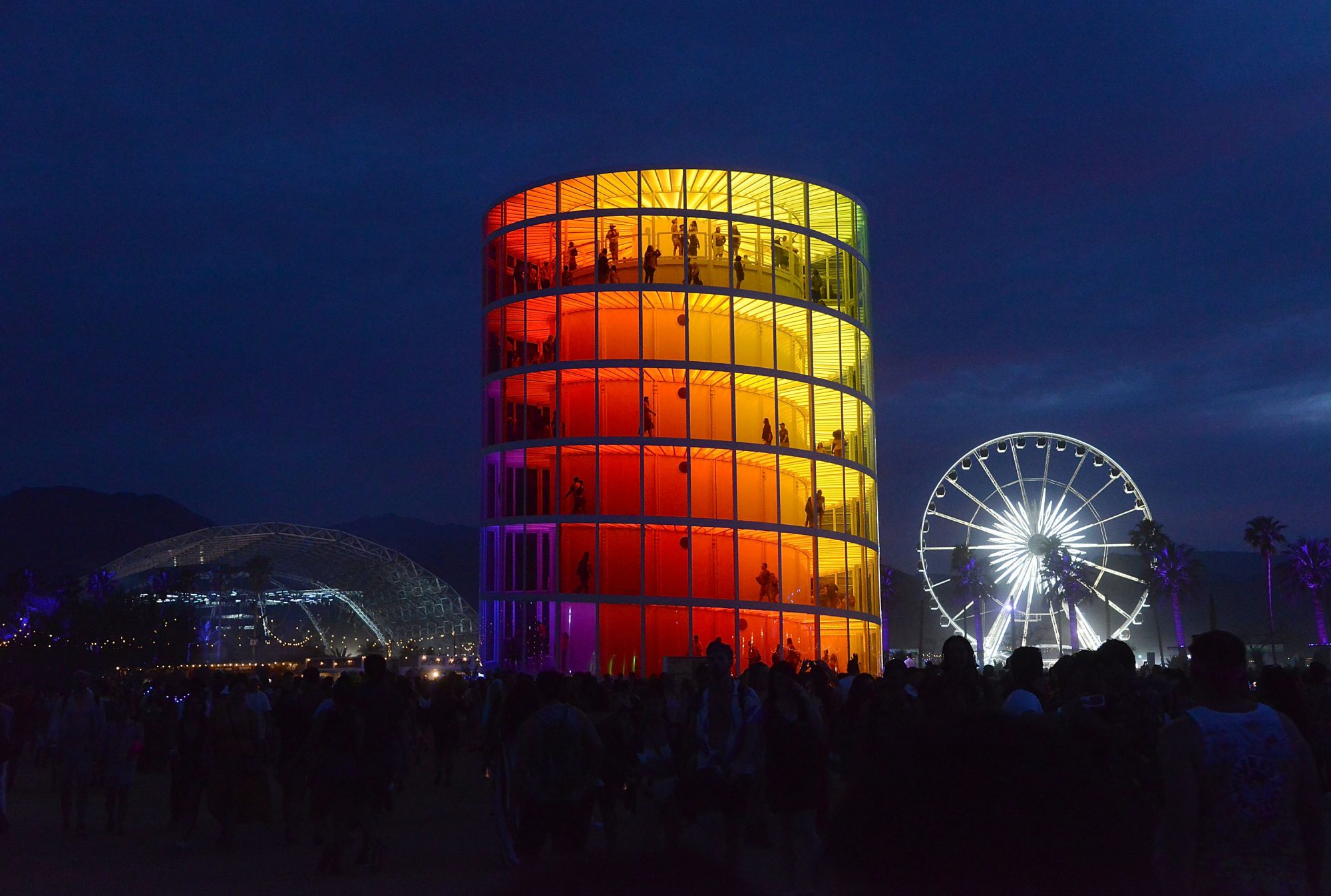 I was also happy to see the Antarctic return to Coachella this year.
This giant, air-conditioned dome was a hit all weekend. When you walk inside all you have to do is find an open seat, sit down, look up, and wait for the show to begin. The show runs about 12 minutes and was paired with music by none-other than Odesza. The visuals were out of this world and having Odesza as the soundtrack made it close to a religious experience for me. I hope to see this continue to return in the future.
This year may have been different, but for me, it was one of the best editions of Coachella yet.
I was able to see Eminem, discovered a handful of new artists, and danced my butt off all weekend. I spent time with good people and met a handful of new friends. You truly cannot have a bad time when you have good vibes and good music and that's why I keep coming back to Coachella and can't wait to return next year. I got my eye on you 2019, I'll be counting down the days!
---
Connect with Coachella on Social Media: