Luminosity Beach Festival dropped its Phase 3 lineup and it's massive!
---
Before launching into Luminosity Beach Festival 2018, let's review 2017 very quickly. Last year, Luminosity Events celebrated the 10th anniversary of their Luminosity Beach Festival in a big way! Fans were wild about the stellar lineup, limited edition merchandise, and expansion of stages. It was believed to be the best lineup Luminosity had ever curated, which makes sense as the massive all-trance event pulled big names such as Johan Gielen presents Airscape, The Thrillseekers (classics), Vintage & Morelli and more!
This year's Phase 3 lineup has just dropped, and dare I say that it may even rival the scale and magnitude of last year? The team at Luminosity excel at recruiting the best in classics, mainstays, and up-and-coming artists so it shouldn't come as a surprise that the lineup is full of absolute bangers.
This year's four-day event will take place from June 28 – July 1 at the beautiful Bloemendaal Beach. Headliners include artists such as Paul van Dyk, Markus Schulz, Andy Moor, Bryan Kearney, and Chicane, with the rest of the lineup full of big and influential names as well. Phase three also includes rare acts such as Mike Foyle, Perry O'Neil, and Thomas Bronzewaer. For those three alone, this is a must-attend event for any trance fan! Check out the full lineup below!
Tickets for Luminosity 2018 are close to selling out! If you haven't bought yours yet, definitely scoop them up soon via Luminosity-events.com!
---
Luminosity Beach Festival 2018 Phase 3 Lineup: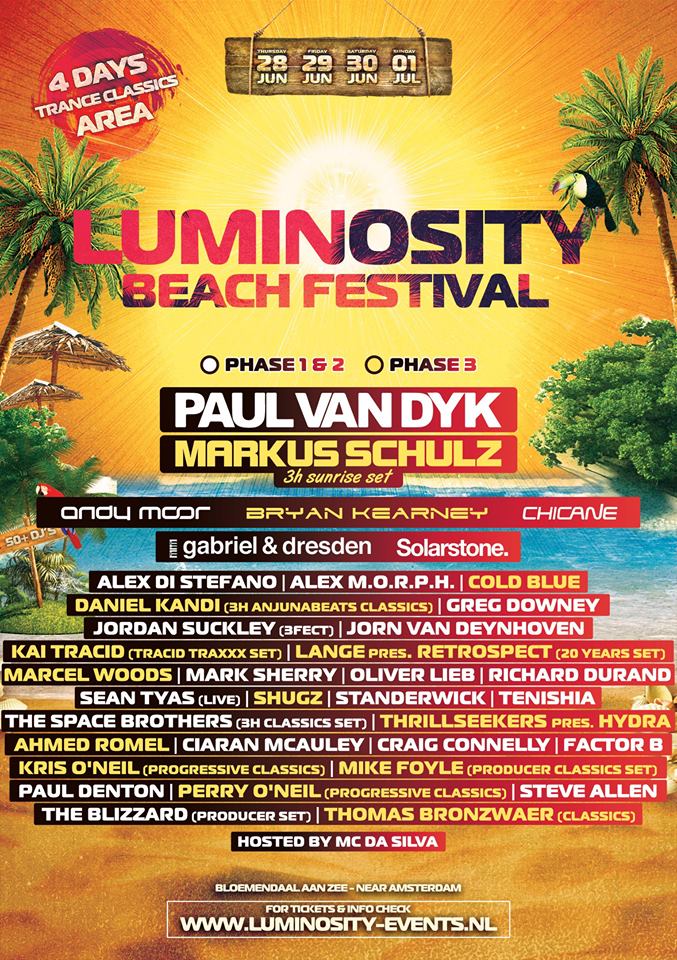 ---
Luminosity Beach Festival 2018 Phase 3 Lineup by Artist:
Phase 1:
Paul van Dyk

Alex M.O.R.P.H.
Chicane
Factor B
Gabriel & Dresden
Jordan Suckley
Tenishia
Andy Moor (Vinyl set)

Solarstone (Producer set)
Alex di Stefano
Greg Downey
Jorn van Deynhoven
Mark Sherry
Richard Durand
Sean Tyas (Live)
Standerwick
The Space Brothers (3h Classics set)
Ciaran McAuley
Craig Connelly
Oliver Lieb
Paul Denton
Steve Allen
The Blizzard (Producer set)
Markus Schulz (3h Sunrise set)

Kris O'Neil (Progressive classics)
Bryan Kearney
Cold Blue
Daniel Kandi (3h Anjunabeats classics)
Kai Tracid (Tracid Traxxx set)
Lange (20 years set)
Marcel Woods
Shugz
The Thrillseekers pres. Hydra
Ahmed Romel
Mike Foyle (Producer classics set)
Perry O'Neil (Progressive classics)
Thomas Bronzwaer
---
Connect with Luminosity Events on Social Media: