Dreamstate is hitting the road and on May 11, 2017 Atlanta will spark to life as Paul van Dyk takes Opera Nightclub on a glorious journey of dance floor driving beats!
---
Dreamstate, an Insomniac Event, has become the official destination for trance here in the United States after kicking off its inaugural event in San Bernardino, California back in 2015. With a momentum that sparked like a wildfire, soon everyone would be privy to Dreamstate's glory as the brand blasted off and landed in cities like San Francisco, Las Vegas, New York, Los Angeles, London, Mexico City, and even Melbourne, Australia! Boasting all trance, all the time, with a desire to grab on to the resurgence of the genre that has been unleashed all over the planet, Dreamstate brought its vision to fruition with a glorious combination of uplifting melodies, pulse pounding rhythms, and a spectacular visual experience with a slew of the most beloved and sought after names in the trance universe. Naturally, Paul van Dyk would be named as one of the ambassadors of the Dreamstate brand, alongside trance Godfather Paul Oakenfold, so it was only a matter of time before Dreamstate would set in motion a tour that would highlight a man that helped Dreamstate in its rise to success since the very beginning.
A true asset to the trance genre, Paul has inspired fans all over the planet to cherish every waking moment, love each other like there is no tomorrow, and dance like you have never danced before! Kicking off on April 27 in Boston, Massachusetts, and running until May 27 with the massive Dreamstate event in San Francisco, California, Paul van Dyk alongside some very special friends that include Vini Vici, Simon Patterson, Alex M.O.R.P.H., Heatbeat, and Solarstone, will take to the stage to dish out an experience unlike any that has come before. Each location will offer a unique experience as the lineup is not identical for every stop.
Listen to Paul van Dyk's latest release – "Touched By Heaven" on SoundCloud:
For trance fans in the south, this tour has come as quite the surprise as Dreamstate has yet to place its magic touch on the beautiful and exciting city of Atlanta, Georgia.
Well, wait no more my southern trance fanatics because Paul van Dyk in partnership with Insomniac and Liquified, is coming for you on May 11, 2017, at one of my favorite spots to party, Opera Nightclub! With support locked in by local trance hero and founder of Unity Events, Ryan Michael will warm up the decks with brilliance and grace. A true master of his craft and someone who is passionate about growing the trance scene in a city saturated in EDM, Ryan Michael is the perfect choice for this game-changing event. Stay locked in with us as we present a very special Artist Spotlight highlighting Ryan Michael right before the show and make sure to grab your tickets before they sell out! I hope to see you on the dance floor!
Get a taste of what Ryan Michael has to offer and check out his live opening set for John Askew at Opera Nightclub on YouTube:
---
Offical Dreamstate Presents Paul van Dyk in Atlanta Flyer: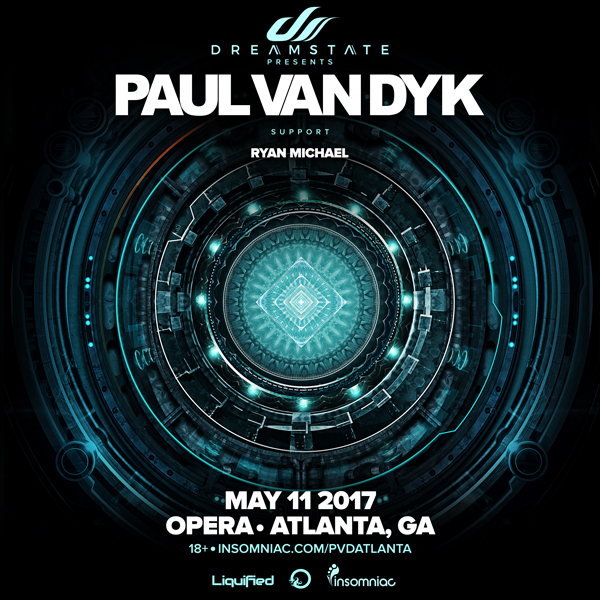 Dreamstate Presents Paul van Dyk @ Opera Nightclub – Essential Info:
Date: Thursday, May 11, 2017
Ages: 18+
Hours: 10pm – 3am
Venue Address: Opera Nightclub – 1150 Crescent Avenue, Atlanta, GA, 30309
Tickets: HERE
Facebook Event Page: HERE
---
Follow Dreamstate on social media:
Facebook | Twitter | Instagram
Follow Paul van Dyk on Social media:
Facebook | Twitter | SoundCloud | Website