A steady stream of water was flowing from the sky but we were undeterred from heading to Crush Arizona.
---
It had rained since we left San Diego. The downpour was heavy at times and then a small drizzle at others. We had arrived at Crush Arizona shortly after gates had opened but were sitting in my car dreading standing in line. Every time I have attended a Relentless Beats event we never spend much time in security and we were happy that this time was no different. The open grass area that had been open at BOO! Arizona was slowly pooling water in the center, so we walked on the outer edge to avoid it. Past the vendors and the outdoor bar to the warehouse where the stage was. It felt more crowded but that's probably because no one wanted to stand outside for too long. There was a whole row of bars located at the back which were half cash only, half taking credit cards, not bad.
After some time, I began to realize that many of the attendees didn't know much about the artists playing…
The stage looked like a multi-leveled pyramid made up of LED screens. Banners lined the sides of stage announcing we had made it to Crush Arizona. Chris Lorenzo's set was exactly as I expected to be and a great introduction for the rest of the night. As SAYMYNAME took the stage I started to wander a bit into the crowd. A personal favorite of mine, his set was well organized and really started to get the dance floor moving. Before I knew it Jason Ross was taking the stage. I asked the girl next to me if she'd ever seen Jason Ross, to which she told me she didn't really listen to "house." Surprisingly throughout the night, I would hear that statement at least twice. Ross' set was more feels and less rage. A few people said that it lacked energy, but I honestly think that had more to do with the fact that they don't listen to him very often. The Anjuna symbol was on the screen most of his set and he played many Anjuna family favorites. I ran into a few diehards sporting hats, shirts, socks, and giant perler's of the Anjuna logo too.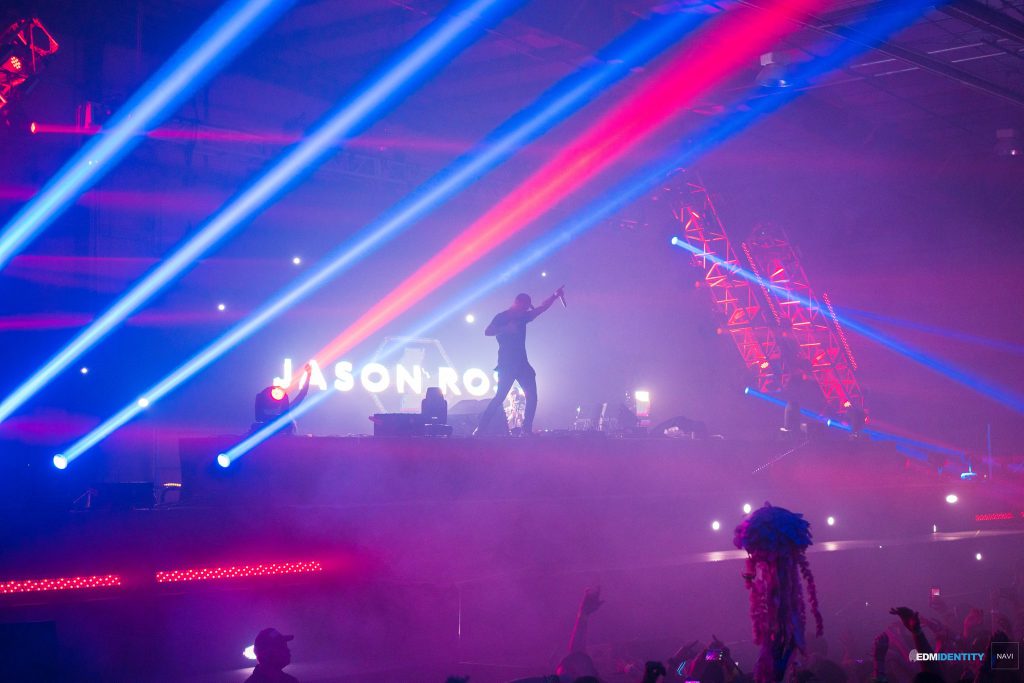 A simple compliment can go a long way in this scene.
Around the time that DVBBS took the stage, my friends Cameron and Natalia were just arriving. This was their first rave or festival, in fact, their first true introduction to EDM in general. As complete newbies, they weren't really sure what to expect. They had seen photos and had talked to me about it before but finally, after years of trying to convince them to attend one, they were here. It was rainy and cold outside but once you got into the crowd the temperature heated up pretty quickly. No sooner had we gone into the crowd than a girl walked up to Natalia telling her she was beautiful. My smile was uncontrollable. That kind of random kindness was exactly why I fell in love with these events.
Be who you want to be, dance however you want to dance, be you…
Black Tiger Sex Machine (BTSM) took the stage and the energy in the room was building. We danced all over the place, at one point Natalia and another girl were doing the salsa together, because why not?! Around that time, I looked over and saw a couple dressed in complete white. It's my favorite color, so I figured it had to mean something. I introduced myself and told them it was my friends' first rave. The couple, Nick and Danielle, immediately taught them how to trade kandi without hesitation. It was a rush and flashback to the first time I received a piece before I even knew how to make them. They too had traveled from California for Crush.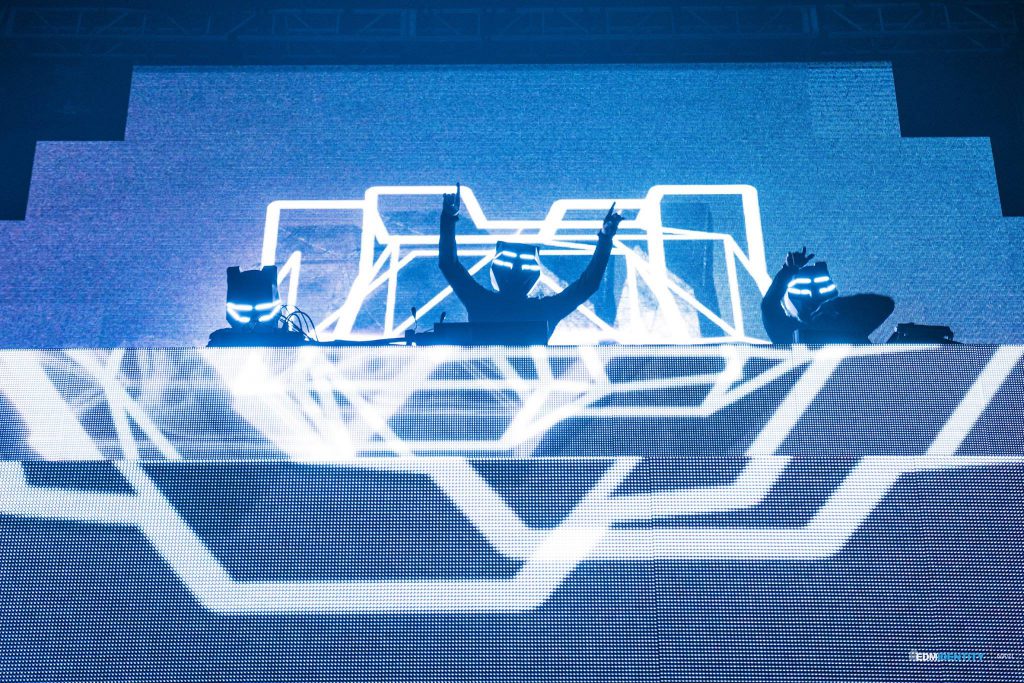 Even an experienced kandi maker drops a bracelet occasionally!
Our friendships developed quickly as we bonded over other events we had been to and which I planned to go to. We also noticed the incredible display of lasers coming from the stage and began to discuss how impressed we were with the production quality. They asked Natalia and Cameron questions about what they thought so far and shared stories of their first experiences. Nick and Danielle spent the rest of the night hanging out with us, and it's always great to make new friends. In between DVBBS and GTA we wandered back to the merchandise booth, and were all extremely tempted to buy something but decided to let our wallets have a rest for the night. However, they also had set up a kandi making table next to the merchandise booth. Natalia immediately set out to make one. I offered to help her tie it but ended up dropping the whole piece – never the less she prevailed and remade it despite my clumsiness.
Something as small as a smile can help you make a connection!
We wandered back into the crowd for W&W. The electro-house duo really threw down and played so many of my favorites. Our interactions with the people around us continued to escalate. Everyone was so friendly and my crew was absolutely loving it. I took a moment to appreciate how the magic of your first event captures something ethereal and gives you a glimpse into a world you never knew existed. As Yellow Claw took the stage I noticed a smile out of the corner of my eye, another new friend to make! He was wearing a cat onesie and had the biggest smile on his face, this was his first event too. His name was Adam, and he explained that his buddy Cody had brought him to the event. I gave him a jolly rancher and showed him my orbit light toy – effectively blowing his mind.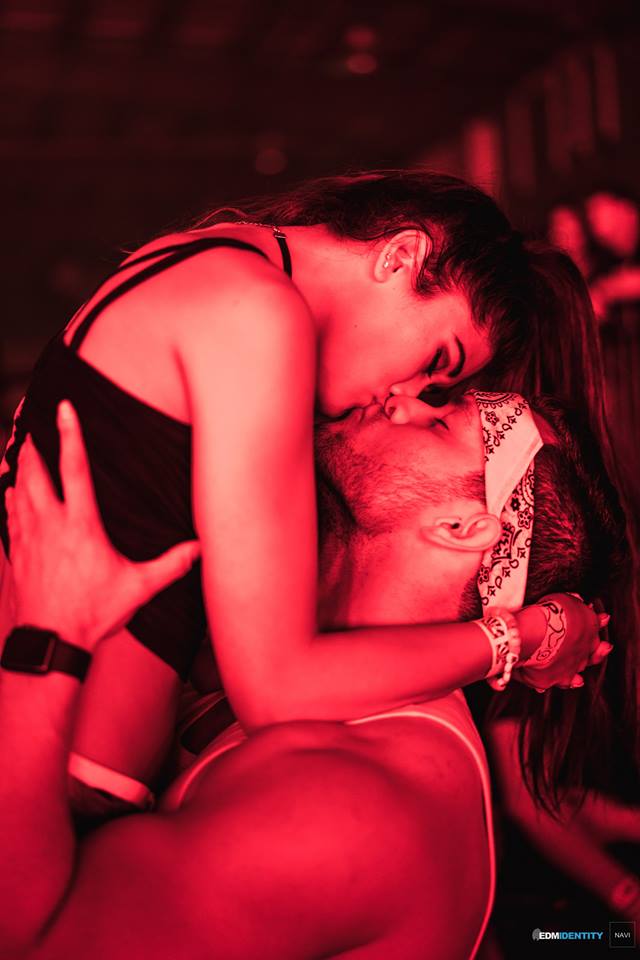 Nothing can dampen a night of great music and new friendships.
As Yellow Claw closed the night with "Love & War," one of my favorite songs at the moment, I moved deeper into the thinning crowd. I found my friends and we started making the trek back to our cars. The grassy area outside of the warehouse was mostly mud at this point, and everyone huddled closely so that they didn't have to step into it. The good was that it kept all of us warm, but wouldn't stop the mud in the parking lot from getting all over our shoes. I've definitely survived worse so I wasn't too concerned about it. Leaving the parking lot was probably the most stressful part of the night though, as the long lines took us more than 40 minutes to leave the venue but after the night we had it was just a drop in the bucket.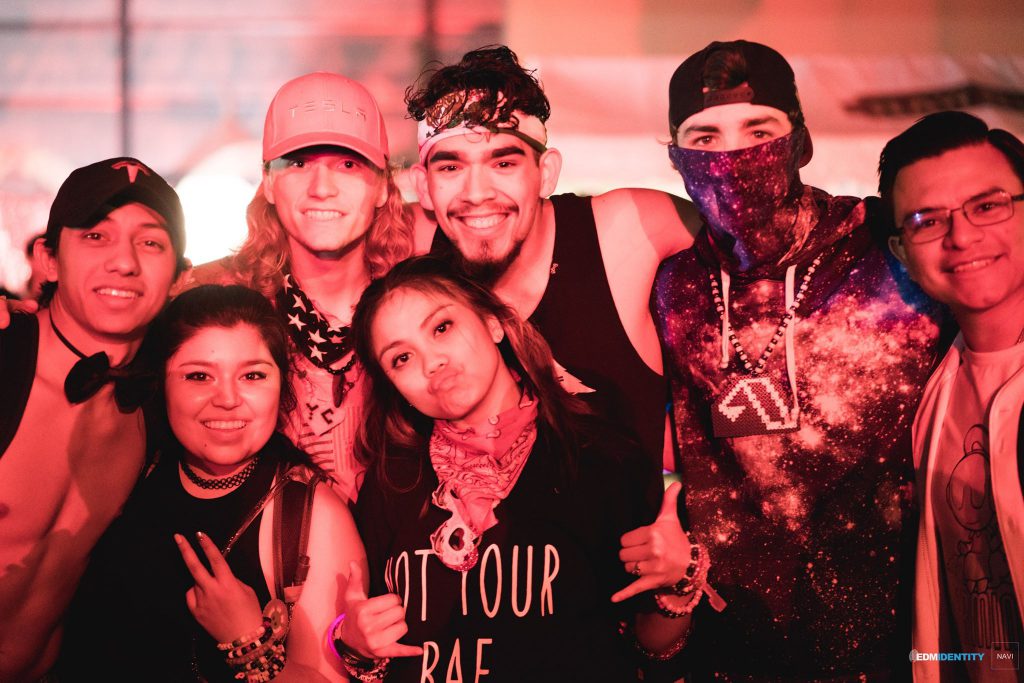 Final thoughts on Crush Arizona 2017: I can't wait to go back!
Another Valentine's Day and I still am a single pringle, but I definitely did not feel alone that night. I couldn't have planned a better event to take my friends for their first time to really experience the music and community that I fell in love with. I generally hope that I make at least one new friend at every event I attend and this was well beyond my expectations. I can't wait to return to this community for the next event and I hope to see you there!
Check out the rest of our Crush Arizona photo album on Facebook!
---
Connect with Crush Arizona 2017 on Social Media: