After seeing Flosstradamus absolutely kill it during festival season this past summer when I heard the Hi-Def Youth Tour was coming to my area I knew I couldn't miss it.
---
This past Saturday night, I got the chance to see Flosstradamus and friends on the Hi-Def Youth Tour at the Masonic Temple in Detroit, and it was definitely a night to remember! Making our way through Ann Arbor post-gameday traffic, we finally arrived at the venue around 9PM. Whethan, a 17-year old future bass producer, was already spinning when we walked in. His set was a great start to the night, filled with some chill bouncy tunes mixed in with his popular tracks like "Can't Hide" and "When I'm Down." His feel good tunes got the good vibes flowing, and he even dropped some new music including a fire, unreleased collaboration with Flux Pavilion.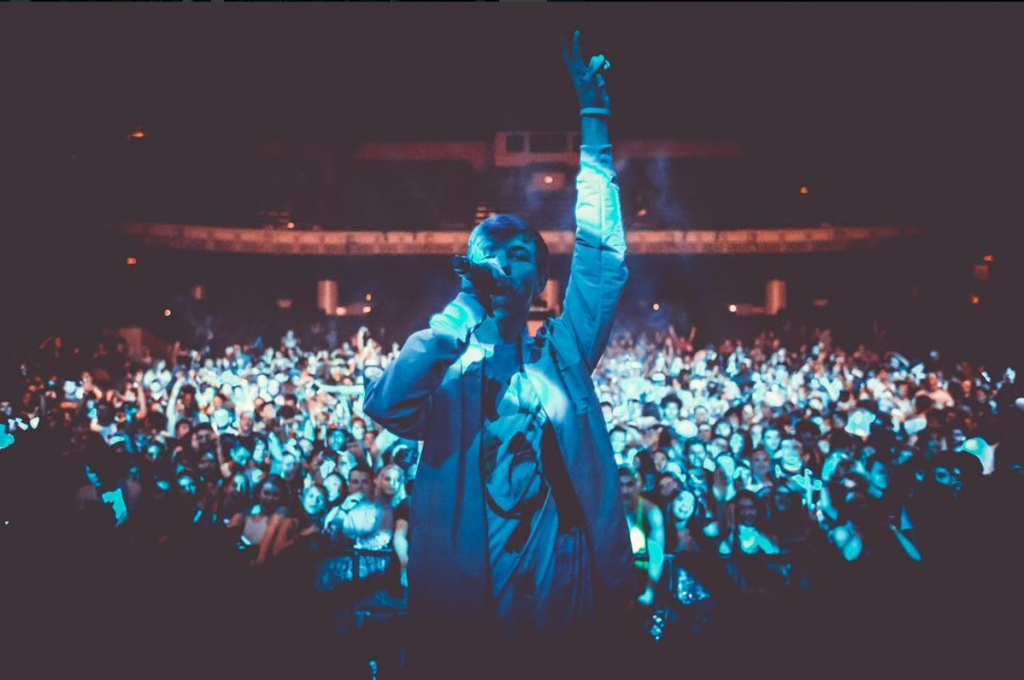 Up next was a 30 minute set from Towkio, a rapper out of Chicago. He brought admirable vivacity to his performance, jumping around on stage and getting the crowd visibly hyped up. His accompanying DJ dropped some hard trap beats, while Towkio rapped over the beats and threw down dancing to the crazy drops. He even showcased his beautiful singing voice for a song or two, leaving me pleasantly surprised with his versatility as an artist. I'd never heard of Towkio prior to this show, but his performance brought some welcome diversity into the night. While there were times when his rapping didn't quite match the beat, the passion he has for his music was apparent–if he continues on with the same enthusiasm I could see him doing very big things.
Our excitement built as the minutes passed, and Slushii's set got closer and closer. Out of our group of five, only one had seen Slushii before and he had nothing but good things to say. Finally, it was time and Slushii emerged, wearing his signature jersey with his icon on it, resembling a slushie himself with his green-tipped hair. He took a bow in front of the audience and then took his place up at the DJ booth. The set that ensued was unlike any other I've ever experienced, filled with popular EDM and pop songs mixed in with some crazy bass drops. There were multiple times during the set when I was completely blown away by his mixing skills. He put in just the right amount of recognizable tracks to keep us singing along while keeping us on our toes with some surprising impressive drops. Even though Slushii wasn't the headliner, he won the best set of the night in my opinion.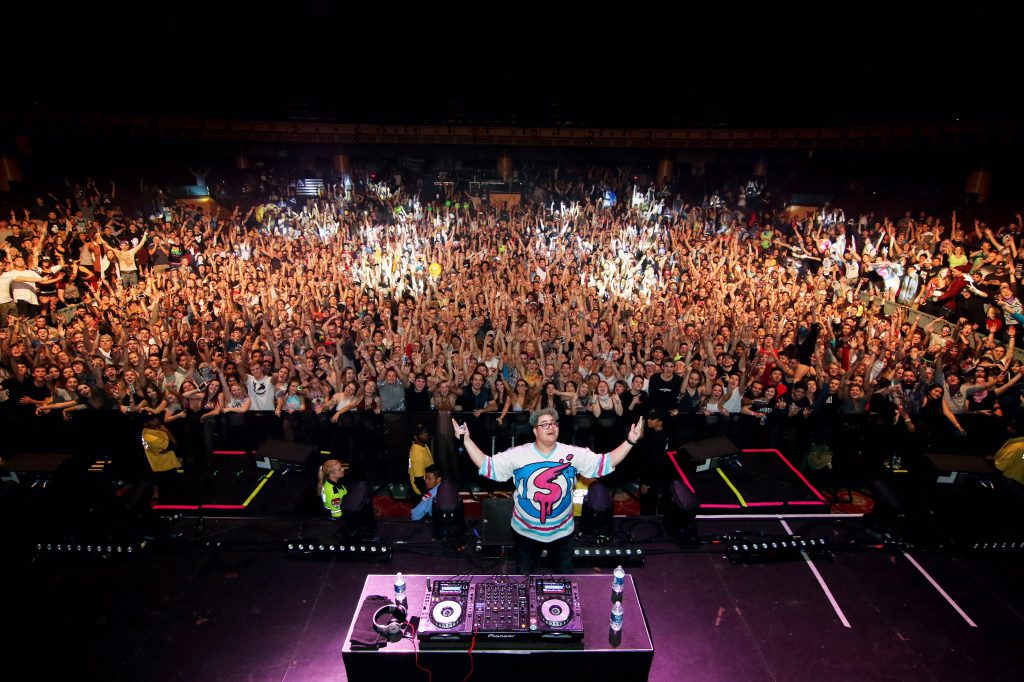 In the twenty-minute break before Flosstradamus, we refilled water and drinks and found ourselves a perfect spot front and center, just far enough back that we had room to dance. The lights dimmed and a warning signal went off, announcing the arrival of the long-awaited main act, the duo composed of J2K and Autobot, Flosstradamus. J2K marched out across the stage as if he were a soldier in war, bearing the black and white HDYNation flag for all to see. Autobot emerged on top of the giant marine "bunker" that was their DJ booth for the night and kicked the set off by dropping some high-energy trap. Behind the "bunker" was a huge LED screen, listing off commands and showing what seemed to be war plans, a captivating choice of visuals that kept with the intense military vibe.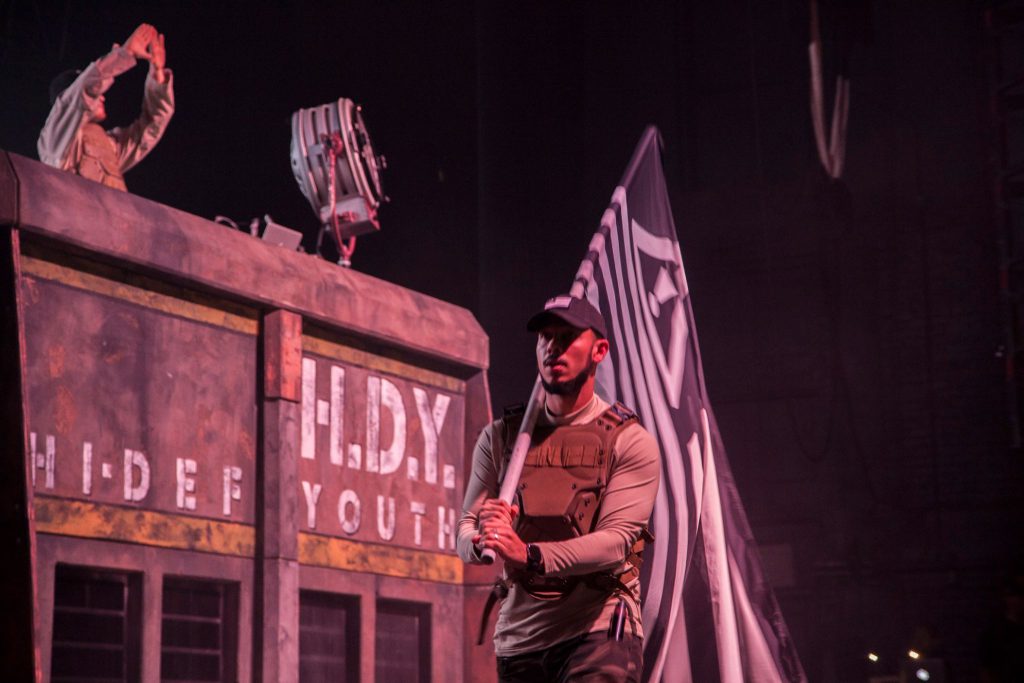 Their set was filled with trap banger after banger, a couple renditions of their popular track "Mosh Pit," and many of their other songs like "Came Up" and "Prison Riot." They even played some Bob Marley, chilling everyone out for a couple of minutes and reminding us the importance of peace and love with everything that's going on in our world right now. That might have been needed after they made us all create a "Wall of Death," spreading out so that there was a huge area in the middle of the dance floor, and all running at each other when the beat dropped (I sat that one out). I was a little disappointed to see that J2K spent barely any time up playing the music; for almost the entire show he was up in front interacting with the crowd, marching around with the flag, shining the lights around, or shooting out T-shirts. While I know Floss loves to put on an insane show and get the crowd into it, I wish it had been a bit more about the music, and I that I could have seen the two of them up on the decks spinning back to back. That being said, the energy J2K created within the crowd by being so interactive was impressive.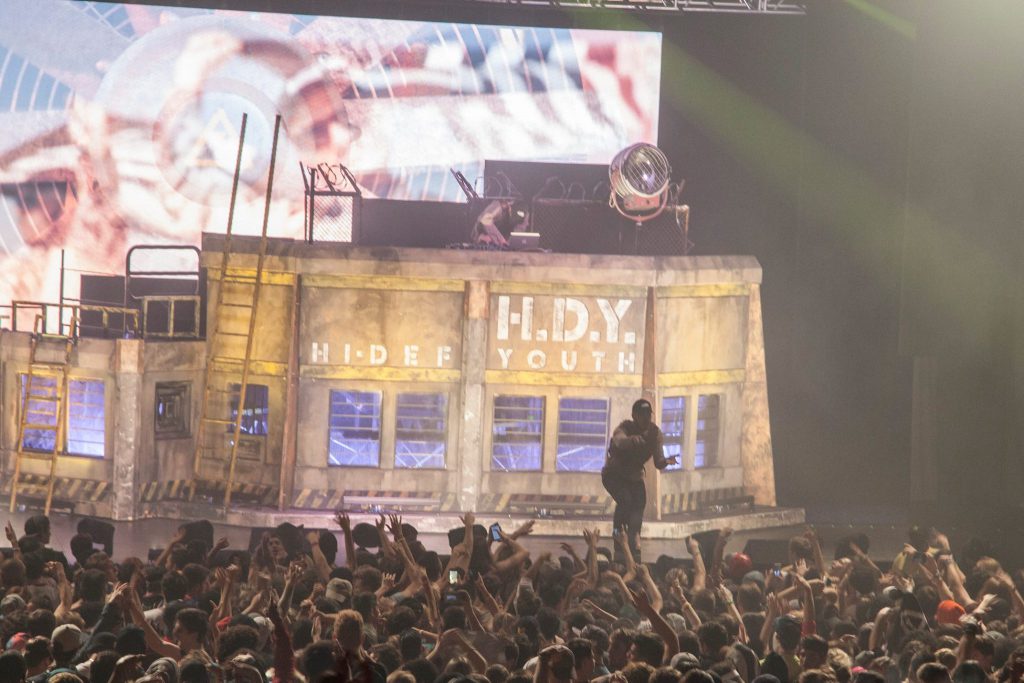 The Masonic Temple is one of my favorite venues in Detroit–the beautiful architecture and upward sloping dance floor create a great atmosphere, and the sound quality of the old theater is phenomenal. One thing I wished they'd done differently was the lighting; throughout all the sets, bright lights would shine on the audience every couple of minutes. Usually at a show that will happen only once or twice to give a little break from the show and allow people to look around. It was pretty excessive during Flosstradamus, making it difficult for me to get into the show and see what was going on onstage. Perhaps in the future, the venue could switch up the lighting and have it more focused on the stage and not the audience, so that it's easier to see the stage than in the crowd. Apart from that minor lighting issue, I was thoroughly impressed with the venue, security, and staff! They all came together to create a great experience for me and my friends, a big thank you to React for putting on a great show.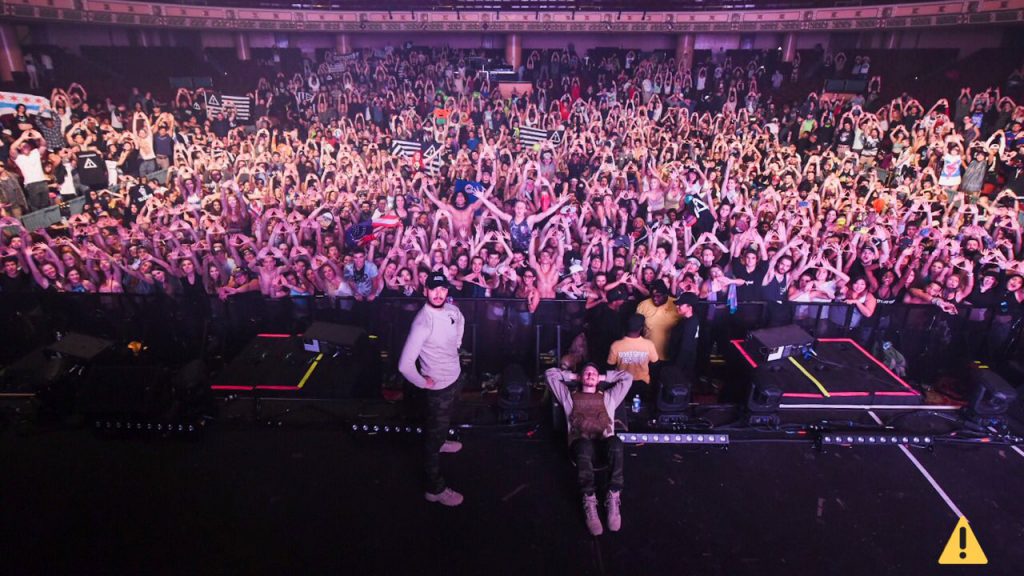 Though coming into the night we were all tired from a long day at the Michigan football game, we came out buzzing with excitement from the spectacular music we experienced. Each set was very different, from Whethan to Towkio to Slushii to Flosstradmus, but each had something special to offer and we enjoyed each one. I'm very excited to see what the future holds for each of these artists and hope to attend more shows at the Masonic Temple in times to come. If the Hi-Def Youth Tour hasn't hit your city yet, I would highly recommend going!
---
Connect with Flosstradamus on Social Media: