With us inching ever so much closer to that magical weekend in June, Mysteryland has released a day-by-day lineup breakdown for the weekend as well as details about different things happening throughout those three enchanting days.
Apart from the 90 musical artists performing over the three days, there will be a speaker program hosted by NPR personality, Anya Kamenetz.  There will also be the Healing Garden, curated by none other than Sarah Schroder,  Returning again this year, will be the Incendia 50′ fire dome illuminating the night sky of Bethel Woods. For the first time at Mysteryland USA, a comedy tent has been added to the lineup, and will be headlined by writer/performer Kyle Mooney with additional talent to be announced soon. It as also been announced that single day tickets will be available for $114 as well.  Purchase your tickets by clicking here.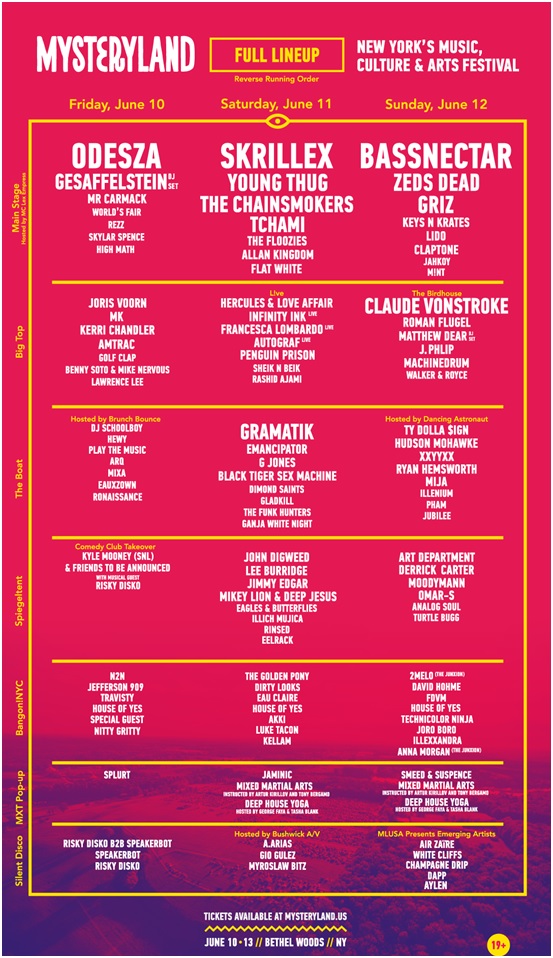 Apart from this major announcement, Mysteryland also makes another major announcement to keep up with one of it's core philosophies: Festival Footprint.  According to Mysteryland a festival footprint is this:
Mysteryland focuses on being organized in a sustainable way by relying on local participation and interaction, with attention on the surroundings and community–as well as sustainable projects–during and after the festival. Be friendly to nature, be friendly to the people around you–it was part of the mantra of '69 Woodstock and this permeates into the ideology of the MysterylandUSA festival footprint.
With this philosophy in mind, to coincide with Earth Week (April 18-24), Mysteryland has made a commitment to contribute $10 for every 3-Day Mysteryland ticket purchased during this time period.  This decision was made after the folks at Mysteryland learned of elevated levels of lead at water taps at more than 30 public school buildings in Newark Public School System in New Jersey.  Money raised from the donations will go towards the purchase of bottled water for the Newark Public School System in New Jersey affected by the lead levels.  It is also a great way to help give back to the community and show that we are not all that bad.
According to Mysteryland's Sebastian Solano, CEO of ID&T North America:
"It's important to think outside the box and provide an experience that delivers much more to our fans than just musical performances on a stage.  Equally as important, is the positive impact we have on our community by promoting and participating in the preservation of our environment. We seek to inspire our fans to take action at the festival and carry that over into making a difference in the real world."
Additional amenities on site include:
Shuttles: To help limit our carbon foot print as well as limit traffic, Mysteryland will offer a shuttle service to and from several different locations: New York City's Grand Central Station, JFK Airport, Newark Airport, and LeGuardia Airport.  Additional information can be found here. Keep in mind these shuttles will be for an additional fee.
Carpool: Mysteryland is encouraging carpooling this year not only through RickyRides, but also with an incentive program where cars with four or more patrons can receive rewards of MLUSA merchandise and more.
Green Teams & Green Collection Points:  Green teams will be walking around the festival grounds and will be responsible for picking up, separating and properly disposable of garbage.  This will help reduce our garbage use and help us leave the festival grounds as we found them, pristine and beautiful for others to experience.   Mysteryland will also reward the sustainable behavior of attendees, by handing out garbage and recycle bags to its on-site campers. There will be several garbage collection points where campers can drop off their trash and recyclables and even sign up for a raffle.  This is meant to carry up to the leave no trace philosophy.
Water Project: 
ID&T launched its 'Water Project' in 2013, providing free tap water to visitors of every event and festival around the world that it produces. The vision is simple: "Water should be free and available for everyone in the world, and thus also at our festivals."
That being said, Mysteryland will provide free water sources inside the festival grounds as well as to those in the camping areas.   Refillable water bottles will be available for sale at different merchandise locations for those who don't have their own.  The festival aims to create awareness of the more sustainable alternative to bottled water.
Camping Recycling Program: Following Mysteryland weekend, campers will be able to donate any unwanted tents, and camping supplies to local charities.  This is done as a way to help out those in need and to limit our landfill imprint after the festival. Drop off points will be available at the exits as campers leave.
Pedal Power:  Mysteryland staff will utilize bicycles around the beautiful grounds of Bethel Woods, further reducing emissions and the overall impact on the land.
Food & Beverage Vendors: Vendors who will be providing their services during Mysteryland will be required to utilize biodegradable plates, cups and utensils.  This will help cut down the carbon footprint in the landfills and helps reduce the festival's impact on the local environment.
Re-Seeding: Mysteryland is a guest of Bethel Woods and understands the ecological impact that the festival leaves behind. Mysteryland will clean up, re-seed and repair any damaged grounds so as to only leave a small Festival Footprint behind.
Connect with Mysteryland through Social Media:
Website | Facebook | Twitter | Instagram | SoundCloud | YouTube