Figure's set from PlayStation Theater in New York was nothing short of fantastic. The set had a quick turnover from Bear Grillz and the crowd was feeling the high energy during the entire performance. He kept the venue bouncing and raging to his skull throbbing beats and made everyone amped to be in the crowd on a Friday night. He didn't disappoint and kept everyone in awe during their journey to Excision's headlining set.
Figure has been a leader in the dubstep scene, always supporting heavy bass music and rising artists in the scene. He has released several EP's and is expected to release a new EP and Monsters 7 this year. You can catch him at a show near you, as Figure is currently on the Paradox Tour with Excision and Bear Grillz. We were lucky to grab a minute and catch up with him and talk about the tour, fans and up and coming music.
---
Are you excited to be playing New York City at the Playstation Theater two nights in a row?
Absolutely I've never played here before and wanted to play awhile.
What has been the best show while touring with Excision so far?
Probably in LA at the Palladium, but two nights ago in Montreal was probably the best crowd so far. There were 9 mosh pits at once because the venue was so long, it was the best vibe so far but the best show was definitely in LA.
The last time I talked to you, you were slinging pizzas off stage with Crizzly. How do feel your sound has changed since then?
I haven't changed it I just try to progress and learn more. If I'm with Chris I'll throw the pizzas but if it's just me then I'm eating all of the pizza!
How do you feel about the current heavy bass music scene and who are some of your favorite artists in the scene right now?
My personal favorites are definitely Midnight Tyrannosaurus and Dack Janiels, but I mean there are so many other people too. I have always loved Eptic, and Must Die! has been my friend for a while too. I'm stoked he's blowing the hell up. Skrillex as always.
Which remix of "Gravity" do you like best, and why?
It's between the Niveau Zero and the Dakota remix. I told Dakota I wanted a crazy electro-thing and he was like I got you, and a few days later he sent me that. Then my good friend Niveau Zero from Paris who always takes me out and makes sure I have a good time, he came through on the track and I just like when people come through and deliver.
Who are some electronic artists you listen to in your free time?
I actually don't listen to electronic music in my free time ever. I listen to it to study, like if I need new promo I'd listen to it, but it never makes it onto my iPhone. Here, I'll just show what's on my iPhone. I'm a metal guy so; Cannibal Corpse, Danzig, Marilyn Manson, The Black Bells, Misfits. I'm trying to think of something really off kilter that you wouldn't think I would say; old Dolly Parton and Johnny Cash, I'm just a country boy so I still listen to stuff I grew up on pretty much.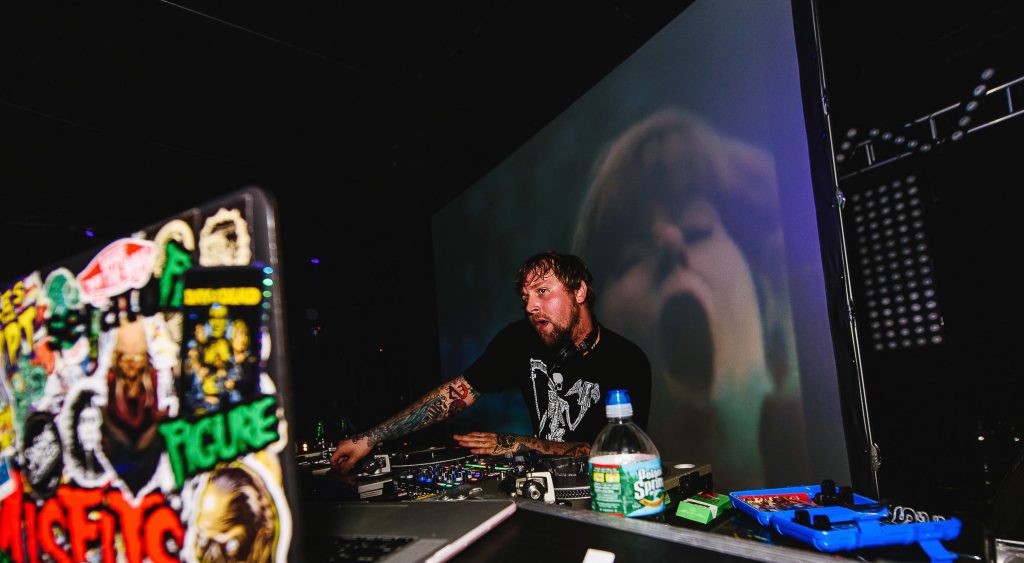 What's the craziest thing you've seen a fan do to get your attention?
This is recent. This girl assumed that since we were communicating I wanted to hook up with her and I'm just like you're wearing UGGs and look like Kim Kardashian, like this is not a thing, this isn't happening stop talking to me. Then she asked "What're your tattoos?" and I told her "It's witchcraft, its cyballs". Afterwards she sits on this and comes to another show and proceeds to tell me she's a witch, her mother is a witch, she practices witchcraft and she's sacrificed goats all the time. That was pretty ridiculous.
But show-wise maybe girls that shouldn't pull up their shirts but pull up their shirts. Somewhere in Europe I was playing with Flux Pavilion and then some kid was screaming "You suck, you suck" the entire time. After my set I hopped down and was like "What the hell is your problem?" and he's like "I just wanted your attention". He was screaming and people were staring at him the entire time.
So as far as new music what can we expect in 2016?
I have a new EP done. Going to have to start Monsters 7 again, soon. So I mean release-wise the EP is gonna be the only thing because until Monsters 7, we're gonna spread it out a bit. The new EP has some house-like tracks on it, and I kind of went back to when I made a lot of 128 BPM stuff. Then there are a couple of crazy show bangers. After this tour I plan on touring Australia and Europe too.
Lastly, what's a random fact nobody knows about you that you'd want to tell fans?
Something nobody knows. So during the first two months during the sonogram my mom thought I was a girl and my name was "Brittany Danielle" for the time that they thought I was a girl. Obviously I came out and I was a boy, but when my grandparents would go away my mom, for the first 6 months, she would dress me as a little girl and call my Brittany. It's funny because my first three girlfriends were also named Brittany.
---
Follow Figure on Social Media:
Website | Facebook | Twitter | Instagram | SoundCloud