Deadmau5 To Play ASOT Stage At Ultra Music Festival Miami 2016!
Ultra Music Festival has just announced the lineup of who will be playing at the A State of Trance stage at the festival next month. The biggest surprise to come onto the stage's lineup is the famous progressive house DJ, deadmau5. This comes as a huge shock to fans because less than two years ago, Deadmau5 and ASOT founder, Armin van Buuren, got into a public argument over ASOT and whether or not Deadmau5 could show everyone what trance really is.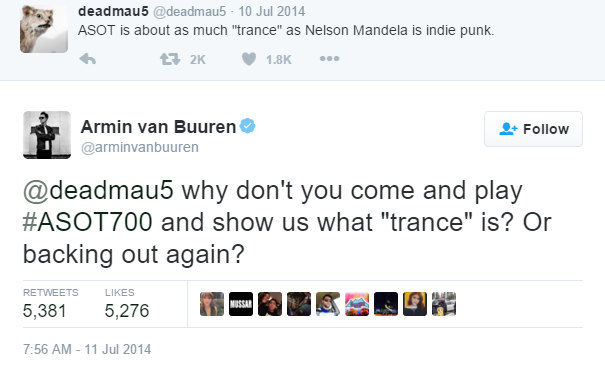 It was a big surprise last year when Eric Prydz, known for his progressive house, got named on the lineup for the ASOT stage. He stayed true to himself and played an epic set that was similar to his usual style. Will deadmau5 do the same — or will he surprise everyone and play trance? With Prydz on the lineup again this year and deadmau5 too, it definitely seems as if Armin is continuing to expand ASOT to include progressive house.  We will have to wait and see what deadmau5 has in store for us… but I can tell you that there will be a ton of fans tuned in to find out!
Joining Deadmau5 on the ASOT stage will be: Armin van Buuren, Eric Prydz, Aly & Fila, Andrew Rayel, Marlo, Ben Gold, Khoma, and a mystery artist.
UMF is set to take place March 18th, 19th, and 20th this year in Miami, Florida. Tickets are now sold out, however, for more information on the festival you can visit their website.
Follow Ultra Music Festival on:
What are your thoughts on deadmau5 playing the ASOT stage at UMF? Tell us in the comments below!