Springtime is almost here, which means festival season will soon begin! Have you been deciding on which outfits you will be wearing to Ultra Music Festival or Beyond Wonderland? This article is focused on eye-catching, unique outfits and accessories that are must-haves for your pre-summer rave wardrobe.
Strappy Rave Skirt and Fluffies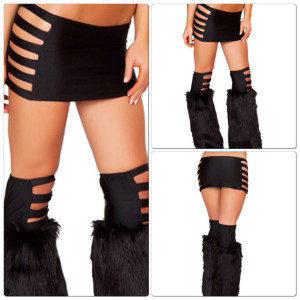 Bottoms with a cut-out pattern makes you look curvy, while showing a little extra skin. This strappy set comes with a skirt and a pair of fluffy legwarmers with cut-outs along the sides. The legwarmers reach over the knee, and will stay in place while you're dancing. This set comes with a matching bikini top (not pictured), and would also look stunning paired with a furry bikini top. Available in two colors – black and white.
Buy it here at MTBGBoutique on Etsy
—–
Desert Star Bodysuit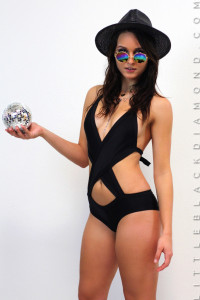 Show off your curves with this criss-crossed bodysuit. This outfit has two pieces of fabric that cross at the front and tie behind the neck and back. It's made out of nylon and spandex, so it will stretch while conforming to your body to emphasize your assets. Pair this outfit with a pair of low waisted shorts, mid-calf boots, and add in a pair of leg wraps, and you're ready to turn heads at your next festival. Comes in black (pictured) and white.
Visit LittleBlackDiamond to see both colors
—–
Fringe Leggings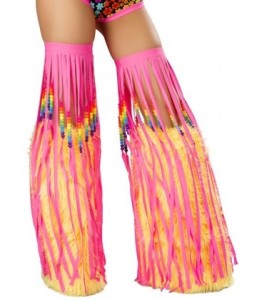 Fluffies are a necessity for almost every female raver. Plus since the weather is still balmy (except for you lucky folks who reside in California and Florida), they help to keep your legs warm. Why not give another dimension to your fluffies? Fringe leggings are worn above your fluffies and come in a variety of styles and colors. Pictured are a pair of these leggings in hot pink with rainbow beads adorning the center of the fringes. There are also patterned fringes featuring lightning bolts and flowers. These patterned ones also have rompers with the same matching print, so if you like to have your entire outfit match from head to toe, this would be a great outfit idea for you!
Check out all the various styles and patterns at RaverSwag.com
—–
Fringe Wings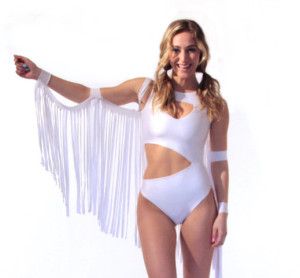 Similar to the Western-inspired fringed leather jackets, these gorgeous fringed wings will make you feel and look like a goddess. I chose to incorporate these into my article because they are the perfect addition to any outfit mentioned above, or any outfit with cut-outs. These wings come in four colors (White, Black, Pink, or Purple) and will hang to the center of your thigh. One good thing about incorporating fringe wings into your outfit is that they are lightweight – they are light as a feather and are fastened around your arms, so you won't need to worry about getting overheated while wearing them.
Find your favorite color at Wild Villagers on Etsy
—–
Isis Wings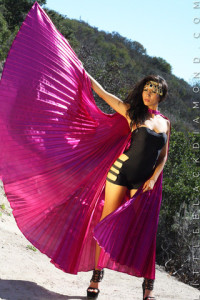 Isis wings are another type of wings you can add to any rave outfit. Instead of many separate strands that hang off your arms, isis wings are a single piece of pleated fabric that you wear around your neck and you hold the ends with your hands. I tested out this accessory at Lightning in a Bottle a few years ago, and it's extremely lightweight for the amount of fabric there is!  And unlike wire pixie wings that stick out and make it nearly impossible to walk through a crowd, these hang at your sides and do not rub against people as you walk past people. These wings come in a wide array of colors (pink, purple, white, silver, turquoise, red, and blue) so find your favorite color and add this beautiful accessory into your rave wardrobe.
Fly on over to Little Black Diamond for your own pair of isis wings