The 2014 festival season is drawing to a close. What fashionable rave attire was hot this past year? Let's recap some of the most popular items!
Cutout Bottoms – These strappy little boyshorts have stripes on the front and back, and in between the stripes show your bare skin. They come in as many colors and patterns as there are attendees at any given festival – rainbows, flames, mermaid scales, you name it. I personally own several pairs of these bottoms and they're very comfortable. They are also made with Lycra to stretch and conform to your body. These shorts have been all the rage at West Coast festivals, since they're perfect for hot weather. The bottoms made with Lycra also double as swimwear so you can these babies for a dip in the pool.
Where to Buy – Little Black Diamond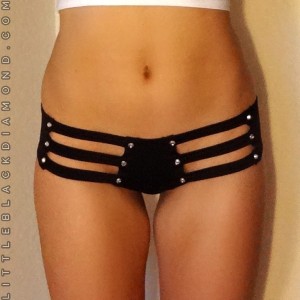 Not looking to show off tons of skin? No need to worry, since there is yet another variation to this pair of shorts. You can have the front side with the cutouts and leave a little to the imagination on the back side where there is no fabric cut out.
Where to Buy – Body Language Fashions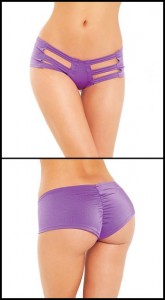 Rompers – Just as the name of this outfit implies, rompers have been cropping up at more events because you get to *romp* around in it! Rompers come in a variety of wild designs including stars, galaxies, and swirls. Some even have hoods so as the sun starts to set, you can pull the hood up to stay warm at night. These rompers come in a variety of different styles as well, including a plunging V neckline and an open back. With these styles that have cutout designs, a bright bandeau would pair perfectly and make your outfit pop. There is also the traditional romper which has solid fabric on the front and back with no cut outs. Whichever style you prefer, they are all as beautiful and dazzling as the person wearing them.
Where to Buy – Yandy, Little Black Diamond
Flowers – Flowers are often depicted as a sign of rebirth, renewal, and beauty. When winter comes to a close and spring draws near, the flower sprouts its leaves and petals from the freshly thawed ground. Ravers are very similar to flowers; when the cold winter weather finally subsides, festival season rolls in where we are ready to sprout our petals and dance. One of the best things about flowers is they can be incorporated into your outfit easily! Add some artificial flowers to your rave bra, to your crown/headband, to the top of your fluffies, or go for a classic flower child look and tuck one behind your ear. And if you're very crafty, you can make flat paneled kandi cuffs with an image of a flower or daisy headbands made with pony beads.
Sites – Charlotte Russe, Iheartraves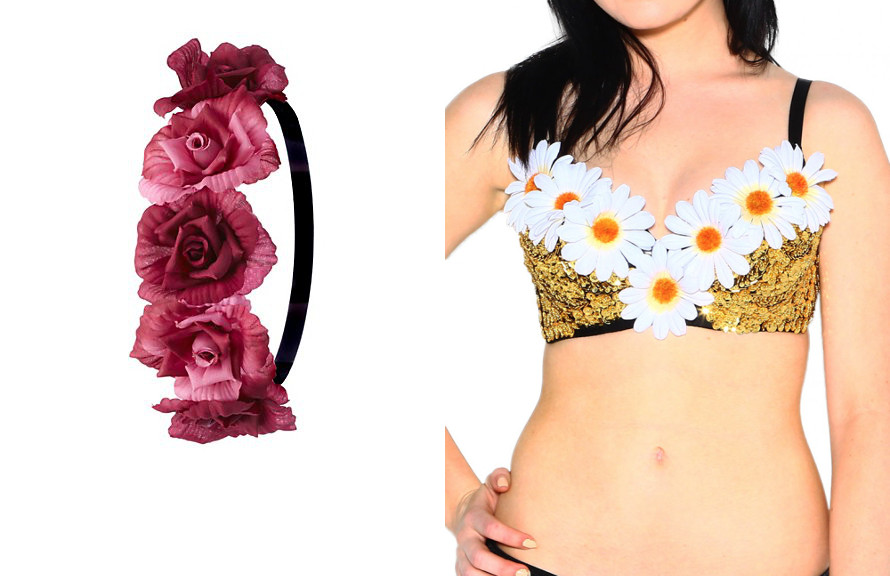 EL Wire – Instead of carrying a bunch of items that light up, why not keep your hands free and *wear* something that glows? Attire with EL wire attached has been sprouting up at festivals on both coasts – hats, bras, and shoelaces just to name a few. The wire comes in several colors including blue, green, yellow, orange, etc. Some items such as the EL wire bras have multiple colored wires so it'll give your outfit that extra flare it needs! You could also buy the wire separately and attach it to rave gear you already own. The other great perk about wearing EL wire is that it makes you easier to find in a crowd. So for those of you who tend to wander off or get lost from your rave crew, have no fear! Wear some EL wire and you will be easier to find. Promise.
Where to Buy – Neon Nancy, Electric Styles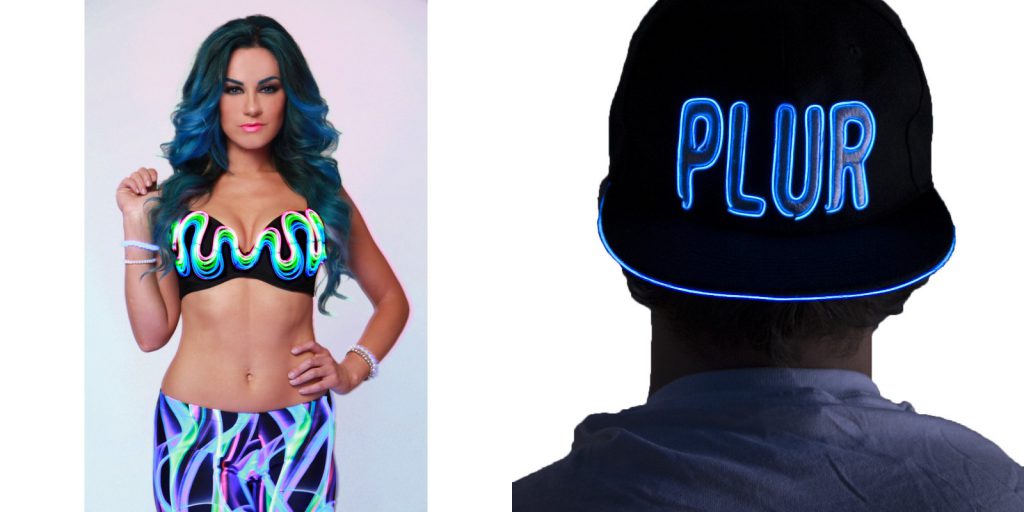 Kandi Masks – Kandi masks are those colorful surgeon masks made with pony beads that cover your nose and mouth. They give off an element of mystery, as you can only see the wearer's eyes beyond their beaded mask. These pieces of kandi are a little more complex and time consuming to make but once you learn how to make them, the amount of different designs you can make are endless. You may think that because these masks are wildly popular across the country (and in Canada) that they must all look the same. It's quite the opposite – these masks are highly customizable! The most popular style of masks are Mortal Kombat replica ones (hint: think Sub-Zero and Scorpion's masks). You can even add perlers or EL wire to make your mask even more original. You can also make your mask look like a gas mask by adding two round beaded cylinders to the front. There are so many routes you can take to make yours original that I can't even list them all!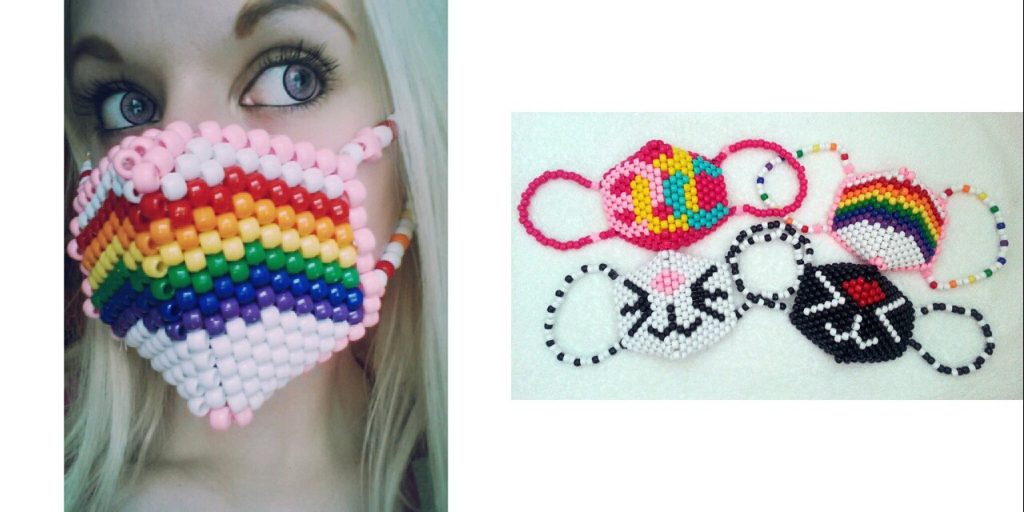 I've made masks that match with my friend's rave outfits (i.e. kitty mouths with whiskers) and it becomes a focal point of their costume. And since Halloween is drawing near, you will see many of these masks accompany festival-goer's wicked costumes. While you won't find kandi masks in any stores, your best route to obtain this unique item is to make it yourself, ask a kandi-guru friend to make one for you (make sure to trade them lots of kandi in return!), or search on Etsy for a kind soul who will make you your dream mask for a little bit of money.
Where to Buy – Make yourself, Etsy